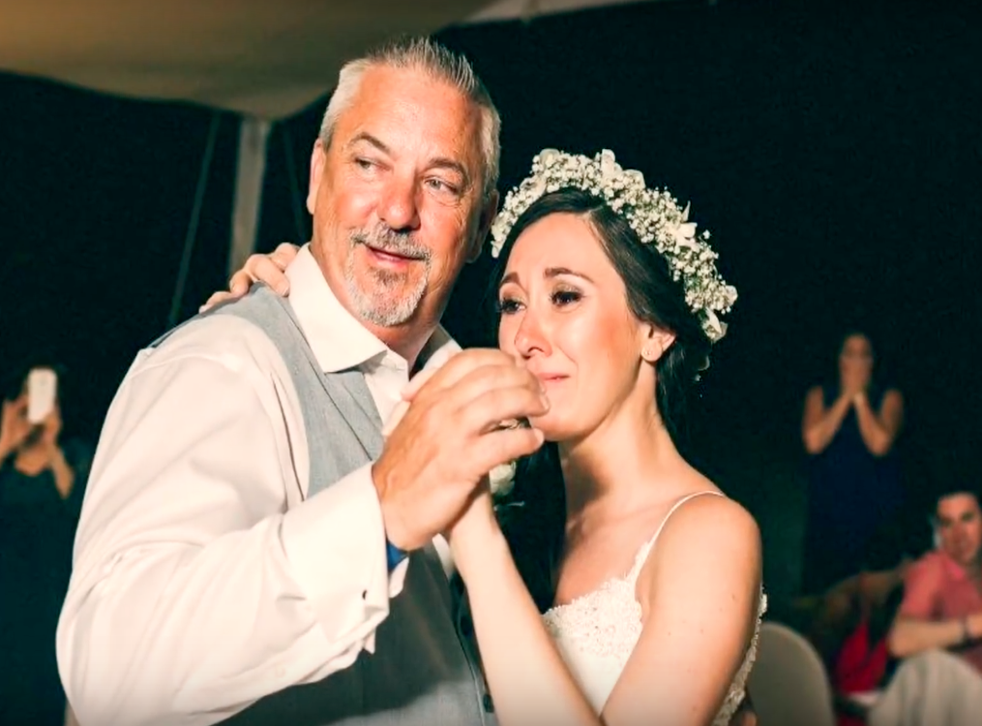 Viral video shows the moment a dad surprises his daughter with heartfelt song on her wedding day
The emotional lyrics moved guests to tears
The moment a father surprised his daughter with a self-written song on her wedding day has gone viral.
A long-standing custom, the father-daughter dance is used to signify the relationship between the bride and one of the most important men in her life.
What's more, the song they choose to dance to needs to have all the right elements; it should be touching, meaningful and great to move to.
But, when one father couldn't find the perfect song he took matters into his own hands.
Instead, as newlywed Kayla took to the dance floor for her special moment with her father she was surprised with an original song that he had written especially for her.
A now viral video - which has been viewed more than 2 million times – shows the bride's father, Robert David, take to the microphone at her reception and give a speech.
"Six months ago, Kayla texted me and asked me what song I wanted to play for our father daughter dance," he says.
"She mentioned two of my all-time favourite songs and she said that one of her friends would be happy to perform them. And my response to her was, 'Don't worry about it, I've got it covered.'
"Over the last six months I've been asked on a number of occasions what song I picked.
"But I've gotta tell you, I didn't pick a song. I wrote a song. And I hope you like it."
The father and daughter begin their dance as a montage of photos documenting Kayla growing from a baby to a beautiful bridge play in the background.
Predictably emotional, guests are moved to tears as the Kayla's father is heard singing, "It seems like yesterday and I remember when the day you were born with a full head of hair looking up at me with that inquisitive stare.
"You stole my heart right then and there.
"Now on the dance floor on your wedding day the tears in my eyes there's so much more to say.
"But this is now and that was then, I can't wait to meet your children and do it all over again."
Join our new commenting forum
Join thought-provoking conversations, follow other Independent readers and see their replies