June 4: Google Doodle celebrates 50 years of Pride
'Straight Pride' parade proposal in Boston criticised by Twitter
'Straight people are visible, acknowledged and have equal rights'
A proposal for a "Sraight Pride" parade in Boston this summer has been condemned by Twitter users.
This June, people across the world will celebrate Pride Month with an array of carnivals and street parades to recognise the impact the LGBT+ community have had in the world.
However, heterosexual advocacy organisation Super Happy Fun America has announced plans to launch a "Straight Pride" parade dedicated to the heterosexual community.
Mark Sahady, the vice president of Super Happy Fun America, recently took to Facebook to make the announcement.
"It looks like the Boston Straight Pride Parade will happen. We filed a discrimination complaint and it appears the City of Boston understands they would lose in litigation," Sahady wrote on the social media platform.
Best pictures from the 2018 Taipei Gay Pride March in Taiwan

Show all 35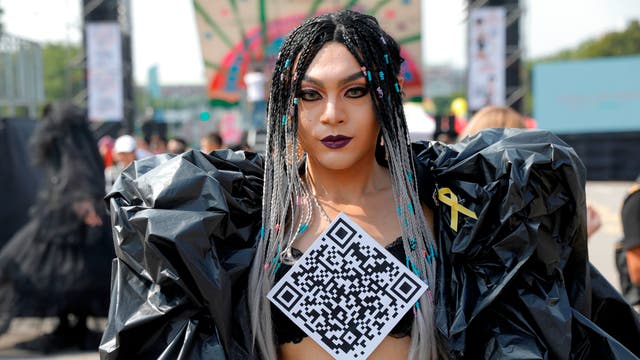 "The city is now working with us on the parade. We will have the streets closed and be allowed to have floats and vehicles."
Sahady continued, adding that the heterosexual-themed parade will tentatively take place on 31 August.
"This is our chance to have a patriotic parade in Boston as we celebrate straight pride," Sahady concluded.
The announcement has caused outrage on Twitter, with several users calling "every day" Straight Pride day.
"Straight pride is every f**king day," commented one user. "Every time you hold your partner's hand in public and don't get put in the hospital for it. Every time you express your gender/sexuality the most natural way to you and the entire world caters to it. LGBTQ+ people are murdered for EXISTING."
Another added: "So let's be clear - LGBT people have a pride parade in order to be more visible, acknowledged and to campaign to get equal rights.
"Straight people are visible, acknowledged and have equal rights."
One user posted: "The Straight Pride Parade IS the Pride Parade, and straight people have a vital place in it - on the sidelines cheering our friends, allies, and loved ones on."
"You can't have a Straight Pride Parade," added another. "Parades are inherently gay. Embrace it."
According to Super Happy Fun America's website, the parade will be a one-day event and will be followed by a flag raising ceremony of the organisation's Blue and Pink flag.
The organisation has also designated actor Brad Pitt as their "mascot."
The event is pending approval from the City of Boston which previously rejected the organisation's application to raise the straight pride flag at city Hall.
The parade's organisers are currently awaiting a response from Boston Mayor Martin J. Walsh following their request to use the same route as the annual Boston Pride Parade, which starts at Copley Square and finishes at City Hall Plaza.
"Straight people are an oppressed majority," explains John Hugo, President of Super Happy Fun America on the organisation's website.
"We will fight for the right of straights everywhere to express pride in themselves without fear of judgment and hate.
Support free-thinking journalism and attend Independent events
"The day will come when straights will finally be included as equals among all of the other orientations."
Boston's Pride Parade will take place on Saturday 8 June under the theme ""Looking Back, Loving Forward".
The theme marks the 50th anniversary of the Stonewall Riots with the aim of encouraging the LGBT+ community to reflect on its "challenges and incredible victories" according to the Boston Pride website.
Join our new commenting forum
Join thought-provoking conversations, follow other Independent readers and see their replies