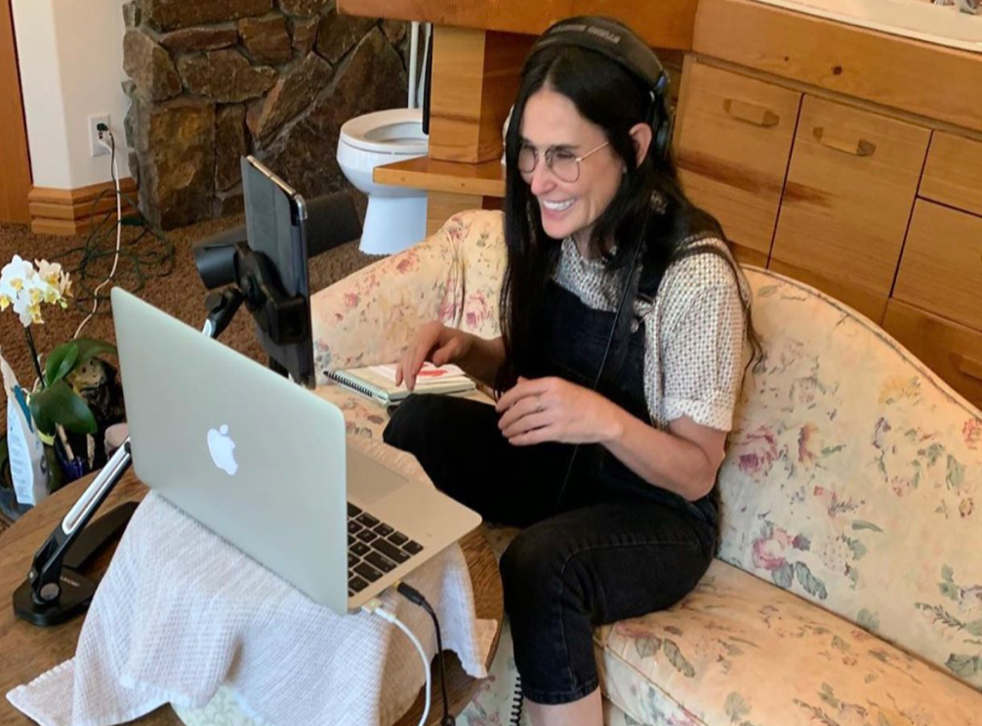 Demi Moore's 'creepy' carpeted bathroom has people confused
'I have seen a lot of questionable home decor in my short life, but nothing quite like Demi Moore's bathroom,' one fan tweeted
Demi Moore has offered fans a glimpse into her bathroom, where she is recording her upcoming erotic podcast Dirty Diana, and it's left people confused.
On Wednesday, the actress shared two photos on Twitter showing her recording the podcast in front of a laptop while sitting on a couch in her carpeted bathroom.
"Behind the scenes recording. #DirtyDiana," Moore captioned the photos, in which she is also wearing shoes.
However, it wasn't the 57-year-old's podcast that captured attention, as fans were instead fixated on the star's unique bathroom decorating choices, which include wall-to-wall carpet - including around the toilet - a life-size statue of Joan of Arc that stands above the bathtub, and a floral-printed couch.
On Twitter, reactions ranged from horror to confusion at the Ghost star's decor.
"I need to speak to the person who designed Demi Moore's bathroom before I die," one person tweeted.
Another said: "What year is it in Demi Moore's bathroom, 1991?!"
Much of the confusion centred around the flooring choice, as carpet is not usually a common choice for a bathroom.
"I have seen a lot of questionable home decor in my short life, but nothing quite like Demi Moore's bathroom," one fan tweeted. "One word: CARPET."
Another said: "Demi Moore having carpet in the bathroom like a cheap mobile home while also having nine dogs is going to haunt me forever."
"Why is everything so ugly???" someone else asked.
Others, however, expressed their admiration of Moore's bathroom, with one person describing it as "what dreams are made of".
This is not the first time the mother-of-three has shared photos of her bathroom. In 2019, Moore tweeted a photo of herself in the bath with a facemask on with the caption: "Midweek mask with Joan of Arc watching over me."
Register for free to continue reading
Registration is a free and easy way to support our truly independent journalism
By registering, you will also enjoy limited access to Premium articles, exclusive newsletters, commenting, and virtual events with our leading journalists
Already have an account? sign in
Register for free to continue reading
Registration is a free and easy way to support our truly independent journalism
By registering, you will also enjoy limited access to Premium articles, exclusive newsletters, commenting, and virtual events with our leading journalists
Already have an account? sign in
Join our new commenting forum
Join thought-provoking conversations, follow other Independent readers and see their replies