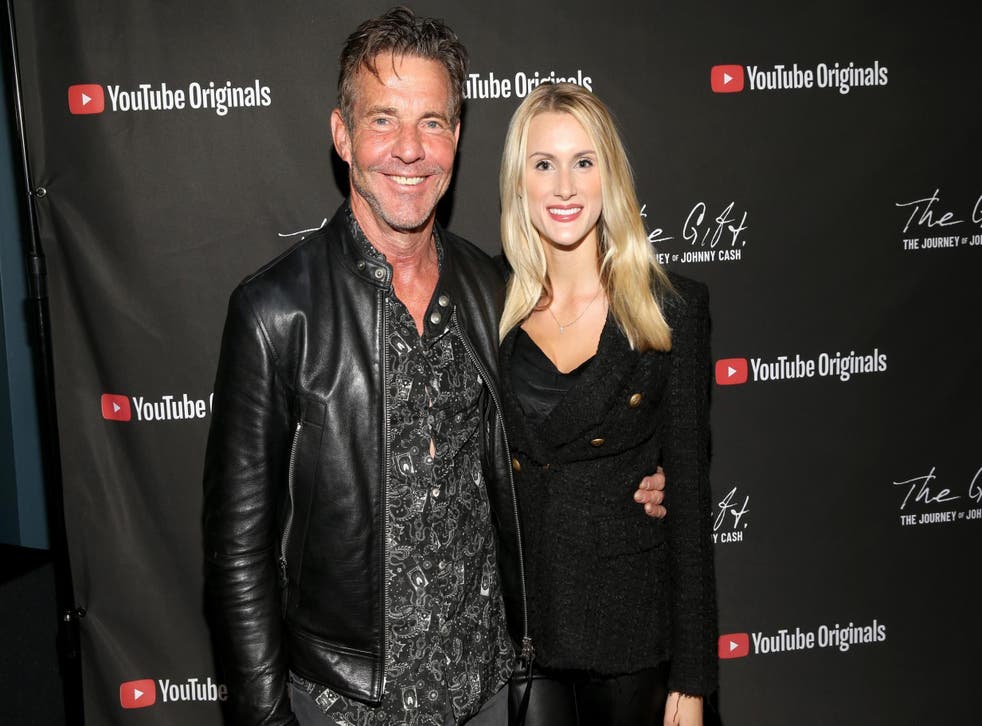 Dennis Quaid, 66, secretly elopes with Laura Savoie, 27: 'It was beautiful'
Quaid previously defended 39-year age gap: 'I didn't go out looking for an age gap or someone really younger than me'
Dennis Quaid and Laura Savoie are married, after eloping in a secret ceremony at a seaside resort.
Quaid, 66, and Savoie, 27, exchanged vows on 2 June, according to People, which reported that the couple's ceremony took place in Santa Barbara, California, with just their pastor as witness.
"It was beautiful," The Parent Trap actor told the outlet. "Just looking into her eyes, she was the most stunning bride."
The couple, who got engaged last October, had originally planned to have their wedding in Hawaii in April, with a second reception for family and friends in Nashville - but had to postpone due to the coronavirus pandemic.
Instead of waiting, the couple decided to hold a simple ceremony consisting of traditional vows and Bulgari rings, according to People.
For the occasion, Quaid, who has been married three times before, wore a Hugo Boss suit, while Savoie chose a Chosen By One Day gown and a bouquet of roses and calla lilies.
According to the bride, she was especially moved by the officiant's message "of what it really means to bring your lives together. To put another person before yourself."
The couple first met at a business event before they officially began dating in May 2019.
Of their first meeting, Quaid told the outlet: "It was love at first sight" and that he loves who Savoie is "as a person".
"Her character, her intelligence, of course her beauty. And her point of view of the world," he added.
Savoie, a doctoral student originally from St Louis, Missouri, also expressed her love for her new husband, telling People she has "never met someone who is so in love with life."
"It's like nothing can bring him down," she said. "Just getting to do life with someone who lives that way is inspiring for me. It changes my perspective and it brings so much joy to every day."
The couple's nuptials come after Quaid defended his and Savoie's 39-year age gap in November during an interview with The Guardian.
"I didn't go out looking for an age gap or someone really younger than me," he said, adding: "You have no control over who you fall in love with."
During the interview, the actor, who was married to PJ Soles from 1978 to 1983, Meg Ryan from 1991 to 2001 and Kimberly Quaid from 2004 to 2018, also said he does not "fall in love easy" and that he knows this will be his final marriage.
"I've been married three times and this is the final one, I know it is. I feel like I have a real partner in life," he said.
Join our new commenting forum
Join thought-provoking conversations, follow other Independent readers and see their replies