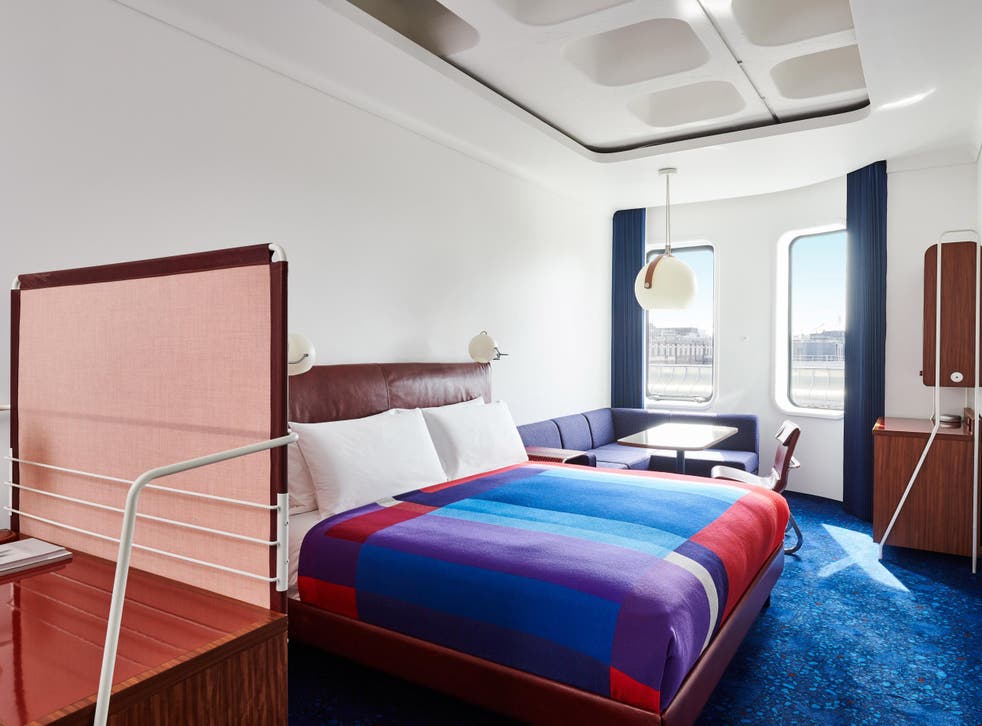 Androgynous design has become the language of luxury hotels
The modernisation of hotels, writes Anya Cooklin-Lofting, means cool, dynamic and unrestrained aesthetic, unfettered by expectations of colour, material or shape
As much as great hotel design has inspired residential homes over the decades, hotels created with this influence in mind are emerging at a higher rate than ever on an international scale. A common theme in these dynamic new spaces is androgyny; a cool, dynamic and unrestrained aesthetic, unfettered by expectations of colour, material or shape.
As the world begins to loosen its grip on ideas of binary gender presentation across the fashion and beauty industries, recent commercial interior design projects demonstrate that diversity, inclusion and unimpeded creativity is at the forefront of the design agenda. Although it is ultimately fallacious, futile even, to seek gender signposting in anything or anyone other than a potential romantic partner, androgyny and stylistic ambiguity in design is an exciting and refreshing trend.
Here is a round-up of some of the newest and most innovative design hotels exploring androgynous design.
Arne Jacobsen's 1960s SAS Royal Hotel in Copenhagen is known somewhat controversially as "the world's first design hotel", though many argue that its post-war completion falls before the term "design hotel" was even coined. But last year, Space Copenhagen, a Danish design studio founded by Signe Bindslev Henriksen and Peter Bundgaard Rutzou, wrapped a two-year renovation of the hotel.
They reworked the space with iconic Scandinavian design items, Jacobsen's own familiar pieces among them, updated with the help of Danish brand Fritz Hansen and designer Raf Simons. Many original Arne Jacobsen pieces are available to buy at Fritz Hansen, including the famous Egg and Drop chairs. Aram Store, Vinterior and 1stdibs are also all excellent sources for such iconic pieces of furniture.
Space Copenhagen's brief was to modernise the interiors at the SAS Royal, now owned by Radisson, while celebrating the world-renowned work of Modernist architecture. The refurbishment is in equal parts homage to Modernism, Art Deco and Scandinavian design.
Powdery, jewel-toned velvet upholstery is contrasted with Brutalist, structural marble work and imposing, angular, internal architectural features. The sweeping suspended spiral staircase, one of the most iconic architectural details of the hotel, has been updated with a leather-wrapped bannister, adding texture in unexpected ways.
Whether tongue-in-cheek or otherwise, the bathrooms have been created in blue and pink, for men and women respectively. Perhaps this is a nod, on Henriksen and Rutzou's behalf, to the overall dismissal of gender in the design of the rest of the hotel.
Next is Hotel Kinsley, the exciting new opening in Kingston, New York. The hotel occupies four separate historic buildings, each carefully restored and brandishing date stones as old as the early 17th century. Hotel Kinsley is the latest development by CBSK Ironstate, who instructed Studio Robert McKinley on the interiors, which are thoughtful, eclectic and sensitive to the diverse and storied architecture that surrounds them.
The spaces that the New York-based designer, McKinley, has created fuse original architectural details with surprising allusions to Scandinavian design and multifarious vintage design items such as rugs and mid-century furniture for an ultimately androgynous look.
In one of the 43 bedrooms, geometric, sparse Scandi lamps by Santa & Cole and Cedar & Moss are set against a custom, somehow folkloric headboard upholstered in a Dedar fabric of bitter browns, blues and sages. The headboard may be custom, but similar statement headboards can be found at Savoir Beds, which has launched a collection of decorative headboards in collaboration with Andrew Martin and The National Gallery.
The bedrooms also feature traditional wall panelling, which has been coated in more of this delightful herbaceous green, foiled by a deep red, kilim-style rug. The concentration of pattern within an otherwise unembellished suite is almost subversive, challenging the standard "all or nothing" approach to either received masculine or feminine design.
Last is the Standard, London, which opened its doors in King's Cross just last month. Its opening marks Standard International's first hotel outside of America, and the first in a series of international launches, which will include outposts in Paris, Lisbon, Bordeaux, Milan, Mexico City and Jakarta, to name just a few.
A 1974 Brutalist structure comprises the skeleton of the new luxurious hotel, which has been brought up to date in the heavily regenerated Camden area by interior designer Shawn Hausman in collaboration with architectural practice Archer Humphryes, which managed internal refurbishments as part of a wider project by Orms.
Hausman's interiors for the Standard, London are inspired by Camden's rich intellectual and political history. He said his aim was not only to pay homage to the location of the new hotel but also to recognise the remarkable local transformation over the last 50 years.
The scheme draws on the aesthetic drama of the 1970s, which, with its chaotic, carpet-centric mix of colour, texture and witty cultural reference, evokes the androgyny of contemporary punk, film, art, Bowie and the shrouded glamour of Studio 54. The expert level at which Hausman is able to convey this look is hardly surprising, given that he worked on the production team for Saturday Night Fever in the seventies, going on to open his own experimental nightclub in 1983.
In fact, his dedication to this innovative use of texture and colour extends even to blue carpeted walls in Isla, one of the in-house restaurants helmed by chef Adam Rawson. To get the look, Brintons offers a range of striking carpets in any colour you could wish for, while Holland & Sherry offers some of the most diverse textured wallcoverings.
The Standard's latest design-hotel-cum-love-letter to London involves a final aesthetic touchstone, and that is the TFL-inspired colour scheme. This extends from bedding in tube-line colours to the external red pill lift, echoing the 1908-designed London Underground roundel and the ketchup red of London buses. What better way to celebrate all that is ambiguous, inclusive and resilient than with a nod to London. As Bowie says in his lesser-known 1969 track, "London Bye Ta Ta", speaking of London itself: "She loves to love all beauty, and she says the norm is funny."
Support free-thinking journalism and attend Independent events
Register for free to continue reading
Registration is a free and easy way to support our truly independent journalism
By registering, you will also enjoy limited access to Premium articles, exclusive newsletters, commenting, and virtual events with our leading journalists
Already have an account? sign in
Register for free to continue reading
Registration is a free and easy way to support our truly independent journalism
By registering, you will also enjoy limited access to Premium articles, exclusive newsletters, commenting, and virtual events with our leading journalists
Already have an account? sign in
Join our new commenting forum
Join thought-provoking conversations, follow other Independent readers and see their replies