Reimagining your bedside table – bigger is better
No longer do you have to fit your lamp, book and glasses on a tiny bedside table. Anya Cooklin-Lofting speaks to design experts who will try to persuade you to increase your bedside storage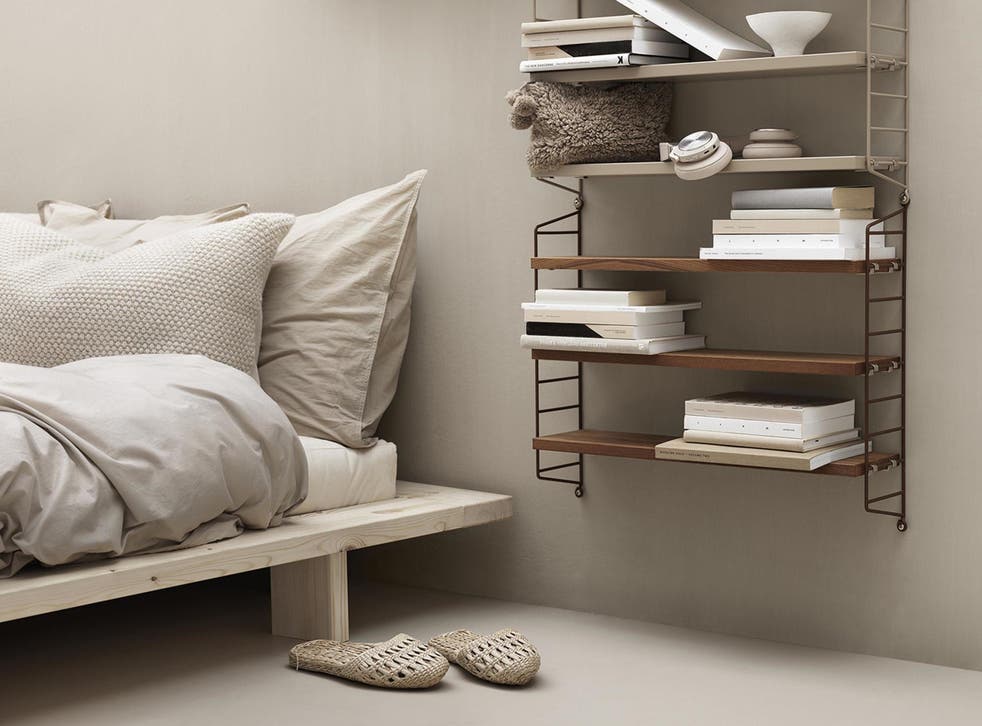 How many times have you balanced a cup of tea on a pile of books, which are teetering over your reading glasses, on a bedside table that's no bigger than a postage stamp? Until recently, this was my nightly fate; fumbling with the physics of balancing bedtime paraphernalia like Jenga blocks, growing more frustrated each evening – and spilling lots of tea. This week, I speak to three design experts with different aesthetics but a shared goal: to persuade you to surrender to ample bedside storage.
A wide bedside table is the ultimate luxury in the bedroom. Charu Gandhi, founder and director of interior design firm Elicyon, says her clients really notice the difference. "I believe that a bedroom should act as a sanctuary – a place of refuge and calm," she says. "This can be created in part by fulfilling the functional requirements of the room, such as ample storage."
The larger bedside tables that she has specified in recent projects, including the first show apartment at Chelsea Barracks, the 12.8-acre historic residential development, give the bedrooms a sense of balance and calm. Like much of Elicyon's work, the generous dimensions of the bedside tables are inspired by hotel design.
Gandhi says: "When I work with a client to ascertain the kind of bedroom space they most desire, I ask them to recall their favourite, most luxurious hotel room they have ever stayed in. More often than not, large bedside tables are up in the key requirements with a decadent headboard and exquisitely soft bedsheets."
Some of the most interesting advice around choosing the perfect bedside table is not to be bound by the label. Hollie Bowden, a Shoreditch-based interior designer, is a proponent of using furniture in new and exciting ways to create a look that is fresh, compelling and unique. In a recent project in Ladbroke Gardens, Bowden sourced two different pieces of furniture to act as the bedside tables, including a decorative antique Swedish console and a rustic, bombe-style chest of drawers. Bowden says: "I love playful pieces that don't necessarily have set purposes. The space needed to feel relaxed, unfussy and at the same time luxurious. I wanted to create a serene, almost dreamlike space that is also functional in a palette of muted jade green and pale pink, with matte walls which intensify the textures and patterns of the bedside tables."
Another option for alternative generous bedside storage is wall-hung shelving. This frees up precious square footage in a room that is traditionally one of the tightest on space. Peter Erlandsson, the co-owner of String Furniture, a Swedish furniture brand, suggests using their "pocket" instead of a freestanding bedside table, giving you tiered shelving options for accessible bedside storage. Erlandsson says: "In small homes, it is always advisable to fit shelving that is deep enough to store what you need, but narrow enough that it doesn't compromise floor space. In the bedroom, the pocket shelves can be positioned at the perfect height on the wall so you can easily reach whatever you need, and store more items than you could on a traditional, smaller bedside table."
Register for free to continue reading
Registration is a free and easy way to support our truly independent journalism
By registering, you will also enjoy limited access to Premium articles, exclusive newsletters, commenting, and virtual events with our leading journalists
Already have an account? sign in
Register for free to continue reading
Registration is a free and easy way to support our truly independent journalism
By registering, you will also enjoy limited access to Premium articles, exclusive newsletters, commenting, and virtual events with our leading journalists
Already have an account? sign in
Join our new commenting forum
Join thought-provoking conversations, follow other Independent readers and see their replies