The Independent's journalism is supported by our readers. When you purchase through links on our site, we may earn commission.
Coronavirus: Up your video call game with an uplifting backdrop
Anya Cooklin-Lofting shares tips on how to get inventive with your conference call aesthetic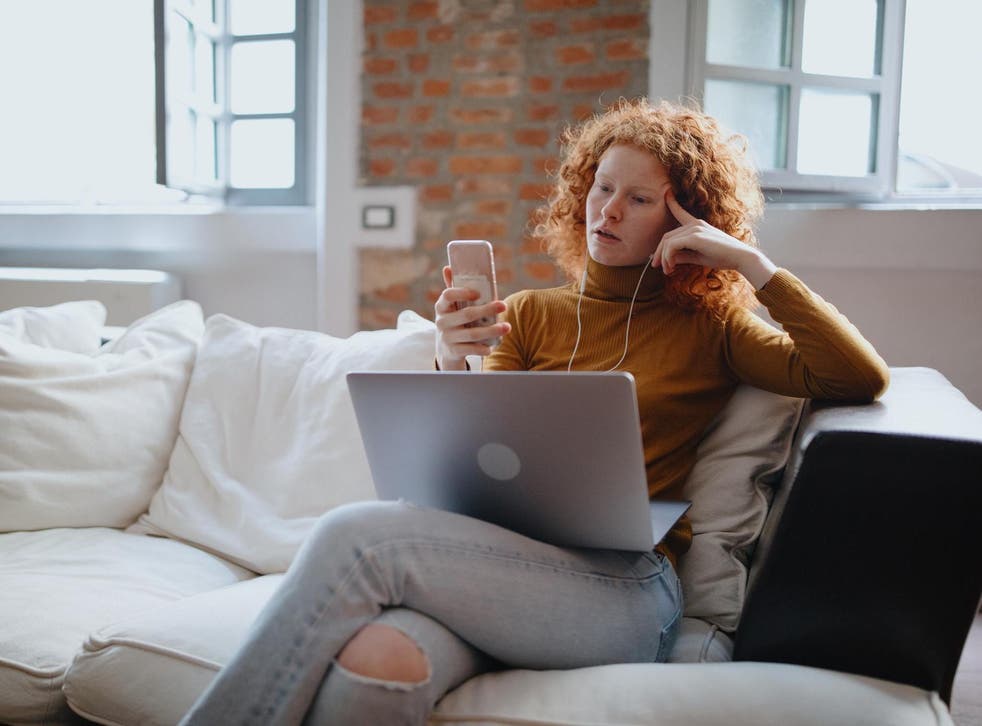 If you are lucky enough to have the capacity to work from home over this strange period of uncertainty, video conference calls will have become a significant part of your working day. Marketwatch.com has reported that video calling app, Zoom, has added more active users so far this year than it did over the whole of 2019. More than ever before, our homes are on display to our colleagues and clients, so keeping your video call backdrop looking professional is a must.
As much as our homes have become our temporary offices, we need to make sure that they not only look great on a Zoom call, but that they still feel like home at the end of the day. So, here are some updates you can make to your home office space that will up your video call game and give your home an uplifting refresh.
Wallpaper
Hanging a striking wallpaper will give your conference calls an eye-catching backdrop that will always look more appealing than a plain white wall. Pattern and colour in the form of maximalism have taken centre stage in the interior design world and will continue to look fresh into 2020 and beyond. A great option is Matthew Williamson X Osborne & Little's new collection, Daydreams, which comprises seven wild and wonderful digitally printed wallpapers, "inspired by childlike daydreams and reminiscing over a Californian road trip".
Another place to pick up some breathtaking wallpapers is Andrew Martin, a globally-inspired homewares brand. It has just launched a collection of mural style wallpapers, Scholar, from which you can choose to surround yourself with larger-than-life pages from the greatest works of literature or huge maps spanning the length of your living room wall.
Art
Continuing the focus on the walls which will be visible on your video calls, hanging art is another great way to add interest to your background. If you're currently renting your home-come-office, use command strips to hang your art to ensure you keep your landlord sweet.
Shop far and wide to find art that you love, and don't limit yourself to a certain style or medium. There are some incredible vintage prints and film posters on Vinterior, an online marketplace for vintage and antique homeware, and Partnership Editions offers a beautifully curated selection of artworks to help you on your way to starting your collection. The Affordable Art Fair took place earlier this month, but its online offering is shoppable, providing one of the best sources of art from a wide and varied list of artists.
Shelves
The most important part of a home office is ample storage for files, books and physical references. The trend for open shelving has skyrocketed over the last few years, with the "shelfie" becoming the interior design equivalent of the Kardashian-propagated act of self-photography, so ensure your shelves look the best they can, not only for yourself but for your employer too.
There are lots of contemporary shelving options to create these useful focal points on your walls. The Umbra Cubist Wallshelf, available on Amara, even includes an integrated mini-shelf for a pot plant, while the Frama Shelf Library, designed by Kim Richardt, a Danish designer, available from Nest, is inspired by the original Scandinavian post-war shelving designs.
Peter Erlandsson, co-owner of String Furniture, a Swedish shelving company founded in 1949, suggests, "Styling objects on a simple shelf can be beautiful and decorative. Treat your shelf like a canvas, and create a work of art on top of it with the belongings you need frequent, instant access to. Not only is it fun to create your own, organic and changing artwork from your own knick-knacks, but it is a great way to save space. When you lift things off the floor and use shelving as a storage solution, you create the illusion of a larger space."
So, let's get excited to answer that video call, be proud of our homes and the hard work we are putting into making this digital way of living into the new normal.
Register for free to continue reading
Registration is a free and easy way to support our truly independent journalism
By registering, you will also enjoy limited access to Premium articles, exclusive newsletters, commenting, and virtual events with our leading journalists
Already have an account? sign in
Register for free to continue reading
Registration is a free and easy way to support our truly independent journalism
By registering, you will also enjoy limited access to Premium articles, exclusive newsletters, commenting, and virtual events with our leading journalists
Already have an account? sign in
Join our new commenting forum
Join thought-provoking conversations, follow other Independent readers and see their replies