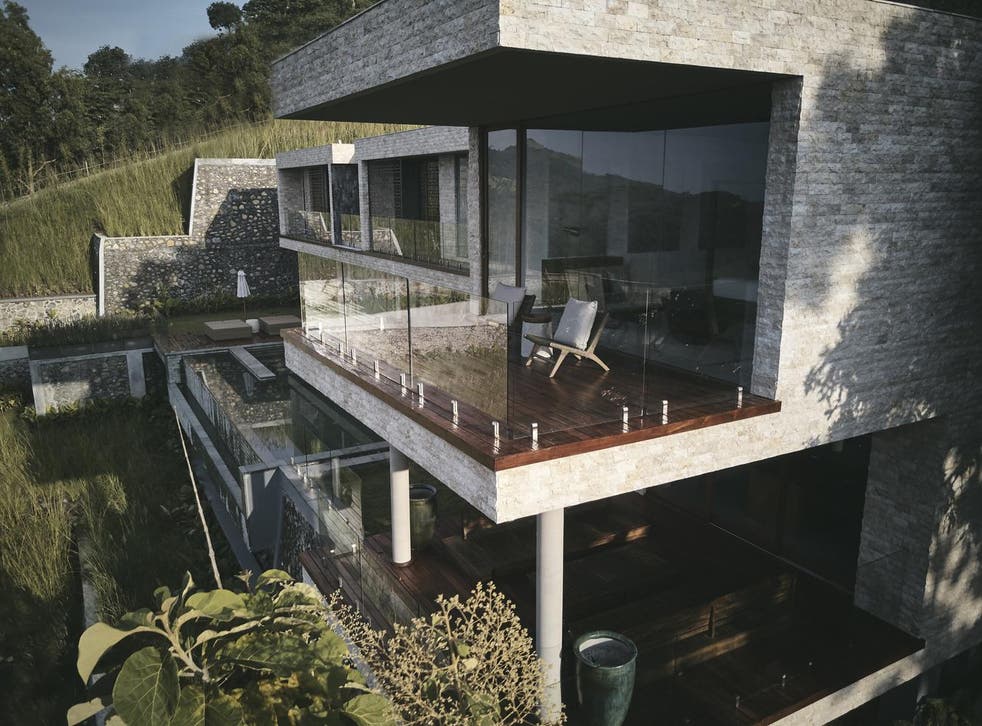 Inspiring home of the week: House built for wellness in Indonesia
The villa features a wellness studio and an outdoor spa for each guest bedroom 
This cube-shaped stone home built in the idyllic setting of Lombok island, Indonesia, is named "Maleo" after the region's local bird species, and sits neatly overlooking the Jabon hills and the golden sands of Selong Belanak beach.
Australian architect Mitchel Squires designed the seven-bedroom residence to make the most of the spectacular rolling-hills setting: "I was really taken by its surroundings, in fact many parts of South Lombok are fairly untouched and local villagers were watchful of the new developments.
"I wanted to set the tone for properties in the area. I was conscious to design something that blended in the with the landscape seamlessly by using local materials, cultural notes and even local talent," said Squires.
Squires drew his inspiration for the structure through his interest in combining solid and void spaces; Maleo is built from two single elongated boxes which, while still being geometrically simplistic, manage to keep hold of the open-plan feeling of a larger home, but still bestow those who dwell there with pockets of privacy.
Maleo residence – West Praya, Indonesia

Show all 20
A public-private transition is created at the villa entry – which features a door that opens from the middle, and continues down at ground floor level. The master bedroom features a private outdoor bathtub and cantilevered ceiling to provide shade, while each self-contained private suite features its own outdoor spa, to give guests a place to relax and take in the surroundings.
One of the home's more unique features is its yoga and wellness studio. Featuring glass walls onlooking the garden on three sides, the space includes four ceiling-hung hammocks which can be used to rest and relax, or can be removed and substituted with TRX suspension training equipment for workouts.
Squires wanted to highlight Indonesian architectural tradition in the home and used sustainable, locally sourced materials to complete the design. The facade is composed of Indonesian limestone, and the floors throughout the home are made from Bankiray timber. The bedrock excavated for the house was reused to create site-retaining walls, footpaths and garden planters.
Join our new commenting forum
Join thought-provoking conversations, follow other Independent readers and see their replies