Why you should always start with flooring when it comes to interior design
Fear of getting it wrong is driving the boring floor market, says Anya Cooklin-Lofting. But plan from the beginning and soon you'll have a space that's vibrant from the ground up
Saturday 09 January 2021 10:26 GMT
Comments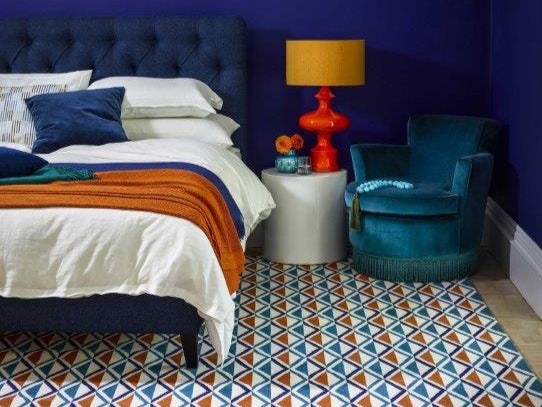 There's a reason neutral, plain carpets dominate the flooring market. I'm afraid to say that the non-committal, non-colours of grey, beige and greige are easy outs. Their use is symbolic of a refusal to engage with the true potential of a space. A floor left grey is the last chocolate in the box left uneaten.
The fear of getting it wrong is a major driver in the popularity of boring flooring. To avoid this fear, interior designers suggest starting with the floor instead of leaving its consideration to the end of the design process. Many of them believe that it is the flooring that should serve as the palette for the rest of the space, giving the room in question a grounding (if you will…) of colour and pattern. As interior design doyenne Michelle Ogundehin recently told ELLE Decoration, "the most important design decision [is] the flooring. Literally and visually, it is the foundation for everything, underpinning every view and item lain upon it".
This doesn't mean the flooring should be installed first, but throughout the design process, consider carrying around a carpet swatch in your back pocket to fan thoughtfully beside paint colours, wallpapers and soft furnishings. You'll look right at home in your favourite homewares shop.
Charles Annable, managing director of heritage carpet company Grosvenor Wilton, believes that "people are going bolder with pattern and colour for the carpet. In the same way that homeowners threw caution to the wind with bold paint and wallpapers over the last two years, this 'bolder the better' outlook has trickled down to flooring for 2021". Letting a gorgeous, maximalist carpet inform your space will be sure to set you on the path to a fully-realised, considered home, especially as the trend for maximalist interiors reigns.
"Colour and pattern can speak to us at aesthetic and emotional levels, elevating our homes, infiltrating through the walls, the furnishings, and of course, the floor," says interior designer Matthew Williamson, who has recently collaborated with rug company Obeetee, on a collection of contemporary, colour-drenched rugs. "One of the best places to start when bringing colour and pattern into the home is with a floor covering, setting the tone and anchoring the rest of the space," he adds. "A beautiful rug can give you a palette or a sounding board for the rest of the room. You could pick out specific colours from the weave and take them onto the walls, into the soft furnishings and even up onto the ceiling for a dramatic look."
From a practical perspective, Brintons' residential design manager, Jodie Hatton, suggests investing in a carpet or rug you love as the first port of call in the design process. "Flooring is the aspect of a room which you will probably keep the longest," she says, adding, "it is the piece which has to be the most hardwearing and will likely be one of the larger investments in the space. So, it makes sense to work from the floor, up. Paints and furniture can then be selected to complement the flooring, giving you more scope to change up the look and feel of your space without having to fit a new carpet."
Join our commenting forum
Join thought-provoking conversations, follow other Independent readers and see their replies