'Quirky accessories and joyful patterns': How to land your perfect landing
Whether you're dusting off some artwork to hang or scrolling for the perfect rug, it's time to give some love to the humble hallways and lowly landings, writes Anya Cooklin-Lofting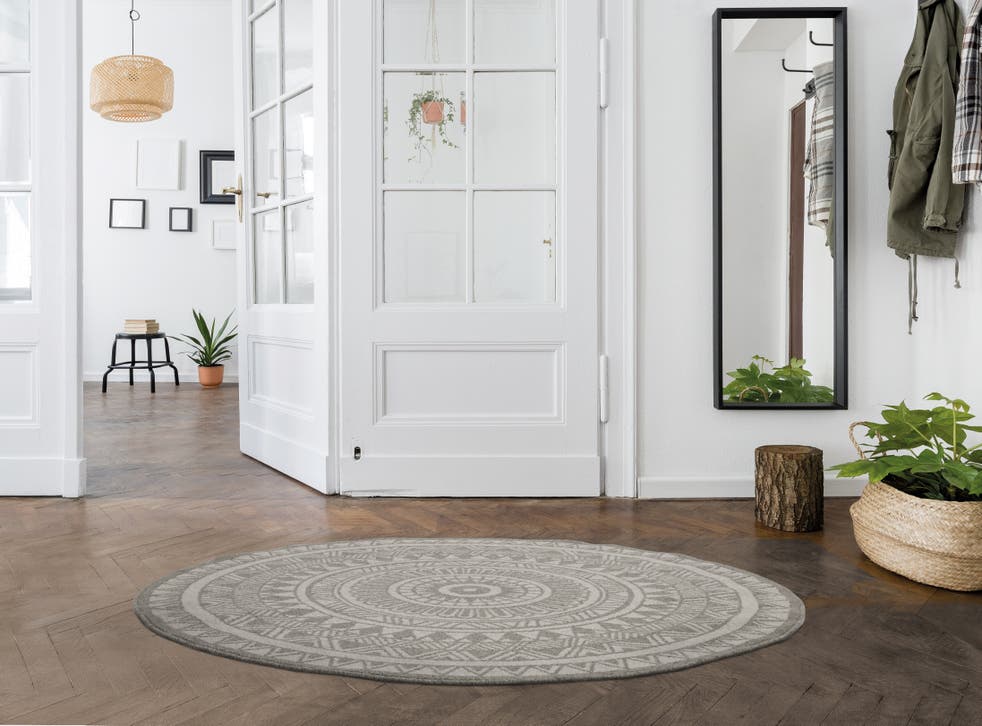 If the Covid crisis has taught us anything about our own homes, the lesson learned is that space is a luxury. Every single square foot of floor space needs a purpose, especially if it's accommodating office space alongside the demands of everyday living. Work and play have found themselves in close quarters, so multifunctional living solutions like foldaway desks or room dividers such as B&Q's Alara model have ruled the homewares market, allowing home-workers to carve out more space in their living rooms, bedrooms, kitchens and, I don't doubt, bathrooms.
That each crevice, nook or alcove needs a purpose need not necessitate function in the traditional sense. Sometimes, the best use of a small, forgotten space, such as a hallway, landing or stairwell, is to add aesthetic value. In this way, the 'purpose' of said forgotten space is mood elevation, arguably an important consideration in these uncertain times. Think of these through-ways as opportunities to lift your spirits as you pass from room to room, with vibrant colours, quirky accessories and joyful patterns.
Rosie Axford, Co-Founder of Wicklewood, a soft furnishings company, urges her customers not to leave hallways and corridors out of the design process. "Small, largely forgotten spaces like these present great opportunities to experiment with colour and pattern," she says. Axford's business partner, Caroline Downing Nadel, prizes her dazzling citrus hallway as an interiors pick-me-up, especially in the lockdown periods, saying, "my orange pineapple wallpaper from Blithfield & Co genuinely makes me feel happier each day - it's bold and fun and you can't help but smile when walking through this corridor."
For another luxurious touch, starting with a soft, inviting rug will give any bare hallway or landing a mood-enhancing quality. Jodie Hatton, Residential Design Manager at Brintons, a carpet and rug producer, believes that, "bolder statement patterns always tend to lend themselves well to hall, stairs and landing spaces as these tend to be the areas where people are happier to make more of a statement. These kinds of spaces aren't as lived-in as the main rooms of your home, so they can take a more intense colour scheme, or a bolder pattern repeat."
According to Michel Baumgart, the Business and Contract Director at BoConcept, a Danish furniture brand, adding a piece of art to an otherwise unconsidered hallway or stairwell will turn it into a purposeful space that really stands out. "Often, hallways and staircases can look very bare, so if you have any art that's tucked away into storage, think about adding it to dress up your stairwell." BoConcept has recently applied its own advice to its designs for the multifunctional, space-savvy apartments for residential build-to-rent brand, UNCLE, for its new Wembley building.
Another proponent of hanging art in unlikely places is the interior design studio, Albion Nord. The firm, which has recently been commissioned to create a line of furniture and accessories for prestigious development, Chelsea Barracks, hand-sources art and antiques to give their properties uniqueness, not forgetting about the lesser-used spaces in the home. In its Marylebone Terrace project, a classical bust can be found at the base of a staircase, elegantly poised amongst the helix of the bannister.
Alongside paintings and sculpture, fantastic lamps and pendant lights also bring a more considered look to these undervalued spaces. Owen Pacey, Founder of antique and fireplace restoration company, Renaissance London, suggests using eye-catching lighting to give a smaller stairwell a sense of occasion. "Stairwells, especially in city homes, are generally too small for any interesting furniture," he says, adding, "which is why installing a beautiful statement pendant light is the best option."
So, whether you're dusting off some artwork to hang or scrolling for the perfect rug, it's time to give some love to the humble hallways, lowly landings, and unassuming stairwells, turning them into joyful little enclaves between the living room-come-office and the bedroom-come-gym and the bathroom-come-conference room.
Register for free to continue reading
Registration is a free and easy way to support our truly independent journalism
By registering, you will also enjoy limited access to Premium articles, exclusive newsletters, commenting, and virtual events with our leading journalists
Already have an account? sign in
Register for free to continue reading
Registration is a free and easy way to support our truly independent journalism
By registering, you will also enjoy limited access to Premium articles, exclusive newsletters, commenting, and virtual events with our leading journalists
Already have an account? sign in
Join our new commenting forum
Join thought-provoking conversations, follow other Independent readers and see their replies