The Independent's journalism is supported by our readers. When you purchase through links on our site, we may earn commission.
At-home bars and wipe-clean furniture: How the coronavirus pandemic will impact interior design trends
The pandemic has caused us all to look at our homes through new eyes. Sarah Young speaks to interior experts to find out the lessons learned during lockdown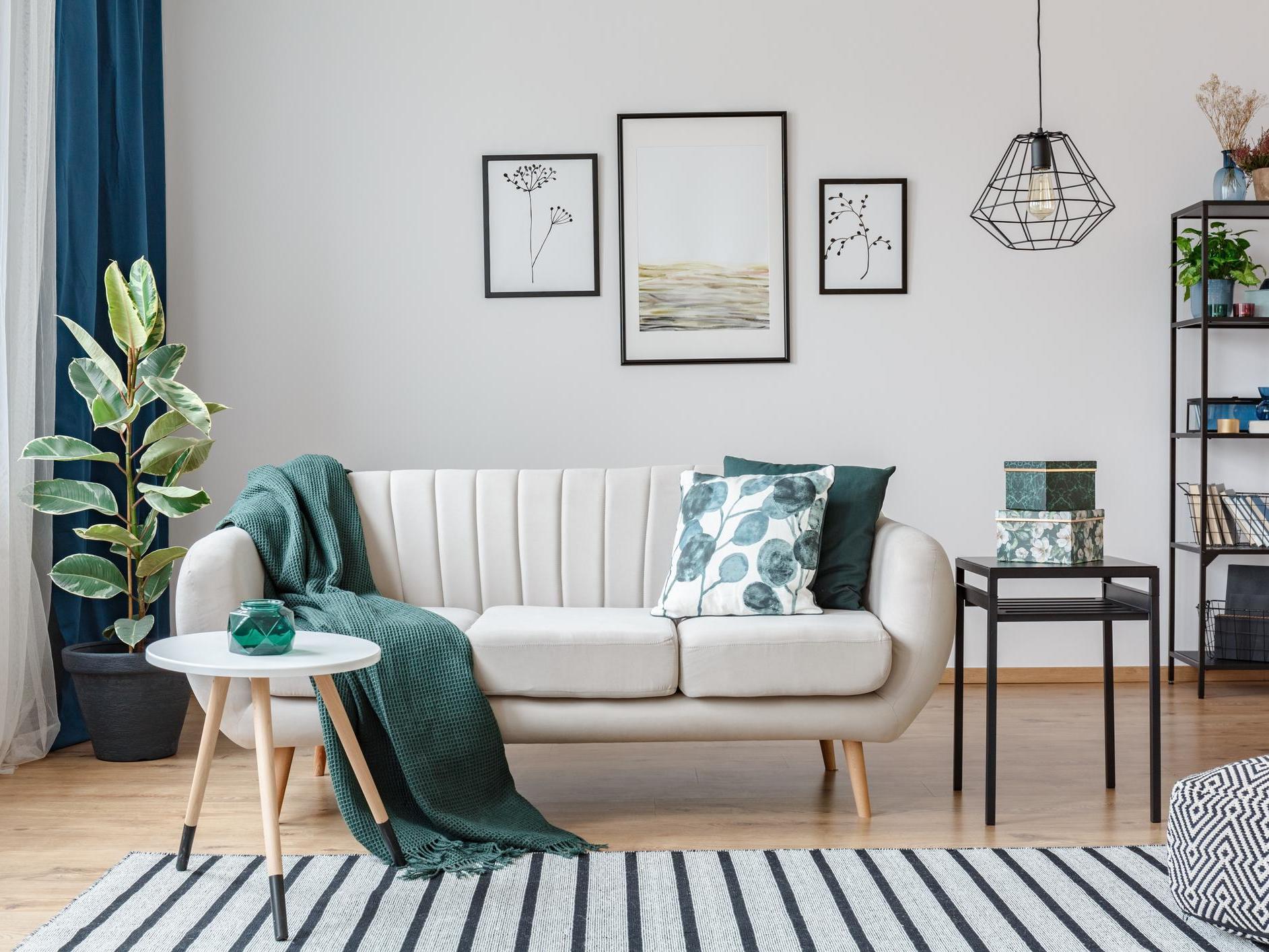 Our homes have played a pivotal role during the coronavirus crisis. No longer just a place to rest our weary heads at the end of a long day, since lockdown began they have transformed into makeshift offices, gyms and even classrooms.
But, with so many different activities taking place under one roof, cramped apartments and family townhouses alike have been forced to adapt to new functionality, and the way we look at these spaces is changing, too.
"For many people the start of lockdown was the first time they saw their homes during the [working] day and really had to spend time interacting with their decor choices," explains Kate Watson-Smyth, founder of interiors blog Mad About The House and author of 101 Interior Design Answers.
"Aside from the obvious point of having to make space to work from home, we also had to try and find ways to create rooms where work wasn't present – tricky when the coffee table was the new desk."
While the strict stay-at-home orders have gradually lifted, the past few months have changed the way we collectively understand the concept of home and it is likely they will also impact how we design spaces in the future.
From the need for distinct zones with different decor to help create delineation between work and play, to materials that are easy to keep clean and mitigate the spread of disease, the future of interior design looks set to reflect a world that has been forever changed by the coronavirus.
Here, we speak to interior experts about the lessons that have been learned during lockdown and how the way we style our homes will evolve post-Covid.
Flexible spaces
The last few months have taught us that our homes not only have to look good but have the ability to wear several hats and morph from more social spaces, to productive home offices and home-schooling environments.
According to the Office for National Statistics, 70 per cent of Brits had never worked from home before the coronavirus but, fast forward to present day and an estimated 20 million people have swapped crowded offices for makeshift workspaces in their own homes.
While lockdown restrictions are beginning to ease, with schools, bars and gyms all reopening, many businesses are considering allowing their employees to work from home for the foreseeable, including Twitter, which recently announced it will allow some of its workforce to continue doing so "forever" if they choose.
So, what is the best way to make sure a room can be used for different functions? Lucy St George, co-founder of homeware emporium Rockett St George, says the key is to work with what you have and make the most of every inch of space with clever storage that ensures your home feels both chic and organised and can provide each family member the opportunity to bring out what they need at different times of the day and then hide it all away once the day is complete, so family life can resume.
"When it comes to storage, there are so many incredible options available for all price ranges. For example, bench seating with hidden storage is a great way to add more storage space to your home and fold-out workstations or ladder shelves with built-in desks provide a handy, space-saving solution that can be styled to blend in with the rest of your home," she explains. "Working from a laptop is brilliant too as it provides you with the flexibility to work just about anywhere but, above all, it's time to get creative with space and design your home around the new demands of everyday life."
Ruth Wassermann, design director of furniture and homeware brand MADE, adds that this flexibility also has to extend to bridging the gap between a personal home and a professional home - as more of us give our colleagues a window into our living room through Zoom calls - meaning we feel pressure to curate (and keep clutter-free).
Ruth Wassermann, design director of furniture and homeware brand MADE, adds that people are even starting to design their homes for Zoom calls.
"I've noticed a lot of my colleagues choosing plants like monstera, because they're particularly good as a backdrop on video calls. I've been a lifelong fan of houseplants, and large-scale ones like cheese plants, or rubber plants create a real jungle vibe as well as helping with video decor," she says.
If you don't have space for this, Wassermann recommends choosing smaller plants on elevated planters.
Home is where the hygiene is
Throughout the pandemic, hygiene has been at the forefront of everyone's minds and this is something that Kelly Hoppen, interior designer and former-Dragon's Den panellist, predicts will become a priority for people when designing their homes.
This, she says, will bring many interesting changes inside our homes, including a move towards germ-resistant materials, smart technology and easy-to-clean hard surfaces.
"We have to learn to live alongside this virus now and so I think we will continue to find ways to make homes more sanitised. Whether it's making big changes like using materials which have antibacterial properties or surfaces which are easy to clean," she explains, adding that people are also likely to incorporate more stylish bins and luxurious hand sanitiser containers to help such new necessities "feel integrated and not too clinical or out of place".
"In guest bathrooms, soap dispensers that are sensor-activated rather than with touch will be more present and at the very high end, we are already looking at different ways to design to meet the demands of our clients who want a solution in their homes to the pandemic," Hoppen says, explaining that some people are already requesting adaptations to their homes such as extra hand wash basins and outdoor areas to remove clothing like boots or outer layers that may be contaminated.
Watson-Smyth agrees, adding that she too has heard talk of people redesigning their spaces to include special "boot rooms" and porches to provide an area where outside shoes and coats can be removed and stored away from the main part of the house.
Be our guest
With impromptu meals out and trips to the cinema on hold for the time being, our homes are having to work extra hard," says Goodger who predicts a surge in at-home entertaining.
After weeks of sheltering in place, the idea that home is a safe space has been cemented and, as such, people will look to create living environments that allow their lifestyles complete self-sufficiency with larger televisions, bars, and cosy seating areas all becoming significant factors, rather than unnecessary add-ons.
Duncan Campbell and Charlotte Rey, founders of design partnership and creative consultancy Campbell-Rey, suggest that the dining area is also likely to become a big focus for many people in the coming months. "The art of hosting was having a bit of a renaissance even before the pandemic and we believe this will only increase now," they say, recommending people to invest in larger dining tables with multiple chairs placed around the room, decorative napkins, crockery, glassware and a well-stocked drinks cabinet.
As the weather gets warmer, patio get-togethers will also provide a safe way to enjoy the company of others in a private setting, with more people extending their living quarters outside.
"Home entertaining has become a really important factor for us to consider," Coakley says. "It has been refreshing to see people take a keen interest in their gardens and create the ultimate outdoor entertaining spaces complete with home cinemas.
"The garden is now, more so than ever, being seen as an extension of the home and a hub for the family and friends to meet and enjoy one another company in a socially distant manner."
St George agrees, adding that people can make their outside spaces feel more homely by treating it as they would any other room in the house with rugs, throws, cosy cushions and plenty of candles.
The power of colour
It is often suggested that wellbeing and interiors go hand-in-hand, and even as we begin to venture outside more, many experts predict that people will be taking a closer look at their homes and how they can transform them into sanctuaries during these uncertain times.
For many, this starts with colour, says Lyndsey Goodger, founder of homeware boutique Rose & Grey. "It is important to create spaces that provide us with what we need as individuals," she says. "Whether that be calming rooms with neutral tones and lots of natural materials to help relaxation, or bright and airy places that inspire productivity for home-working."
If you're looking to create a space that will inspire a peaceful mood and promote clear thinking, Justin Coakley, an interior designer and stylist, recommends opting for a muted colour-scheme and a move towards minimalism that won't clutter the mind.
"There will be a big move towards cleaner looking interiors with more neutral colours and white being a big trend in interiors and one I see emerging out of the pandemic," he says. "White has also traditionally been associated with cleanliness and hygiene so it only makes sense that in design we are drawn to it again in a rise to keep our spaces cleaner and better sanitised."
Alternatively, if you want a room to energise you throughout the day, bright colours are the way to go.
"Much like a fresh application of red lipstick, the colour on our walls has the power to change how we feel," a spokesperson for designer paint company Lick says. "The pandemic has been very tough and as a result we've noticed more and more people opting for brighter colours, such as yellows and blues to lift their mood and help keep spirits up. Particularly in communal spaces, where the whole family can benefit from a little lift. It's amazing what a bright colour can do."
Bringing the outside in
With lockdown making it harder for many people to enjoy some of their favourite outdoor spaces, there has been an uptick in the need to bring the outside in.
"We've noticed a new care for plant life during the pandemic," says Sheena Murphy, founder interior design studio Nune. "Plants have a huge impact in a room and how we feel, and with so many people spending more time at home, extra care is being paid and there seems to be a growing appreciation for the act of enabling life and growth."
Coakley aggrees, adding that at a time of such uncertainty more people are beginning to bring nature closer.
"It's the one thing that we can rely on and makes us feel at ease and improves our wellbeing," he says.
"I have noticed a big move towards organic shapes and an re-introduction of earthy elements in the home. People are bringing the outside in and feel more connected to nature with greenery and plants in their immediate space.
"There has a also been a rise in people wanting to utilise their outdoor spaces more and incorporate garden studios or outdoor rooms that can double up as a workspace as well."
Join our commenting forum
Join thought-provoking conversations, follow other Independent readers and see their replies