Maison & Objet: 2019's hottest interior design trends
At the bi-annual fair, French design was in the spotlight. Anya Cooklin-Lofting shares trends and highlights from the event
Saturday 02 February 2019 18:14 Comments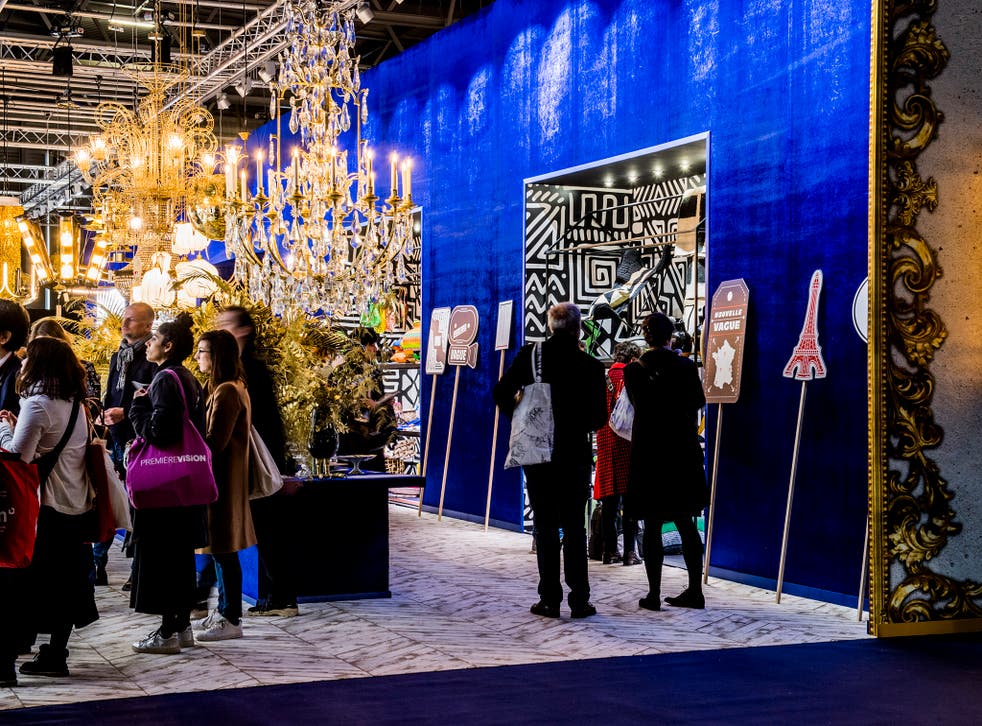 A sprawling landscape of installations (and bank-breaking cafes,) the bi-annual Parisian design fair, Maison & Objet, took place last month.
From the emerging to the established, designers and brands from across the globe populated the labyrinth of eight large, interconnected halls across 115,000 square metres. Since 1995, Maison & Objet has been a hub for interior designers and lifestyle professionals. The show is an epicentre of trend-led design and forecasting, and the ultimate platform to discover new brands and new collections from some of the world's most sought-after designers. Below are some trend updates and highlights from the first event in the 2019 design calendar.
Designer of the year 2019
I was lucky enough to meet Sebastian Herkner, Maison & Objet's Designer of the Year 2019. You may recognise his Bell Table (2012), created for ClassiCon. His very latest creations, however, were unveiled at the fair this year alongside some of the most famous works from his catalogue of design collaborations.
Herkner's new side table, created with Schonbuch, was positioned alongside the 2018 bar trolley from the same collaboration, while new mirrors, rugs and sculptural lighting was styled with chairs, tiles and glassware. He told me that he feels honoured to have won the prestigious award, and that winning something quite like this in Paris is "the cherry on the cake".
A celebration of French design
It seems that Herkner's reverence for the city was echoed throughout the fair. I spoke to Vincent Gregoire, director of consumer trends and insights at NellyRodi, a trends forecasting agency. Each year, NellyRodi publishes a consumer trends booklet, documenting l'air du temps in the design world. The January 2019 issue is rather wittily named, Excuse My French! – a play on the global fascination with French style.
In an installation dedicated to the theme and the release of the booklet, visitors could discover new French brands and collection and attempt to piece together what it is that makes the world so eager to emulate the nation's sense of je ne sais quoi.
For Gregoire, there is a "renewed curiosity about the French ... A sort of fascination" with the made in France phenomenon. This rang true as his installation, a replica of the Hall of Mirrors at the Palace of Versailles, filled with visitors as I sat on my Parisian bistro chair waiting for my interview slot. The whole affair was unequivocally French; inviolably self-aware.
Trends
With a multitude of brands and designers on display at the fair (there are some 3,000 of them), you can expect to see strong trends developing as you walk the halls. The most noticeable was the prevalence of cane and rattan. A great example is Podium Holding, a brand that created a collection of mid-century inspired furniture with Atelier2+. The pieces demonstrate the way cane meshing can be used for bed frames, chairs and sofas, drawing on the use of the material in South East Asia. So too did Feelgood Designs showcase the way the natural material can be used in the home with woven chairs and benches. Amongst the brands that specialise in the use of cane and rattan was the ubiquitous use of cane pendant lighting, often gratuitously. It packs a punch aesthetically and I understand its popularity, but I would hate to see it overused this year.
There was also a focus on novelty in all its kitsch ornamentality. Italian brand, Seletti is a major proponent of incorporating novelty in the home environment. From floor lamps modelled on contorted street lamps to armchairs in the form of huge, pillowy burgers, the brand's installation was an Instagrammer's heaven.
Jonathan Adler's new gold-flecked ceramics collection, Muse, was another hit of novelty at the show. A larger than life human hand with a polished, white glaze and golden illustration was styled next to a (quite-literally) multi-faceted vase, a motif of a dozen noses, lips and eyes about its body.
The final trend is to do with colour and the subversion of its use. The history of colour in art and design usually works on the principle of pairing colours with their complementary counterparts for a dramatic effect, as the pairings create the strongest possible contrasts. Blue and gold or pink and green are good examples of striking complementary colour combinations used throughout history. Think of the rich colour contrasts in Vincent van Gough's Starry Night or Jan van Eyck's Arnolfini Portrait.
This year, use of colour at the show took a new direction. This was evident throughout, but in particular, in an installation by Francois Bernard, director of trend consultancy agency, Croisements. Bernard is a pioneer of the intrinsic beauty in displaying colours along the same spectrum, in groups of blues, pinks, yellows and terracottas, fuelled by his passion for synesthesia. By creating a series of room sets dedicated to specific colours, Bernard explored the way we associate taste and colour in a stimulating and evocative installation called Share.
Support free-thinking journalism and attend Independent events
The Bitter component explored the way teal can merge into a swamp of tonal browns and greys, while Sweet brought about a saccharine sickliness in pinks and beiges. The mineral dryness of Salty had me reaching for my water bottle (€2.40) in a haze of blues and greys; the glorious citrus tones of Tart felt somehow quenching. Spicy was a particular highlight, with rich red woods, rough bricks and vibrant scarlet tableware, with a nod to novelty in the giant, centre-stage ceramic tomato.
It's safe to say that design in 2019 has started off on the right foot. Bring on Stockholm, bring on Milan, bring on Dubai, and bring on London Design Festival for a global calendar of trends, craft and innovation.
Register for free to continue reading
Registration is a free and easy way to support our truly independent journalism
By registering, you will also enjoy limited access to Premium articles, exclusive newsletters, commenting, and virtual events with our leading journalists
Already have an account? sign in
Join our new commenting forum
Join thought-provoking conversations, follow other Independent readers and see their replies