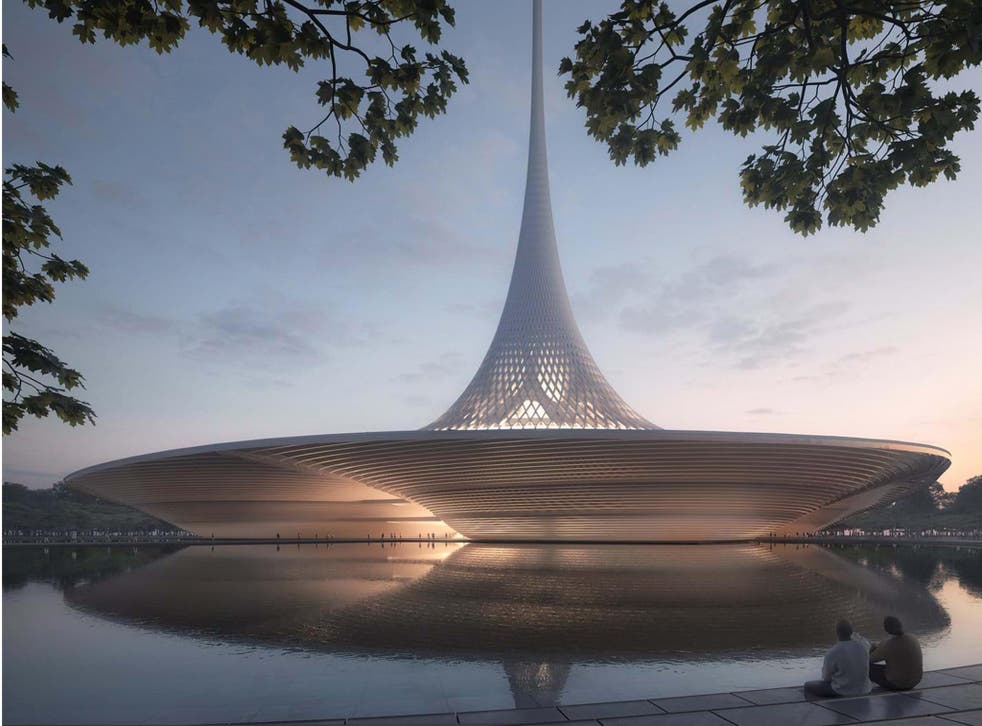 Norman Foster set to design ambitious new Indian city, but do purpose-built cities work?
Amaravati, which will be the new purpose-built state capital in Andhra Pradesh, is one of many new examples of architecture firms turning their hand to urban planning 
The shiny flythrough concept video for Foster + Partners' new project, the master plan of an entire city in India, depicts a sustainable Utopia: an urban sprawl where there is a place for everything; an area that is meticulously planned to marry together both magnificent architecture and nature. Square blocks and quadrants with clay coloured buildings paint a pretty pattern on the computer generated tree-heavy landscape – the bird's eye view looks more like a tapestry than a city.
Running through the middle of Amaravati is a long, straight park containing the firm's crowning centrepiece, a needle-like building which will host the central government of the western state of Andhra Pradesh; the building that is already featuring prominently on city's branding – with the "A" in Amaravati resembling the structure, accompanied by the slogan "the people's capital".
Located by the river Krishna, the city will occupy 217sq km, with 60 per cent to be dedicated to either green spaces or water; lakes and rivers strategically interweaving throughout the city to provide an abundant supply of fresh water to inhabitants.
With cycle paths, water taxis, electric-car routes and shaded pathways to encourage people to walk, Amaravati is being heralded as one of the world's first truly "sustainable cities", with Norman Foster himself describing the project on a visit to the area last week as "a design that brings together our decades-long research into sustainable cities, incorporating the latest technologies that are currently being developed in India."
The responsibility and indeed the creative freedom of Amaravati could make this one of the firm's biggest and most ambitious projects to date. It was first reported that Norman Foster's practice was awarded the project in January last year, after being invited to submit a design for just the central building; it was in December that Andhra Pradesh chief minister Nara Chandrababu Naidu hinted that the London-based firm's role would be much bigger.
The official proposals revealed last week, which alluded to the ambitious scale of Amaravati, were met with trepidation from those in the region. News of purpose-built developments is regularly accompanied by dubious quote-marked headlines and images of the current state of the area, and the massive cost that will be incurred.
Amaravati, for example, is set to cost $15bn (£11.2bn) to erect, with local news organisations commenting on the "painfully slow" progression in enacting the plans; the current village of Amaravati comprising half-finished civic projects and dusty farmlands, most, as reported by NDTV, connected by primitive dirt roads.
The plans for Amaravati began in 2014, with ministers claiming that the city could have "3.5 million dwellers" in five years. Three years after Indian president Narendra Modi laid the foundation stone for the city's government building, little work has commenced in the area beyond the planning stage, and locals believe the extravagant plans tabled by Foster + Partners signify a lack of action on the part of the local government.
Foster + Partners' new city master plan: Amaravati, Andhra Pradesh

Show all 8
K Nageshwar, an independent legislator in the neighbouring state of Telangana, told reporters: "Nothing much has happened on the ground in Amaravati. It is still more dream than reality."
So will Norman Foster's sustainable dream ever come to fruition?
Looking at his firm's track record, its success in civic projects is unquestionable. It holds the much-heralded renovation of the Reichstag in Berlin, with a reimagined glass dome in its centre, and has set the bar for designing government spaces. Its work on Kazakhstan's Nazarbayev Centre has made it one of the capital Astana's most recognisable landmarks, containing the county's biggest library and archive as well as a public forum.
In the UK Foster's renovation of the Treasury building has been considered as a template for the remodelling of the Houses of Parliament, in creating an efficient working space within the Victorian building's narrow halls and labyrinth offices.
Foster + Partners' ability to create dynamic government buildings might not necessarily give it the edge in pulling off a lavish, large-scale project like Amaravati, though it does seem to be corresponding with a trend in the architecture world: moving away from isolated structures and into master planning larger areas.
Zaha Hadid Architects for example has signed on to a number of master projects – including the design of a cruise ship terminal in Tallinn, Estonia. Haptic and Nordic Architects are teaming up to build a sustainable "green" city near Oslo Airport, and Frank Gehry has been chosen to spearhead the rejuvenation of the much-maligned LA river complex.
We've seen more outlandish master plan proposals being embraced by the architecture world too: Mexican-American architect Fernando Romero took home the top prize at the London Design Biennale in 2016 for his proposed "city beyond borders", a city state that would sit on the border of the US and Mexico, as a response to Donald Trump's proposed border wall.
Yes, traditionally, the way to go about city planning usually rests in smaller individual projects, but many larger plans have been huge successes. For example the rebirth of King's Cross is one of London's most ambitious projects ever, and has been heralded favourably, even attracting investment for a new Google HQ and a series of art galleries. The rejuvenation of Manchester, in particular planning by architects Urban Splash, has been hailed a success by both Mancunians and designers. Internationally, San Francisco, Chicago and Berlin have transformed run down factory-filled spaces into shiny new developments.
However, these are developments in cities that already exist, and designers and city planners already understood what residents needed from their public spaces. Foster + Partners instead is taking on the daunting task of building a city out of nothing, and these types of projects are very rarely success stories.
Brasilia, perhaps the world's most famous purpose-built city, is best known not for its stunning architecture by Oscar Niemeyer but for how empty it is; what was intended to be a city with the ability to accommodate millions instead hosted just thousands.
Ricky Burdett, professor of urban studies at the London School of Economics, told the BBC World Service in 2010: "The problem with Brasilia as with anything new is that it has some weaknesses.
"The problem is that it's not a city. It's that simple. The issue is not whether it's a good city or a bad city. It's just not a city. It doesn't have the ingredients of a city: messy streets, people living above shops, and offices nearby."
The legacy of Brasilia is one that can't be ignored by architects who are tasked with urban planning. Though there have been a few success stories, Washington DC and Saint Petersburg are both purpose-built, with extended development and settling coming later, establishing them as two of the world's most iconic cities. Even New Delhi was purpose-built initially to be the capital of India, after a move from Kolkata in 1912.
More recently Astana, the capital of Kazakhstan designed by Japanese architect Kisho Kurokawa, has had a number of exciting developments: its reputation for other-worldly architecture and geometric streets has made it a hot new destination for tourism, with Lonely Planet labelling it the "Singapore of the steppe". Though plans had initially put the population growth within the city to over a million by 2030, by the beginning of 2018 it had already exceeded that – making it one of the world's fastest growing cities.
Fosters + Partners' plans depict a city of magnificent architecture and planned sustainability, but it may need to learn from the past mistakes of other purpose-built cities and listen to potential residents – or see its green utopia remain an empty shell.
Join our new commenting forum
Join thought-provoking conversations, follow other Independent readers and see their replies