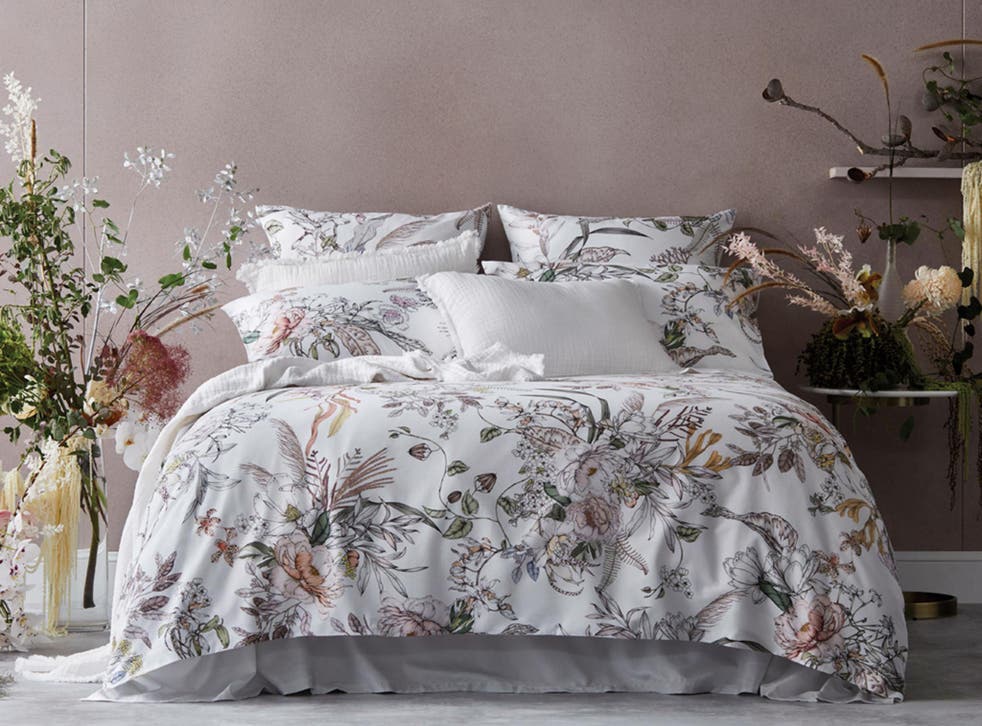 Winter Florals: how to incorporate florals into your home in the winter months
The simplest way to add a floral hit to your home is through accessorising to bring in accent patterning
This year, summery floral patterns and prints won't be wilting as we descend into the winter months. Dark, moody floral homewares and accessories are this season's must-haves, and there are many ways to incorporate the trend into every room in the house.
Although not overwhelmingly renowned for his interior design acumen, in the essay "Return to Tipasa" (1952), Albert Camus writes beautifully about an insurmountable happiness within himself: "In the middle of winter I at last discovered that there was within me an invincible summer." As a big fan of the brooding philosopher, I hate to trivialise this sentiment, but there is something to be said for acknowledging in yourself an invincible summer as the nights draw in, not relinquishing joyous, playful florals to the annals of SS19.
The simplest way to add a floral hit to your home is through accessorising to bring in accent patterning. Liberty's interiors emporium on the third floor of the Fitzrovia department store has just welcomed Floribunda, a new collection by 12 leading female designers and advocates of the year-long floral. The dynamic, chintzy range features contrasting gingham and Liberty print cushions by Edit 58, hand painted glassware by Petra Palumbo and embroidered floral napkins by Cressida Jamieson. Switching up your lampshades to honour the winter floral is also an option, as included within the collection are Liberty-print inspired lampshades by Frances Costello and a selection of Matilda Goad's insta-famous scalloped table lamps. Bryony Sheridan, Liberty's Interiors Buyer, says: "Floribunda is a celebration of maximalist interiors and florals - our print has long set the standard for bold and artistic design. Life shouldn't be bland - it should be full and spirited."
Floral ceramics are also fantastic for accessorising with such patterns, and there is a plethora on the market. Mix and match with vintage or charity shop finds, or invest in a beautiful dinnerware set from Burleigh or Zsuzsanna Nyul, who is also represented within the Floribunda collection at Liberty. Alison Howell, Design Development Manager at Burleigh, says: "Gone are the days of simple, minimalist dinnerware. Break out your boldest floral patterned tableware. It may seem counter intuitive but even simple dishes look better on a dark, lush pattern. It even makes the chucked-together-in-three-minutes-salad feel like an event, especially when dining in during the longer evenings."
Accessorising with artwork is an undervalued way of adding pattern into the home. We often discuss the ways art can bring personality and colour to a space, but its capacity for adding pattern is overlooked. Floral artworks will lift the mood of the space, and often fill the niche of a real bouquet. Andrew Martin's ever-expanding gallery of artwork is a great place to start, as is Anthropologie for more painterly styles. For more contemporary options, Partnership Editions has a range of artists in its portfolio that make beautiful floral art, including Julianna Byrne and Camilla Perkins.
For those that want to dedicate themselves wholeheartedly to the winter floral, the breadth and diversity of exquisite fabrics, wallpapers and furniture available is impressive. Mind the Gap, a Transylvanian design brand, offers a captivating range of maximalist options. Its new collection, Transylvanian Manor, is truly a floral fancy of wallpapers, printed velvets and linens, celebrating the illustrious history of Romanian nobility in the 16th Century and the beauty of Renaissance-style gardens. The new range has been designed to be layered, meaning you needn't limit yourself to a statement sofa or wallpaper, but can create depth by combining and clashing prints and colours.
Sofa Workshop's floral upholstery offering has become even more exciting with its recent collaboration with the V&A. The British sofa manufacturer has partnered with the leading museum of art and culture to produce a range of fabrics and new models inspired entirely by the archives. Within the new collection are some fabulously vibrant yet classical floral fabrics that lean towards chintz with a contemporary twist.
Jodie Hatton, Creative Designer at Brintons, believes that you should treat your floor as a fifth wall and experiment with pattern and colour where you least expect it. The carpet manufacturer's new collaborations with Timorous Beasties and Laura Ashley have been incredibly successful, and it has reported a dramatic rise in sales since the introduction of these dark floral options.
Another unexpected way to introduce a statement floral into your home is through some new floral bedlinen. Your bed takes up much more space, physically as well as emotionally, than you might expect it to. You want to ensure it looks inviting and relaxing, but it's also crucial to realise that the linen you choose will have a huge impact aesthetically. A double bed, in many spaces, can have the same dimensions as one of the four walls of your bedroom, so it's important to consider what pattern you choose. Especially for renters, choosing floral bedlinen is a much more viable way to incorporate this trend over buying a new sofa, fitting carpet or hanging wallpaper. Sheridan's Autumn Winter collection is a melange of painterly florals, inspired by Australian wildlife and the robust architecture of magnolia petals, while John Lewis also has a range of almost gothic, blooming floral bedlinen designs in partnership with Designers Guild.
It seems the design world isn't quite ready to let go of floral homeware as we edge towards the festive period. New collection launches suggest the end of summer does not necessitate the end of beautiful floral home buys, so let's embrace the invincible summer within and start with some scatter cushions...
Join our new commenting forum
Join thought-provoking conversations, follow other Independent readers and see their replies