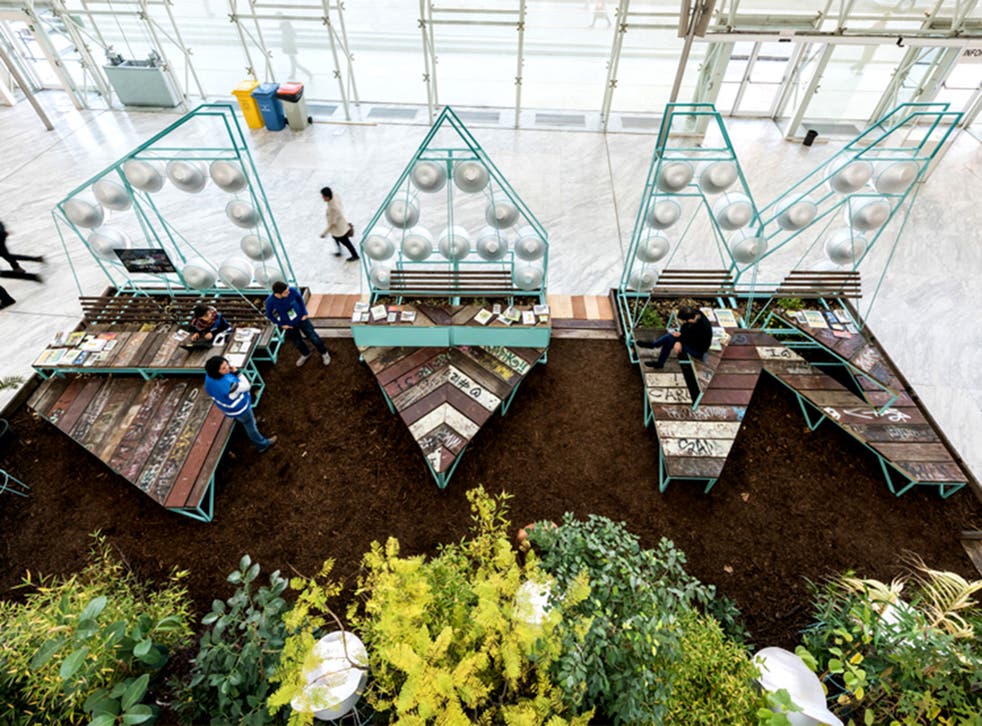 Zuloark: the rebellious design group creating jaw-dropping spaces - all to be recyled
Zuloark's radical approach to public design projects includes a belief in 'public ownership' of materials
Along a sleepy, fortified stretch of the Málaga coast, young architects and designers are racing to put the finishing touches on a series of pavilions, terraces and bars.
Uva, a tiny 650 capacity music and arts festival located in a former monastery turned winery, have managed to rope in award-winning design collective Zuloark">Zuloark to create a series of structures and workshops, the aim: the create an architecture-inclusive festival, that invites attendees to help build some of the environment around them.
"Architecture is always a big part of festivals" comments Juan Chacon, co-founder and member of Zuloark "and festivals are still this place where everything can happen, where people can feel creative. Architecture amplifies the way that festivals are experienced, we're just trying to take it one step further by giving people the opportunity to get involved".
This form of "crowd-sourced" architecture isn't new to Zuloark. Established in 2001 by a group of Madrid students, their philosophy is greatly inspired by the teachings of soviet psychologist Lev Vytogsky; in that ideas form more organically from the collective imagination of people with different skills and knowledge, than by a singular person, limited by a narrow viewpoint of the world.
Zuloark began, Chacon describes, amid frustration amongst many students at his university who believed that architecture had become too personality driven.
"We were born from necessity, it was a time of change. We were in the middle of a period where architects were being heralded as gods; as students we were just being told that Frank Gehry and Bilbao's Guggenheim Museum was the way to do things, it was all about fame and exposure."
"I think our group wanted something different, we wanted to learn from each other and see what can be created from the collective imaginations of a larger group of people"
This mentality extends to every part of their practice, with no real set aims or style, Zuloark conducts itself as collaborative platform that a practice. The defining style of their work is less about visual, concrete similarities – but more the nature of the innovation, and the ethos their designers work by.
"I think each projects has its own tools and desires" Chacon tells us "We say: A projects is better if it can positively affect a large amount of people, we keep this in mind when selecting the work we do."
For example, one of their most notable projects, a pavilion designed for San Sebastian's Capital of Culture in 2016 – much more thought was involved in the new techniques the designers could employ to construct the project, rather than the impact of its appearance. The pavilion consisted of 278 wooden chairs and tables interlocked together within a metal frame to create a building – the idea behind it that the crowd could interactively remove and add in elements to construct their own space.
Similarly, Akôo, a pavilion created for the Cultural Centre of Spain in Malabo, Equatorial Guinea, was designed as a meeting place and shaded area within the centre, for visitors to rest. Zuloark wanting to take non-essential local materials, had only teak as an organic component – and instead formed the rest of the structure from car rims and recycled plastic tubing. The ingenuity of the structure is its subtle tribute to the island, the teal colour is similar to the tint of many dwellings in Guinea – the plastic braids that make up its cover are similar to traditional nipa covers, a palm that has been banned in the country.
One similarity between both structures is the philosophy around material usage – both are designed to be taken apart easily, and remade into something else. Zuolark's "second lives" mentality, involves ensuring their commissioners intend to reuse the materials from their designs or reuse the structure for public good.
For example an installation called "Gran Via" which involved adding a swing into the middle of a busy Madrid street during "La Noche Blanca" (White Night) festival, was reused later on, with organisers moving the swing set to the slum of Cañada Real on the outskirts of the city, to be used by the children living there. Another pavilion – a wooden structure designed to hold leaflets for the Stan Conama Environment Fair, was later repurposed by Madrid City Council as an outdoor play area in a nursery school.
The collective believe that that all materials are publicly owned – and therefore their projects are 'borrowing' resources from the public, which at some point must be returned for different use in the future.
The thinking behind this goes back to ideological roots. In 2011 Zuloark made headlines for their "Universal Declaration of Urban Rights" in which they promote involvement from the public in decision-making on public spaces; putting citizens in the driving seat and promoting democratic processes in city-planning.
This revolutionary thinking appears to have paid off - despite their unconventional methods Zuloark have been awarded with some of the industry's most coveted prizes. In 2014 they were awarded with the Dubai International Award for Best Practice and the Prix Ars Electronica Golden Nica in 2013. Their work has been featured in exhibitions all over the world, in notable institutions like the MoMA, Akademie der Kunste and the Lisbon Architecture Triennale.
Even with this success, the focus for Zuloark is always on learning exchanges – attempting to attract new talent who are willing to contribute the skills needed for their expansion.
"We try to implement learning exchange" say's Chacon "we're taking in clients and wanting them to really get involved in decision making – we try to engage neighbours and communities. This is both so we can fufil their needs, but additionally so we can learn from them and gain new perspective on our own work."
However, Chacon confirms, the loose structure of the institution has caused ripples in the past, as Zuloark have had trouble maintaining the constantly evolving and unestablished nature of their business. During the 2008/9 economic crisis, many members left as Zuloark was forced to transform from a voluntary, amateur movement – to a professional cooperative practice.
"Nowadays we are facing an interesting challenge. Zuloark is growing so rapidly that we have a really diverse set of designers who are firing in lots of different directions. Our philosophy has always been the 'whole is greater than the sum of the parts' and we're trying to attract people who want to work both independently and freestanding in a distributed open office."
The loose structure has ensured a very slow build-up for Zuloark's success as a practice, but the collaborative process of Zuloark has ensured its development to become less of a business, and more of a school of thought.
You can see Zuloark's work at UVA Festival, which runs from 8th-10th June
Join our new commenting forum
Join thought-provoking conversations, follow other Independent readers and see their replies