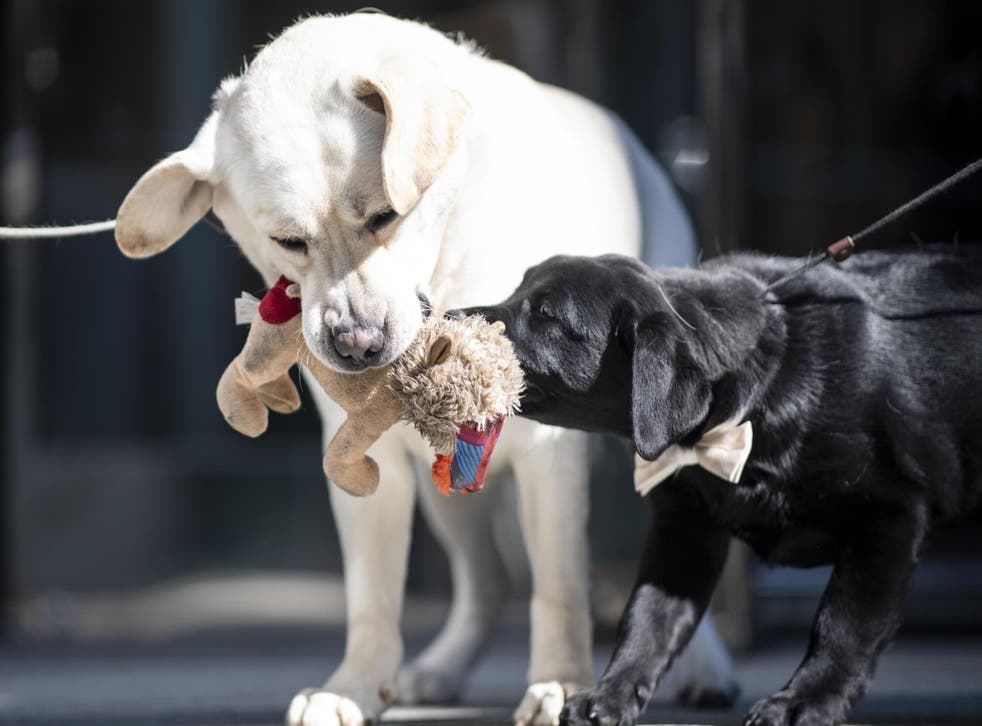 Lockdown has increased 'stress' symptoms in dogs, survey finds
It suggests that barking and even biting have increased as a result of lockdown
Leer en Español
The first survey on the impact that lockdown has had on dogs and their owners found that the pandemic has negatively impacted the behaviour of more than a quarter of pets.
Dog's Trust surveyed over 6,000 owners in the UK, with 26 per cent reporting that their dog had developed an unwanted behavioural problem since lockdown began
Conducted in May, it found that 55 per cent of people had changed their dog's routine as a result of lockdown regulations.
The most common adjustments mentioned were a change in the length of their walks, due to the limits set on daily exercise, as well as trepidation to allow dogs off-lead.
"These are challenging times as millions of us across the country have had our daily lives turned upside down", says Rachel Casey, Director of Canine Behaviour and Research at Dogs Trust.
"Whilst some dogs have been happy to have their human family at home more, others have been stressed by reduced exercise, inability to find a quiet place to rest or no contact with other dogs", adds the behaviourist.
Signs of boredom and attention seeking in dogs were found to have increased greatly, with 82 per cent saying their pet had increased the amount of whining or barking it exhibited when a member of the household was busy. While 41 per cent said their dog had started trailing them around the house.
Searches for 'dog barking' and 'dog bite' on Google were both up over 40 per cent when the survey took place, signalling an increase in these behavioural issues.
While 54 per cent said there was a rise in how often their pet moved away or hid when approached.
If the new behaviour isn't tackled it's thought it could lead to more dogs experiencing separation anxiety and ultimately to more dogs being abandoned, if owners fail to cope.
Dogs Trust says that owners will need to take action now before returning to work to help their pets readjust to their previous routine after such a long period of constant companionship.
"A big worry for us is what the long-term impact of lockdown will have on dogs' ability to cope when left home alone. Dogs that had separation anxiety before the lockdown are likely to get worse when left again as owners head back to work", says Casey.
Crufts 2020: Best dog pictures from this year's show

Show all 20
"We also expect to see new cases developing, because other dogs, and particularly puppies, have learnt to expect company all day. We could well see a rise in the number of dogs needing our help or being abandoned because of this," Casey adds.
To curb this behaviour and ensure these potential problems don't get worse, the charity advises owners should start reenacting their previous routine to ease their dog back in. For example by leaving them alone in the room they would normally stay in while you are out and checking that they aren't showing signs of stress.
With puppies, it's recommended to slowly increase the time they are left alone to help them become more independent.
"It is much easier to prevent problems that treat them", says Casey.
"We would urge people to visit our website or Dog School videos on YouTube for advice and support to help prevent these problem behaviours from developing", adds the Dogs Trust expert.
The study's results follow reports from The FT that there was a "puppy shortage" in the UK during lockdown, which led to prices doubling and waiting lists increasing four-fold.
For more advise on responsible dog ownership visit the Dogs Trust website.
Join our new commenting forum
Join thought-provoking conversations, follow other Independent readers and see their replies