The Independent's journalism is supported by our readers. When you purchase through links on our site, we may earn commission.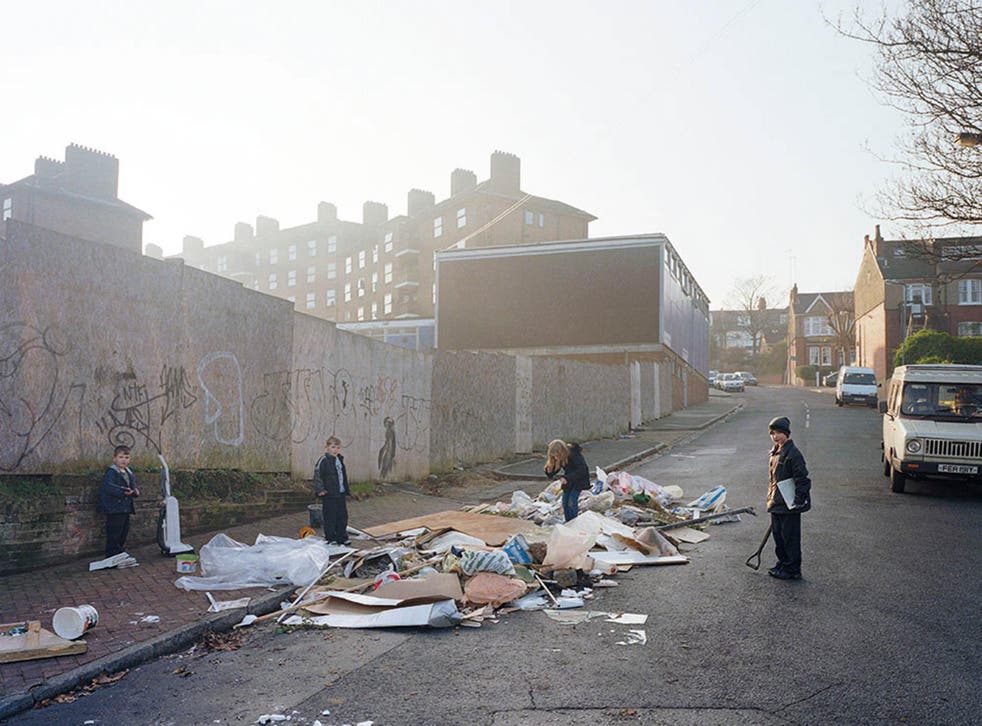 East London pre-hipsters: The photographers who documented Lea Valley before gentrification
Parts of east London have been transformed in recent years. Two photographers are attempting to capture this rapid piece of history before it's too late
Kashmira Gander
Friday 03 February 2017 13:25 Comments
In just over a decade, east London has gone from being synonymous to outsiders with Cockneys and pie and mash – to edgy artists, gentrification, hipsters and luxury flats.
The Lea Valley is a part the capital that has been washed over by this wave of change. The areas of Canning Town, Stratfod, Leyton, Bow, Bromley and Homerton dot its banks. Nearby are the once ultra-trendy areas of Shoreditch and Hackney.
Its namesake the River Lea runs from Hertfordshire to and joins the Thames River in East London, and helps to supply the capital with water. For years, the river served as a transport corridor and a source of unglamorous gravel and sand, while its banks were home to industry including gun powder and flour factories. Then it became a nature reserve and any area for leisure, encompassing the famous Hackney Marshes football pitch. In the run up to the 2012 Olympic Games, the Lea Valley area was caught up in the regeneration of east London. The UCL East campus at the Queen Elizabeth Olympic Park set to open in 2018 will give the area another face lift.
Adventures in the Lea Valley - In pictures

Show all 9
Photographers Polly Braden and David Campany captured the area in 2004 and 2005, and after the London Olympics in 2012. To take their shots, they explored the area on bike armed with a camera and a light meter. Their work was recently compiled in the book: Adventures in the Lea Valley. The project includes standard documentary and street photography, but also experimental staging.
The images explore this multifaceted part of the capital and reflects how it is distinctly urban, but has areas of natural abundance. In one shot, a stretch limo is viewed through algae-covered tree branches on a river bank. Another documents bikers parked up alongside a water-side industrial building. And an older woman sitting in a greasy-spoon café beside bottles of ketchup and a community notice board. Or children playing in a pile of household waste, one with a shovel in their hands.
"The 2012 Olympic facility was an imposed, top-down plan but what you really feel is the daily pragmatism of the place. There are tensions, but at its best everything rubs along," Campany tells The Independent.
Having watched the area change gradually over time into another hipster enclave, has the character of the place changed forever?
"Yes," he argues. "There are major changes that won't be reversed any time soon, notably the sharp decline in affordable rent and the relentless rise house prices," says Campany. In 2012, housing and homelessness charity recorded a spike in the number of families being evicted by landlords who wanted to turf them out in favour of renting to visitors at higher prices.
"These change everything, from demographics and culture to the architecture and land use. Will the bubble burst? Who knows?" he asks.
The people who live in the Lea Valley area are "acutely aware" of how where they lived has gone from an area of urban decay to an in demand middle-class postcode in ten years, he says.
"The reaction to the book has been very positive," says Campany. "They've tended to see the book very much as a historical document, even though the pictures aren't much more than a decade old."
Asked whether there is a sweet-spot for regeneration before it becomes the negative-by-definition gentrification, Campany is wary of such terminology.
"That sounds like hipster real-estate speak. No comment!" he replies. His and Braden's project have laid bare how amid the trendy coffee shops is real, tangible suffering.
"The increase is rough-sleeping along stretches of the Lea is worrying. Nobody should have to sleep rough," he says.
Register for free to continue reading
Registration is a free and easy way to support our truly independent journalism
By registering, you will also enjoy limited access to Premium articles, exclusive newsletters, commenting, and virtual events with our leading journalists
Already have an account? sign in
Join our new commenting forum
Join thought-provoking conversations, follow other Independent readers and see their replies