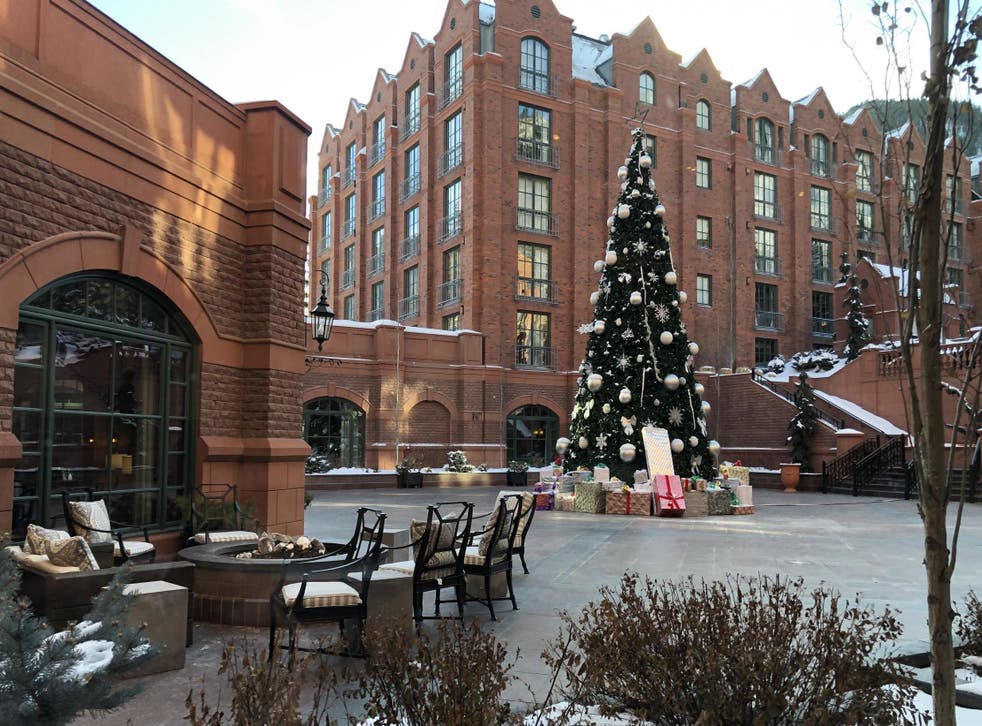 Eleven Madison Park: A glimpse inside the luxurious Aspen winter pop-up of one of the best restaurants in the world
This is the restaurant's first winter pop-up
Over the past few years, the restaurant Eleven Madison Park has cemented its place at the forefront of fine dining - the reason being the talent and expertise of chef Daniel Humm.
After purchasing the New York City restaurant in 2011, alongside his partner and restaurateur Will Guidara, Humm has managed to secure three Michelin stars, a four-star New York Times review, multiple James Beard Awards, and the title of best restaurant in the world.
The various accolades are the result of Eleven Madison Park and chef Humm's $315-per-person eight-to-10-course seasonal tasting menus, made up of some of the finest food in the world and served over roughly three hours.
But despite all this, there is one thing Humm has not done until now… served up the food of his homeland.
That changed with the opening of EMP Winterhouse, a pop-up restaurant in Aspen, Colorado where Humm and Guidara, in partnership with American Express, are serving the classic dishes that Humm grew up with back in Switzerland.
We were fortunate enough to attend a four-course dinner at the new outpost, located in the St Regis hotel in Aspen, before it opened to the public - this is what we thought.
Upon entering the beautifully decorated restaurant, we were greeted with speciality cocktails, hors d'oeuvres, and Humm himself, who mingled and spoke with guests as they entered the dining room.
However, it was once we had sat down to the meal that we realised how impressive Humm and his team were - when we threw a dietary-restrictive curveball.
After looking over the carefully curated menu, which included the choice of veal or lobster for the main dish, we informed our server of our dairy allergy - which we worried would hinder the meal.
To our surprise, both the server and the chefs took our dietary restriction in stride - informing us that we would be served a completely dairy-free version of the meal.
The ability to adjust to a last-minute menu change such as this, without omitting courses, is the mark of a truly talented chef - which Humm clearly is.
According to Guidara, the concept of a winter pop-up had seemed completely crazy at first, despite the success of two summer pop-ups in the Hamptons - but Humm managed to convince him over some Manhattan cocktails.
"This is something we've been working on for a year and a half," Guidara said, before handing the crowd's attention over to Humm, who acknowledged that the night felt "surreal."
"For me, it's special to be in the mountains," Humm told us, before explaining that he'd never had a chance to cook the food of his homeland before because he'd started working for French chefs at the age of 15.
The nine best restaurants in the world (2017)

Show all 9
"I grew up with it but I never actually really cooked it," he said of EMP Winterhouse's Swiss-inspired menu, which features dishes such as veal schnitzel, Spätzle, trout toast and fondue. "This time it just felt really right."
As for the food, it was delectable and what one would imagine of one of the best restaurants in the world.
Despite being a more casual outpost of Eleven Madison Park, courses of oysters, scallop ceviche, and foie gras with black truffles, all prepared dairy-free, were enough to convince us that the pop-up was created with the same equally high standards in mind.
But it was the main course, a butternut squash with dehydrated apples and quinoa, that could easily be described as the best dish we'd ever eaten - and which made up for the fact that we'd had to skip the veal and lobster selections.
The final course of the night was a specially-created dairy-free dessert of lemon sorbet topped with champagne that tasted as good as it looked on our Instagram story.
After we were served ours, another guest at our table requested the same decadent frozen course.
Following the dinner, we journeyed outside to the second part of the pop-up - a yurt village in the outdoor courtyard, where guests can enjoy cocktails and après-ski in Swiss-decorated heated tents.
We were offered hot chocolate and the opportunity to duck inside the various tents, which, in addition to offering the perfect photo backdrop, can be booked for large fondue dinners.
The yurts were heated and cosy and you could zip them closed for privacy - which makes it possible to forget you are actually outside in the winter temperatures of Aspen.
Overall, despite being more casual than the acclaimed Eleven Madison Park, it is clear that EMP Winterhouse is fine dining, from the talent and dedication of the team of chefs to the flavours of the Swiss-inspired dishes.
But most importantly, in addition to being slightly more affordable than Eleven Madison Park, EMP Winterhouse is fun, unique and temporary - characteristics that make it the perfect fit for the luxury ski town.
Support free-thinking journalism and attend Independent events
EMP Winterhouse is open from December 15 to April 6 exclusively to American Express cardholders, with the credit card being the only form of payment accepted. You can make a reservation here, or speak to your American Express lifestyle counsellor.
In addition to booking dining reservations for Amex Card Members, lifestyle counsellors - knowledgable experts on specific regions or destinations - can create individualised travel itineraries. Apart from dining, curated itineraries can include activities and hotel reservations at one of over 1,000 hotels available to Card Members under Amex Travel's Fine Hotels and Resorts program, where members receive benefits such as late check-out and spa credits.
You can learn more about American Express lifestyle counsellors here.
Join our new commenting forum
Join thought-provoking conversations, follow other Independent readers and see their replies