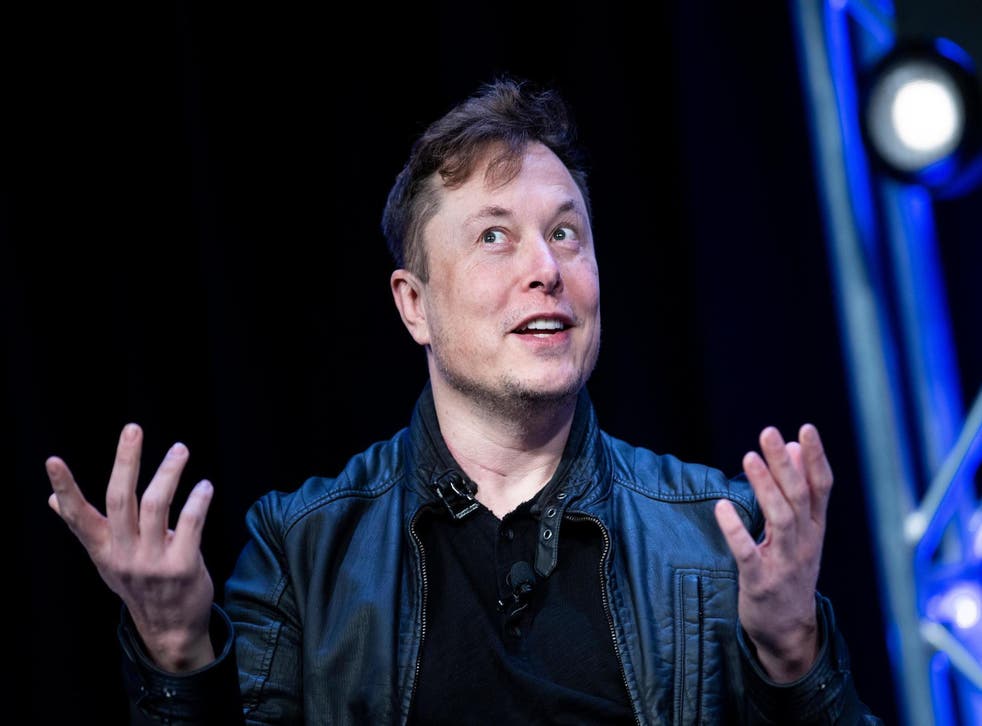 Elon Musk 'mansplains' coronavirus to infectious disease expert
Tesla CEO previously suggested new coronavirus cases would be 'close to zero' in US by April
Chelsea Ritschel
New York
Thursday 02 July 2020 21:57 Comments
Elon Musk has attempted to explain to a virologist why his own opinions on the coronavirus pandemic are more accurate.
On Saturday, the Tesla CEO tweeted about the "ridiculous number of false positive C19 tests," which he claimed are a "big part of why C19 positive tests are going up while hospitalisations and mortality are declining".
In the tweet, Musk also encouraged anyone that tested positive for coronavirus to get retested.
On Monday, Musk's claim attracted the attention of Dr Angela Rasmussen, a virologist and associate research scientist at the Center of Infection and Immunity at the Columbia University School of Public Health, who disputed the SpaceX founder's claim and suggested he not "make epidemiological pronouncements about why hospitalisations are increasing" if he does not understand "the difference between PCR (false negatives are bad) and serology tests (false positives are bad)".
According to Dr Rasmussen, she was compelled to respond to Musk's tweet to "correct the false and dangerous misinformation that he is spreading."
"Hospitalisations are not decreasing," she tweeted. "Deaths are beginning to increase in the most heavily affected states."
"When multiple people with infectious disease/epidemiology/virology experience point out that a billionaire celebrity CEO with zero knowledge of any of the above fundamentally doesn't understand how tests work, I'd defer to those with actual expertise," she continued, adding that if she was asked "to comment on the intricacies of the luxury electric car market or how to secure Nasa contracts," she would defer to Musk.
"No one benefits if people with platforms allowing them to reach millions are spreading demonstrably false information and public health guidance," she responded to one person who argued that the advice of non-experts should also be taken into account.
On Thursday, rather than acknowledge that his knowledge on the subject may be lacking or factually incorrect, especially in comparison to Dr Rasmussen's, Musk asked the expert to "prove" her point using graphs and data.
"Yes, Angela, please show us the graphs/data that prove your point," the 49-year-old tweeted.
In a series of tweets, the virologist proceeded to explain why Musk's original claim was incorrect, before using a graph portraying the latest ICU occupancy from Arizona's Department of Health to prove her point.
"Furthermore, hospitalisations are not decreasing. They are a lagging indicator and patients testing positive take time to progress to severe disease after diagnosis," she wrote. "Here's today's latest ICU occupancy from Arizona's DOH. ICU bed usage has been steadily increasing."
In response, Musk criticised Dr Rasmussen's explanation, instructing her to "show the whole country".
"You cherry-picked one state out of 50, which saw a minor up-tick," he wrote - a method that Dr Rasmussen said is "not a useful way to look at data".
"The pandemic impacts different states in different ways and necessitates different public health responses, which occur at the state and local level. That is not a useful way to look at the data," she explained.
The interaction has amused people on social media, where many accused Musk of attempting to mansplain to a virologist about the pandemic.
"Elon mansplaining infectious disease to the world renowned virologist. Breathtaking," one person tweeted.
Another responded to Musk and others questioning Dr Rasmussen's expertise, writing: "Wow. She is an actual expert, you don't just become an infectious disease doctor or epidemiologist because you are an entrepreneur. This is the epitome of mansplaining. Neither of you are experts, but she is. Is that clear?"
Others pointed out that Musk has previously made incorrect assumptions regarding the coronavirus, including that there would be "close to zero new cases" by the end of April in the US.
"Elon Musk is attempting to mansplain the pandemic to a LITERAL virologist & associate research scientist at the Center of Infection & Immunity at Columbia University," someone else tweeted. "Reminder that @elonmusk ALSO claimed there would be 'close to zero new cases' by the end of April."
Register for free to continue reading
Registration is a free and easy way to support our truly independent journalism
By registering, you will also enjoy limited access to Premium articles, exclusive newsletters, commenting, and virtual events with our leading journalists
Already have an account? sign in
Join our new commenting forum
Join thought-provoking conversations, follow other Independent readers and see their replies