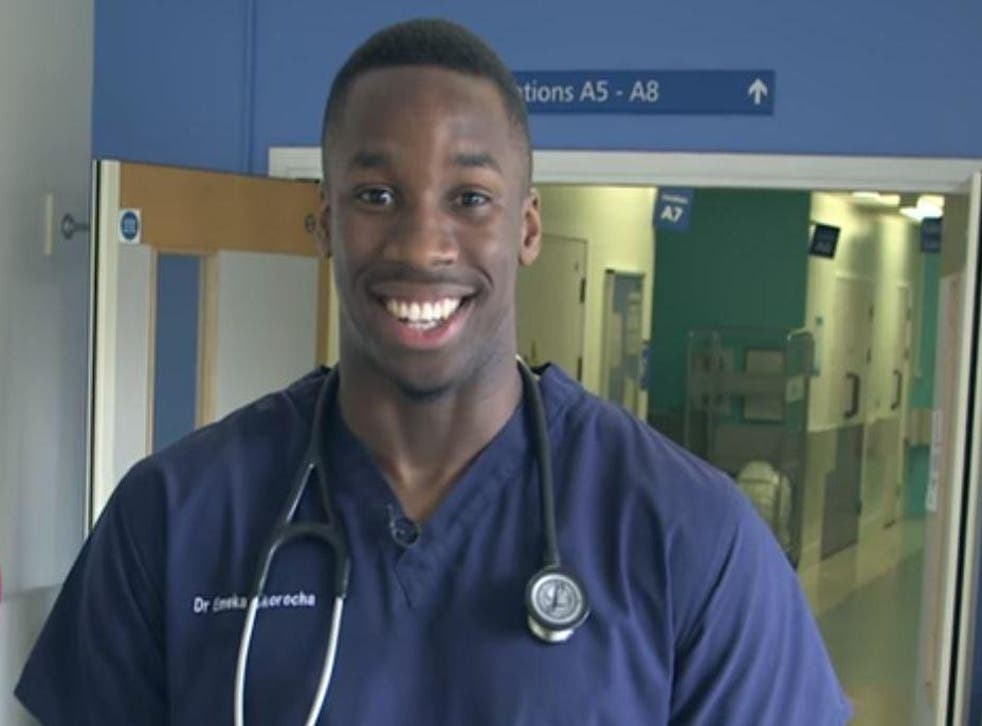 TV junior doctor Emeka Okorocha attracts legion of female fans after sharing top hangover cures
A junior doctor has gained a legion of female fans after a video of him sharing hangover cures went viral on Facebook.
Offering his tips in a bid to promote BBC3's new TV series, Junior Doctors: Blood, Sweat and Tears, Dr Emeka Okorocha has become an unlikely online sensation thanks to the short clip, which has been viewed more than 800,000 times.
Excitable Facebook fans are asking if the 24-year-old surgeon and former model at Hollister "makes house calls."
In the video, Okorocha explains his top tips for softening the blow after a night on the tiles.
These include drinking a Virgin Mary, which he explains will help to rehydrate your body and brain.
Then there's his delightful-looking banana and honey sandwich, which the young doctor tucks into before claiming it will boost your electrolyte levels.
He also praises ginger tea as a hangover remedy, adding that a homemade batch can help sooth a headache.
After concocting a fresh batch himself, Okorocha sips the warming cuppa before looking up at the camera and saying "this tea is dope" with a smile, to a slew of fluttering hearts.
However, the junior doctor's tips seem to have gone largely unnoticed by viewers, who seem more fixated on his playful sense of humour and model looks than his sound medical advice.
"The only reason i'm watching this because i wish my doctor looked like him," wrote one Facebook user.
"No idea what's he's saying but he fine AF," added another.
One man, however, was quick to criticise commenters for perpetuating a double standard:
"If guys were talking about a female Dr the way some of you thirsty lady's are talking about this dude we'd be shot down for harassment [sic]," he said.
However, Okorocha isn't just any old viral heartthrob; originally from Port Harcourt in Nigeria, he is third in like to the throne in his family's province.
So not only is this guy an ex-model, a doctor and an expert on hangover cures, he also happens to be a bonafide prince.
Quite the Tinder bio, we suspect.
According to his BBC3 profile, Okorocha began his role with the NHS in April and currently specialises in general surgery.
When he's not busy saving lives, the young doctor apparently has a penchant for fine dining and enjoys going to the ballet and relaxing at the pub with friends.
He is "a self-confessed 'ladies-man'" and was crowned the most eligible bachelor at the University of East Anglia where he studied medicine.
He is currently single.
Join our new commenting forum
Join thought-provoking conversations, follow other Independent readers and see their replies