The Independent's journalism is supported by our readers. When you purchase through links on our site, we may earn commission.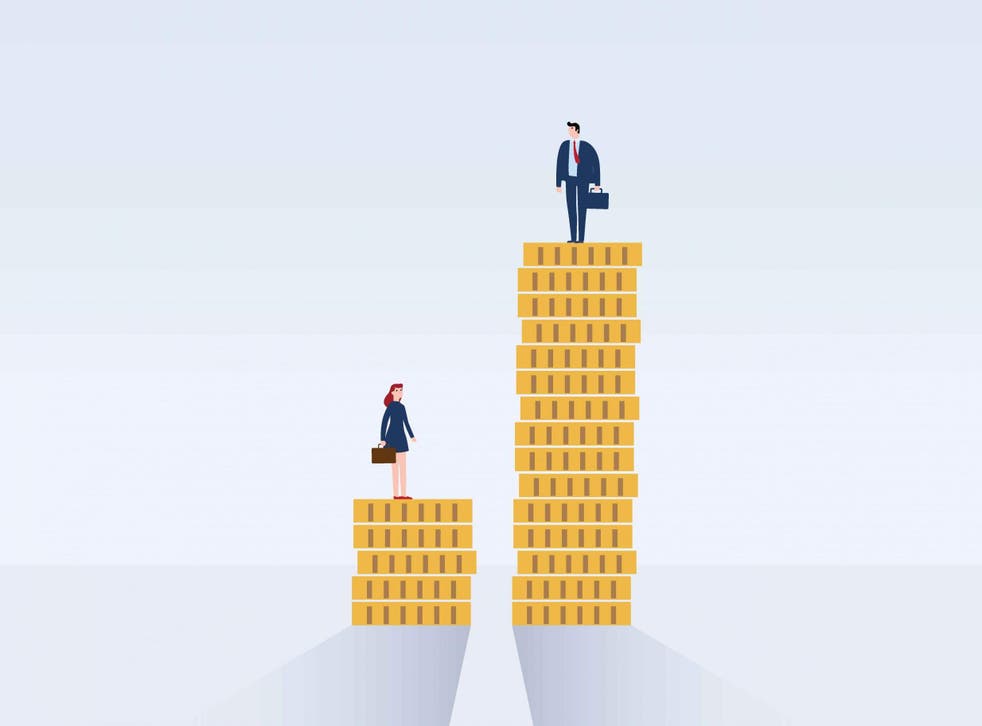 Equal Pay Day 2020: What to do if you're being paid less than your male colleagues
How to find out if there is a discrepancy – and the next steps that you could take
Unequal pay for male and female employees who do the same, or broadly similar, jobs has been illegal in the UK since 29 May 1970 when the Equal Pay Act was passed. But it still happens.
In June 2018, the BBC's former China editor Carrie Gracie won her unequal pay claim after it emerged she was being paid about £100,000 less than a male counterpart. And it didn't end there: BBC presenter Samira Ahmed also won her equal pay case against the broadcaster.
Unequal pay doesn't just impact high-profile women. Research released by the UK's leading charity for gender equality, the Fawcett Society, shows that 60 per cent of women in workplaces across the UK either don't know what their male colleagues earn or believe they are earning less than men doing the same job. 
Two-thirds of women say this has a detrimental impact on how they feel about their job, 33 per cent feel less motivated and 20 per cent want to resign.
Sophie Walker, chief executive of the Young Women's Trust, a charity supporting women aged 18-30, said: "Sadly we know [unequal pay] is all too common and it can be daunting for women to challenge their employer, especially if they are worried that this will be held against them. But women can and should ask their employer to explain why they are being paid less."
Made in Dagenham: A 1968 strike led to equal pay for women

Show all 2
In recognition of this ongoing and widespread gender pay gap the Fawcett Society established Equal Pay Day, marking the point in the year from which women are effectively working for free compared with male salaries. In 2020 this falls on 20 November.
If you suspect you are being paid less, what can you do about it? Are there steps to take to ensure you stand the best chance of having your complaint taken seriously? The Independent spoke to experts on employment law to find out.
How to find out if you're being paid less
Jamie Susskind, employment barrister at Littleton Chambers, says in his experience the most common way to find out about other people's pay is through workplace conversations or via word-of-mouth in another context.
Anthony Sakrouge, partner at Russell-Cooke solicitors, agrees that the process often starts with a simple conversation: "You could ask the employee in question, but he or she will not be under any obligation to answer. You could also ask your employer, which is probably the better route."
David Hodge, employment lawyer at Slater and Gordon, says if you work for a company with more than 250 employees then a good way to start your investigation will be to look at their published gender pay gap data (although this reporting has been suspended for 2020 due to coronavirus). "This may provide an initial indicator, although the information provided is aggregated across the business and not job-role specific."
If you are being paid less – what should you do?
Government advisory service Acas, which works to improve organisations and working life, says you should take the following steps if you find out you are being paid unequally: identify a man in a comparative role who is receiving better terms and conditions, explain to your employer why you are doing work that is equal to your male colleague, and ask whether there are any reasons you are unaware of that would explain the discrepancy.
Following these steps will be beneficial if you later decide to take your case to an employment tribunal, particularly because your employer has an obligation to engage with this process. If they don't, it will work in your favour later on, especially if the information they've given is found to be evasive, inaccurate or untrue, says Hodge.
Susskind says you might also want to seek legal advice at this point to ensure the person you are using for comparison does meet that definition under the Equality Act 2010. "It's rarely a bad idea to seek independent legal advice before taking any significant steps. A lawyer may be able to help you, in the background, as you navigate early meetings – advising as to what the most important information is."
If there is no satisfactory reason, what next?
"If you don't accept the reasons you're given, the next step is usually to file a grievance," says Sakrouge. "And, if you're not happy with the outcome of that grievance, to file an appeal thereafter. Any tribunal claim for discrimination, constructive dismissal and/or a breach of the equal pay provisions of the Equality Act would ordinarily only be issued after that."
Hodge says that by this point you definitely want to have legal advice from a solicitor who specialises in employment matters. "Depending on how long it has been going on for and the sums involved, any claim could be substantial in value and is likely to affect not only basic pay (past and future) but also benefits (including pension and associated growth) and holiday pay amongst other things."
He also warns there are time limits for bringing claims: "There are strict time limits within which to bring claims, which will depend in particular upon whether the difference is historic only or continuing, and missing these can mean missing out and being time barred."
Do you need hard evidence before proceeding?
"You will eventually need evidence," says Susskind. "But if you don't have any, the employer will be under a duty to disclose relevant evidence during the litigation (including evidence which is unhelpful to it)."
Hodge says evidence can be gathered by asking the right questions during your initial meetings with your employer. "The early stages cannot be underestimated," he says. "Because you are inherently comparing yourself with others, early on much of the evidence will be in the hands of your employer and not you, so don't be deterred from exploring things further with an adviser just because you don't have a 'smoking gun' at that time."
Sakrouge says often your confidence in your position will be drawn not from a bounty of evidence but because your employer refuses to disclose what others are being paid.
Should you tell colleagues about your situation?
If you're feeling unsupported and lonely, it can be tempting to confide in colleagues, but as this is a legal process (that can go on for a long period), is it wise? Sakrouge says: "It would be better not to discuss it with colleagues generally. However, there is no reason not to raise it with your manager, or for that matter any appropriate member of management."
Susskind agrees that if you're going to talk, you should be strategic about who you choose to speak to and what your motivation is.
Do you need to be prepared to walk away from your job?
In escalating an equal pay claim that might irk your employer, do you need to be prepared to be dismissed from your job or be forced to leave? Susskind says: "It depends what you are after. Compensation? Vindication? Promotion? Are there other opportunities for you elsewhere that would enable you to play hardball, or would you rather not burn any bridges?
"The circumstances will be different in every case. Only you can choose what matters most to you, and that should be weighed against your prospects of getting what you want. It is for your legal adviser to help you figure out the odds and make a plan."
Register for free to continue reading
Registration is a free and easy way to support our truly independent journalism
By registering, you will also enjoy limited access to Premium articles, exclusive newsletters, commenting, and virtual events with our leading journalists
Already have an account? sign in
Register for free to continue reading
Registration is a free and easy way to support our truly independent journalism
By registering, you will also enjoy limited access to Premium articles, exclusive newsletters, commenting, and virtual events with our leading journalists
Already have an account? sign in
Join our new commenting forum
Join thought-provoking conversations, follow other Independent readers and see their replies