LIFESTYLE FEATURES
Disposable face masks are damaging the environment. It's time to kiss them goodbye, once and for all
Single-use face masks are impacting our environment, says Joanna Whitehead. Now we're wearing masks for the foreseeable future, it's time to make a positive change
Friday 13 November 2020 16:02 GMT
Comments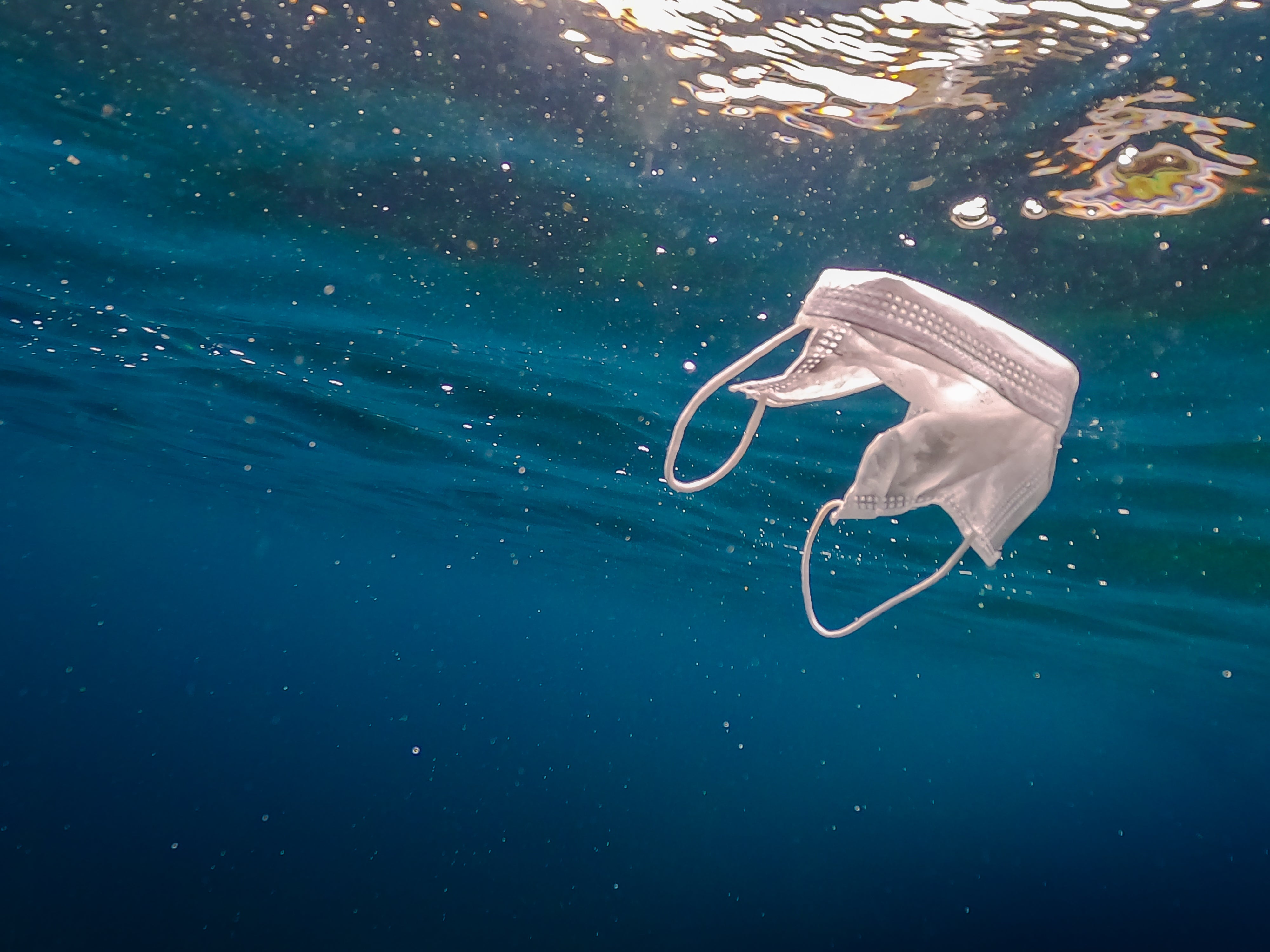 Peering out of my window on to the busy high street I live above, I'm amazed to see the number of people still wearing disposable face masks, day in, day out. Young and old, rich and poor – it seems the preference for a single-use mask cuts across all social strata.
But when there's such a wealth of amazing and affordable resusable face coverings available, it mystifies me to see the number of people still opting for a disposable mask.
Don't get me wrong – while coronavirus infection rates continue to rise throughout the UK, the sight of people complying with face covering requirements is hopeful.
The World Health Organisation (WHO) and scientists broadly agree that wearing face masks is an effective method of minimising the spread of the virus, providing they are worn correctly and changed frequently, and the UK government now requires it by law in most indoor spaces and on public transport. 
So, of course I would agree that seeing people wear a mask of any kind is better than no mask at all.
But given the number of people still choosing a disposable mask rather than a reusable one, I am concerned about the profound impact on our environment. According to a study published in Environmental Science and Technology journal, an estimated 194 billion disposable masks and gloves are being used globally every month as a result of the coronavirus pandemic.
For medical staff on the frontline, single-use makes sense as they need to ensure the highest levels of hygiene in a working environment. But we need to teach the rest of the population that most single-use masks are made from plastics like polypropylene, polyethylene and vinyl – material that takes 450 years to degrade. During this time, face masks break down into microplastics that are then ingested by marine life.  
Marine conservative charity, Surfers Against Sewage, says it has witnessed an "explosion" of discarded face masks and plastics on beaches and in rivers since the pandemic began.
Jack Middleton from Cornwall-based Surfers Against Sewage said: "Since lockdown has started to be lifted we've witnessed a new wave of plastic pollution littering our beaches in the form of disposable masks and gloves.
"While the PPE has helped to save lives over the past few months, we now need to consider how we dispose of it properly to prevent it from flowing into our rivers and oceans and destroying our beaches," he said.
Marine life, such as sea turtles – who often die after eating plastic bags they mistake for jellyfish, their main food source – also risk a slow and unpleasant death with a new and ubiquitous kind of plastic on the menu.  
Campaigners in France warned in May that if single use masks continue being used at the current rate, there could soon be more masks in the Mediterranean than jellyfish.
And, it's not just marine life. In September, the RSPCA called on the public to "snip the straps" of disposable face masks after receiving an increasing number of reports of animals tangled in them.
"Now that face masks are the norm, and may be for some time to come, this message is more important than ever as thousands of these masks are being thrown away every day," the charity's chief executive Chris Sherwood said.
"Our RSPCA officers have had to rescue animals from getting tangled in face masks and we expect that this may go up as time goes on, so the best thing to do is to simply cut the elastic ear straps in half before throwing it away."
Even when disposed of correctly, face masks are classified as medical waste, which means they cannot be recycled and end up either in landfill, or being incinerated, which produces toxic fumes.
As PPE litter becomes an all-too-common sight on UK streets, it's vital that any efforts to reverse this trend focus on the wider picture, as well as individual behaviour. Getting into the habit of remembering a mask when leaving the house is one that people sometimes forget, prompting them to buy single-use masks whilst out and about. 
Other people may simply be unaware of the devastating impact of disposable masks on our environment, wildlife and future. Directing them to the facts can be a good place to start.
At the start of the pandemic, people might have opted for single-use masks as a short-term fix, but now it's clear we'll be expected to wear masks for the foreseeable future, reusable masks are the most cost effective and environmentally sound option. 
This Christmas, I'll be doing my bit to get the ball rolling by gifting friends and family reusable face masks. The Independent has already published a wealth of resources on the best resusable masks on the market, factoring in fabric, facial hair and fashion. It's time you did the same - our planet will thank you for it.  
Join our commenting forum
Join thought-provoking conversations, follow other Independent readers and see their replies