Woman makes masks with clear panels so people with hearing loss can lip-read
'There is no reason why people who are deaf or have hearing loss should have to endure another communication barrier,' Claire Cross states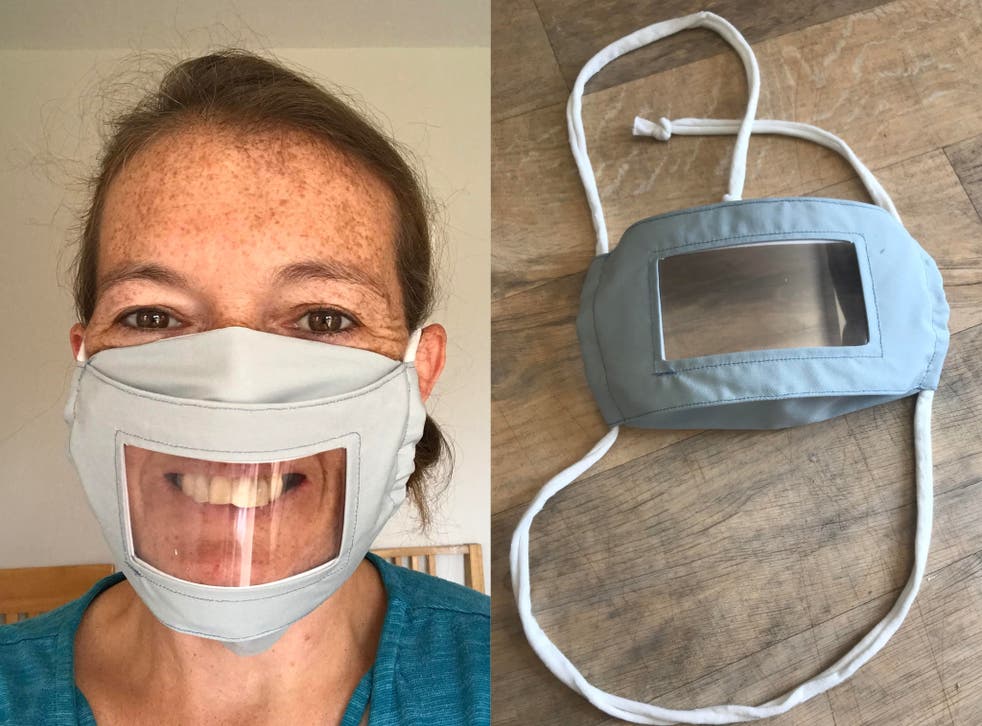 A woman has created dozens of face masks with clear panels so that people who have partial or full hearing loss are able to communicate with others during the pandemic by lip-reading.
Throughout lockdown, members of the public have been encouraged to wear face coverings, with guidance becoming more stringent as the months have passed.
In June, it was announced that face coverings would be mandatory on public transport in England from 15 June, while a top scientist recently stated that face masks should worn in all indoor public environments as a safeguarding measure during the pandemic.
While wearing masks may reduce the risk of transmitting Covid-19, it may also hinder people who are deaf or have hearing loss, as they may not be able to understand what other people are saying without the option of lip-reading.
Claire Cross, a furloughed pub manager from Devon, has made approximately 100 masks with clear panels sewn into them for people who are deaf or have hearing loss.
The 45-year-old explained to The Independent that she started making the masks with clear panels after friends of hers who relied on lip-reading asked her to.
"I shared what I was doing and have had loads of requests not only from people that rely on lip-reading themselves but those working with people that rely on it, such as care providers and also nurses and doctors that work in speech clinics," Ms Cross said.
"The demand is most definitely there, there is no reason why people who are deaf or have hearing loss should have to endure another communication barrier."
Ms Cross added that she hopes manufacturing the transparent masks will help give people "a bit of confidence" as lockdown measures continue to lift.
"If I can help to break that barrier down whilst giving people a bit of confidence to return to normal life after lockdown then that is amazing," she said.
In addition to the 100 lip-reading masks, Ms Cross has also made around 3,000 face coverings without the clear panels.
All of the masks she makes are donated. However, if people wish to donate money for their mask, they can do so on a fundraising page set up by Ms Cross.
"I set up a local sewing group at the beginning of the lockdown and we have a JustGiving page raising money for a local charity," she stated.
"So if anyone wishes to donate for their face covering, they can if they choose."
In May, the National Deaf Children's Society published a statement outlining that millions of deaf people could face "months of misery" if they are unable to access transparent face coverings.
Nine charities, including the National Deaf Children's Society, sent a letter to Public Health England and NHS England imploring the organisation to rectify the matter by commissioning the manufacturing of transparent face masks.
Philip Gerrard, CEO of Deaf Action, recently shared a statement on the organisation's website explaining that "deaf people are missing out on everyday conversations" due to the prevalence of masks, particularly those who "rely on lipreading and facial expressions to communicate".
Meanwhile, following a campaign by Action on Hearing Loss, in mid-June it was announced that the requirement of wearing masks on public transport in England had been amended to stipulate that the rule "does not apply if you have a reasonable excuse not to", including "if you are travelling with or providing assistance to someone who relies on lip-reading to communicate".
Register for free to continue reading
Registration is a free and easy way to support our truly independent journalism
By registering, you will also enjoy limited access to Premium articles, exclusive newsletters, commenting, and virtual events with our leading journalists
Already have an account? sign in
Register for free to continue reading
Registration is a free and easy way to support our truly independent journalism
By registering, you will also enjoy limited access to Premium articles, exclusive newsletters, commenting, and virtual events with our leading journalists
Already have an account? sign in
Join our new commenting forum
Join thought-provoking conversations, follow other Independent readers and see their replies