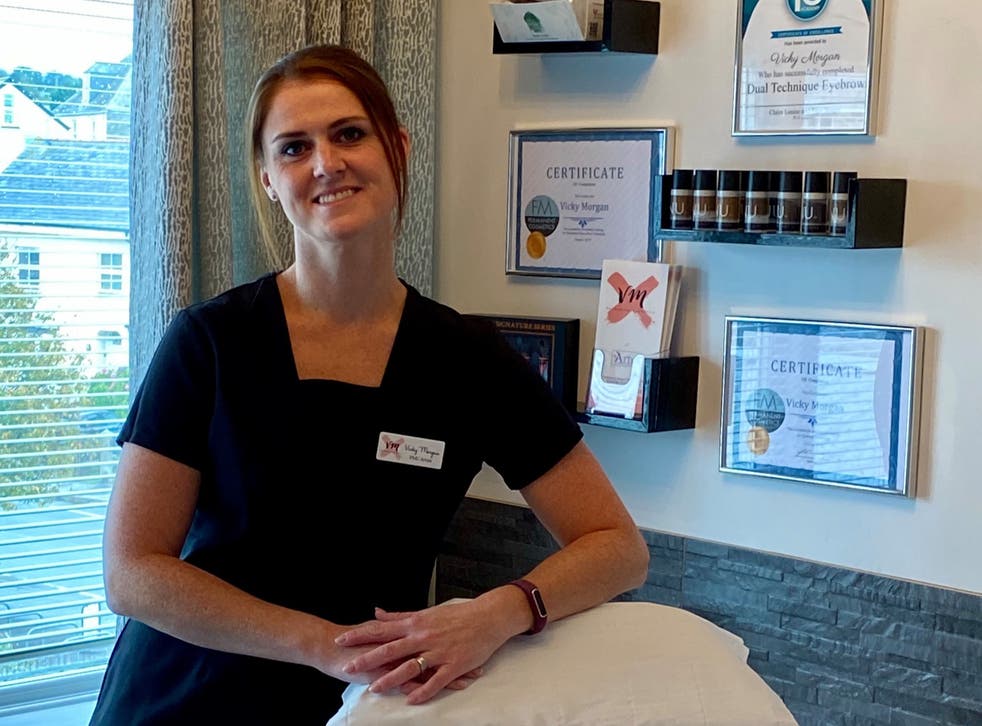 Facebook bans adverts for post-mastectomy nipple tattoos
Company said the photos contained 'adult content'
A beauty therapist who creates nipple tattoos for breast cancer patients has been banned from posting adverts of her work on Facebook after the photos were deemed to contain "adult content".
Vicky Morgan from Wadebridge in Cornwall, has been working as a beauty therapist for 10 years and in 2018 she trained in areola tattooing so that she could help women and men who have gone through a mastectomy and breast reconstruction surgery.
The tattoos, which she creates during a free clinic held once a month at The Attic Tanning & Beauty, are designed to offer people realistic nipple tattoos as the final treatment in their breast cancer journey.
The 38-year-old said that while she is able to post photos of the areola reconstruction tattoos she creates on her company's Facebook page, any paid-for adverts about the service have been censored.
"And yet another boosted post rejection by Facebook," Morgan wrote in a recent post on the salon's Facebook page.
"This is why sharing these posts is so important to spread the word further to reach those who may need my services."
Speaking to The Independent, Morgan said the reason given by Facebook for rejecting the advert was because it contained 'sexual content and nudity".
"It is disappointing and frustrating when I am trying to reach out to the amazing breast cancer survivors who may need my services to help them claim back their confidence and make them feel like themselves again post mastectomy and breast reconstruction surgery," she said.
"After my first boosted attempt failed, I tried altering my advert for a more concealed image two more times to see if it would be accepted which it wasn't. I finally managed to boost one advert by making the image of the Areola smaller and put it next to an image of pink flowers to disguise it which worked, but it didn't show the image to its best potential."
While Morgan says she appreciates the need for censorship when it comes to adverts which may cause offence, she believes there should be "provisions in place when it comes to posts made to help people by offering services that are in the paramedical field".
"It means I can't reach potential clients in Cornwall and Devon who would benefit from this treatment," she explained. "It is important I get the message out there as I am the only one in Cornwall offering this treatment, I have spoken to ladies recently whose doctors/surgeons have told them they have to go as far as London to get it done or be on a waiting list for anything up to 18 months."
A spokesperson for Facebook stated that the rules surrounding its advertising policies are different to those governing image posts that can be shared on profiles.
"We allow people to post images of post-mastectomy areola tattoos on their page or profile, as Vicky has been able to in this case," the spokesperson explained.
"However, we do not allow people to run ads which include adult content, including nudity or implied nudity, because ads are governed by a stricter set of policies. This is why the ads Vicky tried to publish were not allowed on the platform.
"We recognise the important work Vicky is doing and hope she continues to use the platform to promote this."
Join our new commenting forum
Join thought-provoking conversations, follow other Independent readers and see their replies