Man 'fakes his death' before 'arriving at his own funeral' in a helicopter to teach family a lesson
David Baerten, known on TikTok as Ragnar le Fou, says he felt 'unappreciated' by his relatives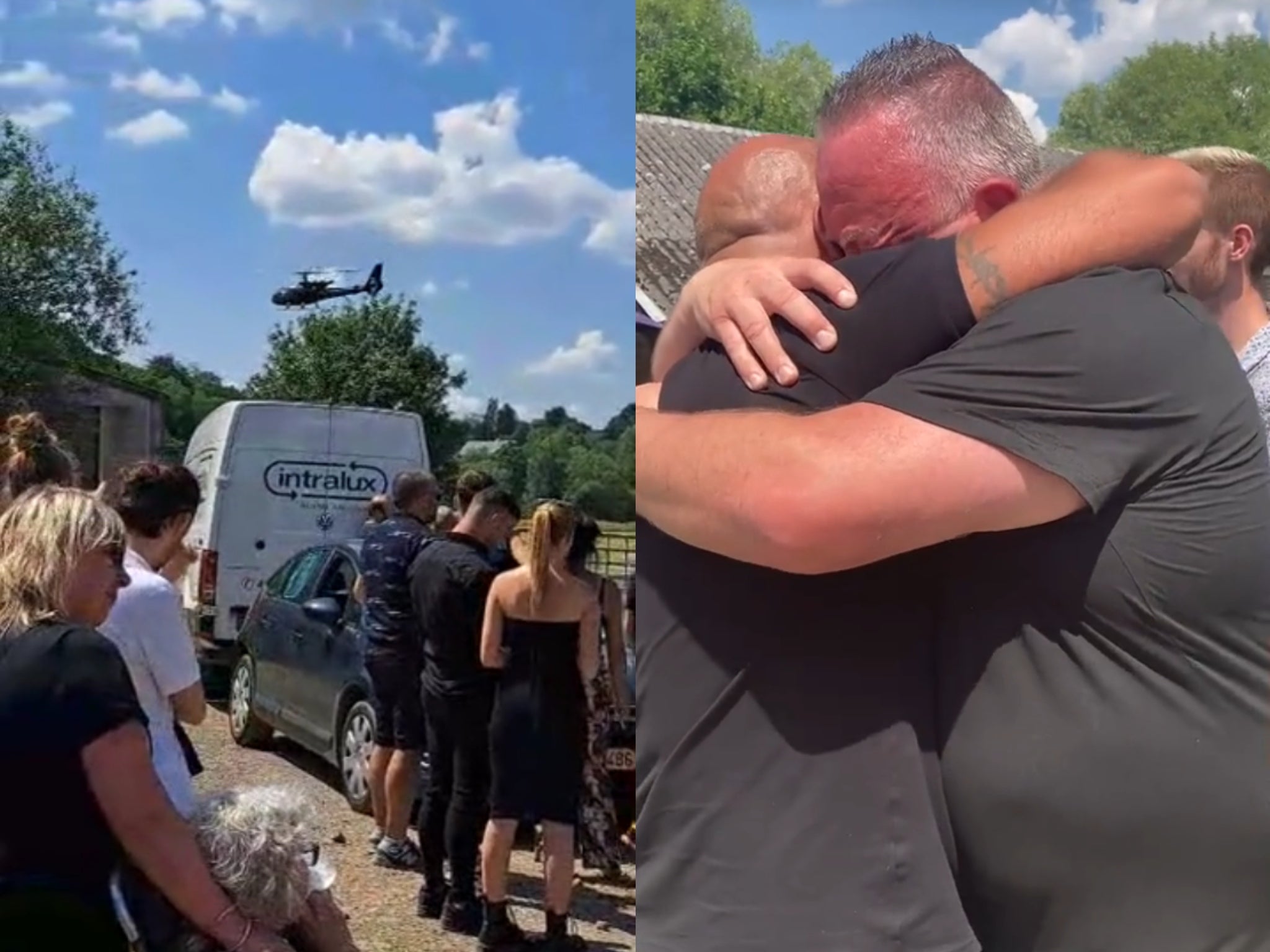 A Belgian man has explained why he faked his own death and turned up to his "funeral" in a helicopter, to the shock of his loved ones.
David Baerten, 45, claimed he carried out the elaborate "prank" to teach members of his family a lesson about the importance of staying in touch with one another.
Baerten, who posts on TikTok by the name Ragnar le Fou, told French chat show Touche Pas a Mon Poste (TPMP) that he orchestrated the stunt because he felt "unappreciated" by some of his relatives.
A video capturing the moment that the 45-year-old man arrived at his own funeral in a helicopter was posted by a TikTok user by the name of Thomas Faut, who apparently attended the ceremony.
Footage shows the mourners watching as the helicopter landed in a field and a door opened. It then cuts to a clip of people surrounding Baerten, with more walking towards him, to hug and greet him, as a film crew recorded the scene.
Another video uploaded by Thomas showed an emotional relative crying as he embraced Baerten.
The TikTok user wrote in the caption: "You got us, I swear I was crying and then I had the shock, buddy we love you very much."
The staged funeral took place last week near Liege after one of Baerten's daughters reportedly wrote a "tribute" to her father on social media and said: "Rest in peace, Daddy. I will never stop thinking about you. Why is life so unfair? Why you? You were going to be a grandfather and you still had your whole life ahead of you. I love you! We love you! We will never forget you."
The prank did not sit well with viewers and many people criticised Baerten for being "cruel" to his family.
Whilst Baerten has not uploaded footage of the funeral himself, he posted a video explaining why he carried out the stunt.
According to The Times, Baerten said he was "hurt" because he "never gets invited to anything" by his family members.
"Nobody sees me. We all grew apart. I felt unappreciated. That's why I wanted to give them a life lesson and show them that you shouldn't wait until someone is dead to meet up with them," he said.
He added that although "only half" of his family attended his fake funeral, other relatives have since contacted him.
"That proves who really cares about me," he said. "Those who didn't come did contact me to meet up. So in a way, I did win."
Later, during his appearance on TPMP, Baerten said he regretted going through with the stunt.
He revealed that his wife had known about his plan from the beginning and tried to stop him.
Indy100 reports that the prankster allowed his children to believe that he had really died for "a couple of days" before telling them the truth of his actions.
He told the chat show that it was his film crew that stipulated they would only document the stunt if he let his children and sister know that he was not really dead. He has insisted, however, that they "half-knew" it was a prank from the beginning.
After seeing the response from his loved ones, Baerten said: "As soon as I started receiving messages from people and videos of them crying, I wished I could cancel the whole thing, but it was too late. I asked myself, 'What have you done this?' but it was too late [sic].
"I'm sorry to all the people I hurt. I hate hurting people."
The Independent has contacted Baerten for comment.
Join our commenting forum
Join thought-provoking conversations, follow other Independent readers and see their replies