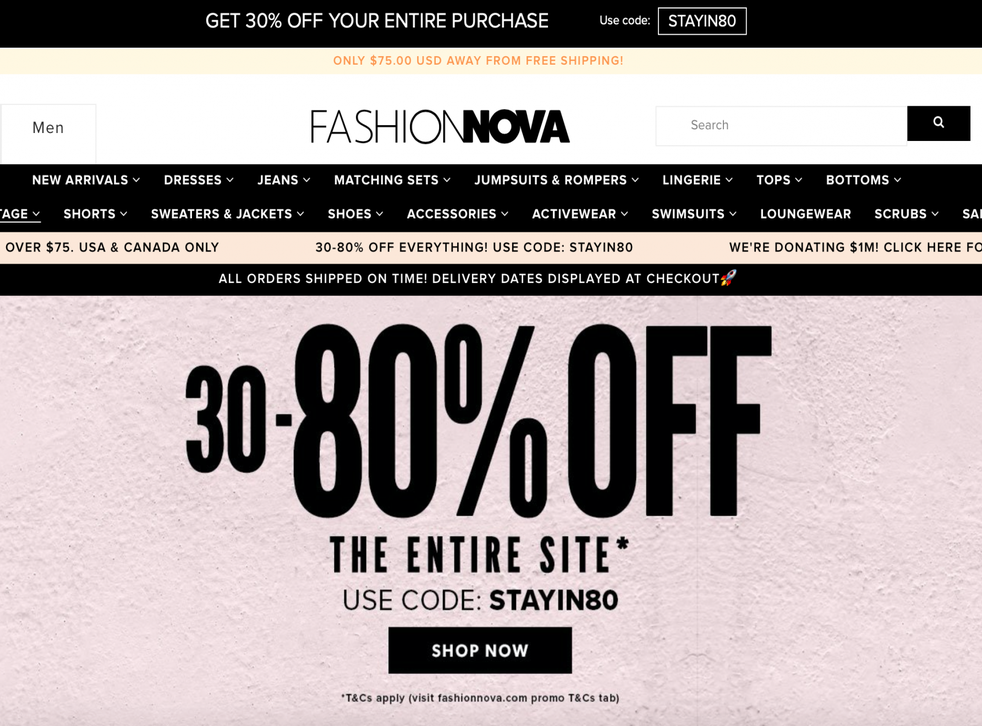 Fashion Nova critcised for stimulus check promotion: 'There's more important things than buying clothes'
Clothing retailer Fashion Nova is facing backlash after customers reported receiving texts and emails from the company suggesting they use their government stimulus checks to shop online.
On Wednesday, millions of Americans began to receive their $1,200 emergency stimulus checks from the government via direct deposit.
Shortly after, the fast-fashion company sent out a promotion text to customers that read: "When that stimulus deposit hits. Save up to 80 per cent off site wide," according to screenshots shared to social media.
In response to the promotion, many people criticised the brand for attempting to make a profit off money that is intended to help Americans suffering financially as a result of the coronavirus pandemic.
"Fashion Nova is so wrong for this, the stimulus isn't for shopping, it's for people who need it during such hard times," one person wrote. "This is so ignorant."
Another said: "#FashionNova is taking advantage of shoppers by encouraging them to shop with their stimulus deposit. Disappointed but not surprised. Fast-fashion and now this? I'm removing myself from the contact list."
Others said that the retailer's marketing was "tone-deaf" and that the brand should be "ashamed".
"My friend just sent me this super tone-deaf text from #FashionNova. THIS ISN'T WHAT THE CHECK IS FOR, PEOPLE ARE LITERALLY STRUGGLING TO SURVIVE," one person tweeted.
The checks, a result of the bipartisan $2trn congressional relief package created in response to the coronavirus pandemic, come as the country faces record-high rates of unemployment after 22m Americans filed claims in one month.
The Independent has contacted Fashion Nova for comment.
Join our new commenting forum
Join thought-provoking conversations, follow other Independent readers and see their replies