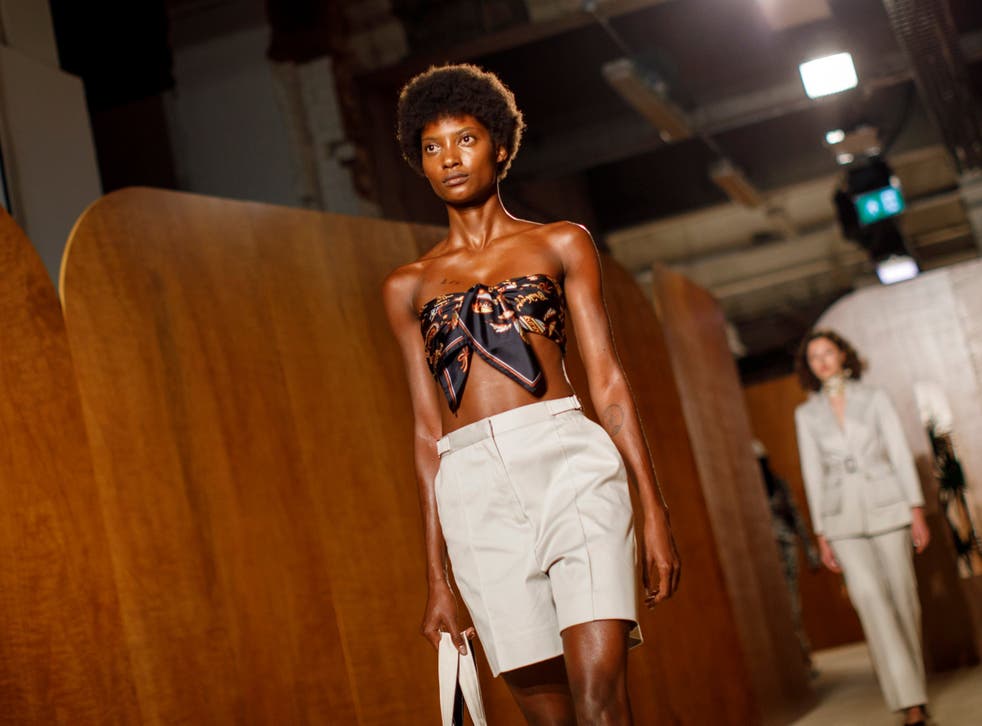 London Fashion Week: Retro wearability from Alexa Chung
The designer turned up with a collection inspired by herself
There's always a slight apprehension when a celebrity decides to make a foray into fashion. Everyone wants to be a designer these days. Last week saw Rihanna present the first show of her Fenty lingerie line and yesterday saw Victoria Beckham celebrate 10 years in the biz with her first London show. Rapper Kanye West has been presenting collections since 2011.
When the person stepping up to throw their hat in the ring has been an undisputed trend-setter for going on a decade (her effortless, preppy Parisian style leading to a Marks and Spencer collaboration, a Superga plimsoll collection and a Mulberry bag named after her), that apprehension turns to anticipation.
Model and presenter Alexa Chung launched her namesake label in 2017, offering her signature style at designer price points, but yesterday was the real first: it marked her matriculation into the official BFC London Fashion Week schedule as a designer, presenting her first catwalk show for spring/summer 2019. A long time frow-er (front row fixture, that is) for countless catwalk shows herself, Saturday saw Chung working backstage tending to models and finalising looks and while her own front row was populated with her long-time crew of socialites and models: Pixie Geldof, Daisy Lowe and even… Steve Coogan.
Inspired by the limbo world of airport lounges and arrival gates, and the combination of holiday garb and casual wear that people slip on to move through those spaces, the collection entitled "Arrivals and Departures" made the catwalk a different kind of runway, as models alighted from far-flung destinations via Chung's fictitious travel company "AC World Travel Inc" to a Clair de Lune score.
Double-breasted trouser suits, caped trench coats, corduroy pinafores worn over shirts, satin slip dresses and ticking jumpsuits: each piece of the collection looked as though Chung had picked it out of her existing wardrobe and added her own personal twist to it. While perhaps not groundbreaking and undeniably safe, there's something comforting about knowing a designer is showing clothes that we can trust they truly covet. It might sound trite, but every item in the show was undeniably designed to be worn.
Taking cues from the current street-style predisposition for Nineties and Seventies cuts, Chung combined bucket hats and Hawaiian prints and presented waistcoats and mustard-toned shirts, bringing the retro looks to the present. Yves Saint Laurent's iconic Safari collection of 1967 was also heavily referenced through multi-pocketed khaki jackets. Thirties-inspired ruffled silk dresses added a Sofia Coppola air to the catwalk and, in true Brit style, the 34-year-old designer was also sure to include plenty of clothes for inclement weather, including a no doubt sell-out patent black mac.
Shaving off any potential whiff of pretention with an injection of that famous Chung humour, dresses that at first glance appeared to celebrate the Eiffel Tower and other now-cliche motifs were – at closer look – in fact Brighton Pier, Bognor Regis and Skegness. "I went to Margate for some research and found some amazing plimsolls there," Chung said after the show to fists full of dictaphones.
Join our new commenting forum
Join thought-provoking conversations, follow other Independent readers and see their replies