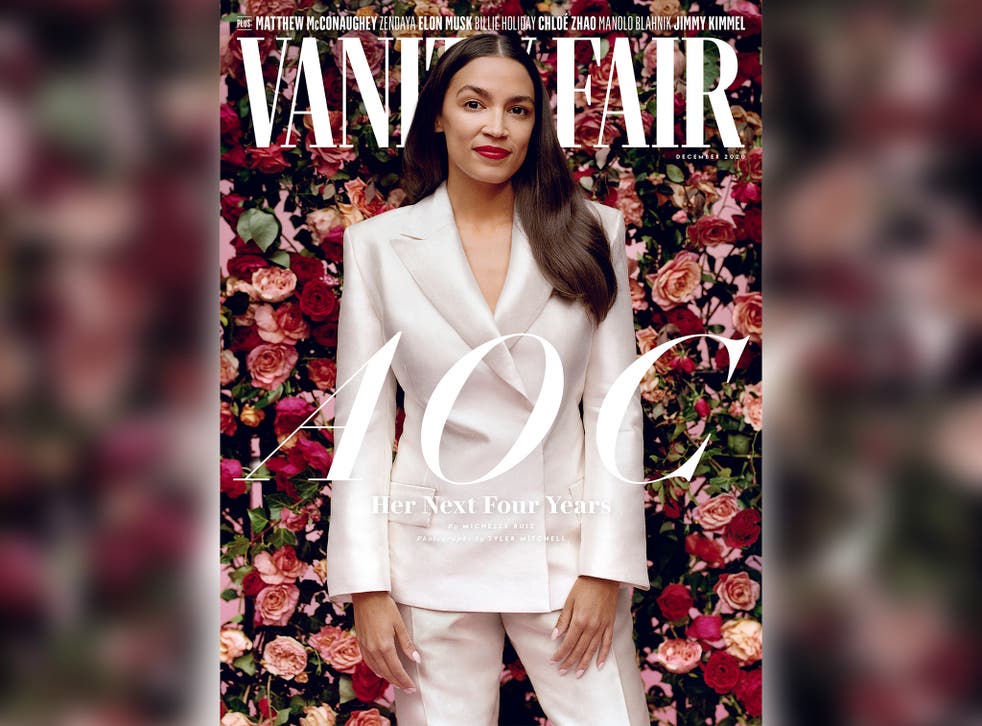 Alexandria Ocasio-Cortez wears 'suffragette white' power suit for Vanity Fair cover
Congresswoman has long-used fashion to send a powerful message
Alexandria Ocasio-Cortez, or AOC as she has become affectionately known, has been unveiled as Vanity Fair's latest cover star, less than a week before she concludes her bid for re-election in New York's 14th congressional district.
The cover image, which was shot by Tyler Mitchell – who, in 2018, famously became the first black photographer to shoot the cover of Vogue – shows Ocasio-Cortez standing in front of a wall of pink garden roses, wearing a white, double-breasted suit by New York-based label Aliétte.
But, like most of the congresswoman's sartorial choices, her outfit does more than just look good.
Wearing white has become a political symbol in recent years among female politicians because of its association with the suffragette movement.
In 1908, Votes for Women editor Emmeline Pethick-Lawrence introduced the movement's official colour scheme which included white to represent purity, green for hope and purple for loyalty and dignity.
Over the years, many other prominent women have worn the symbolic colour, including Shirley Chisholm when she became the first black woman to be elected to Congress and Hillary Clinton who dressed in white on a number of occasions during her run for president in 2016 and to Donald Trump's inauguration.
In fact, this is not the first time that Ocasio-Cortez has worn the colour either.
Perhaps aware that her outfits were likely be scrutinised as a woman in politics, Ocasio-Cortez has long-used fashion to send a powerful message.
Almost as quickly as she has become a major figure on the US political scene, the 31-year-old established her now-iconic signature look, consisting of a bold red lip – which she has previously revealed is Stila's liquid lipstick in Beso – gold hoop earrings and all-white tailoring.
When she became the youngest congresswoman of all time in 2019 at the age of 29, Ocasio-Cortez wore white to her swearing in ceremony and later confirmed that the outfit was a reference to the long history of women's suffrage.
"I wore all-white today to honour the women who paved the path before me, and for all the women yet to come," she wrote on Twitter at the time.
"From suffragettes to Shirley Chisholm, I wouldn't be here if it wasn't for the mothers of the movement."
Then, at the 2019 State of the Union address, which marked the 100th anniversary of the 19th amendment to the constitution, which gave women the right to vote, Ocasio-Cortez  was among a sea of congresswomen who arrived at the event wearing white  in a symbol of solidarity.
"Wearing suffragette white is a respectful message of solidarity with women across the country, and a declaration that we will not go back on our hard-earned right," Democratic representative Lois Frankel said in a statement to CNN at the time.
The congresswomen in white made a striking visual statement which was hard to miss whenever the camera panned away from Donald Trump during the address.
House Speaker Nancy Pelosi, who was seated behind the president, was wearing a cream blazer and white top. She tweeted that this was to support women's rights, "in spite of a [president] who doesn't".
Alongside her white Aliétte suit, Ocasio-Cortez wore a selection of prominent designers for the Vanity Fair feature, including recent CFDA winner Christopher John Rogers, Loewe, Christian Louboutin and Wales Bonner.
Describing her as a "beauty influencer," the article also explores how Ocasio-Cortez's "squad" – the name given to the quartet formed with fellow Democratic representatives Ilhan Omar, Rashida Tlaib and Ayanna Pressley – has used red lipstick as "a show of strength".
The New York congresswoman told Vanity Fair that she had intentionally worn a bold shade of red lipstick ahead of her now-viral response to Florida republican Ted Yoho, whereby she challenged him for sexism and, allegedly, calling her a "f***ing bitch".
"(Pressley) was like, 'That's when I knew she didn't come to play,'" Ocasio-Cortez said.
"I had a little war paint on that day, for sure."
Read the full interview in the December issue of Vanity Fair available via digital download and on newsstands Friday 13 November.
Register for free to continue reading
Registration is a free and easy way to support our truly independent journalism
By registering, you will also enjoy limited access to Premium articles, exclusive newsletters, commenting, and virtual events with our leading journalists
Already have an account? sign in
Register for free to continue reading
Registration is a free and easy way to support our truly independent journalism
By registering, you will also enjoy limited access to Premium articles, exclusive newsletters, commenting, and virtual events with our leading journalists
Already have an account? sign in
Join our new commenting forum
Join thought-provoking conversations, follow other Independent readers and see their replies