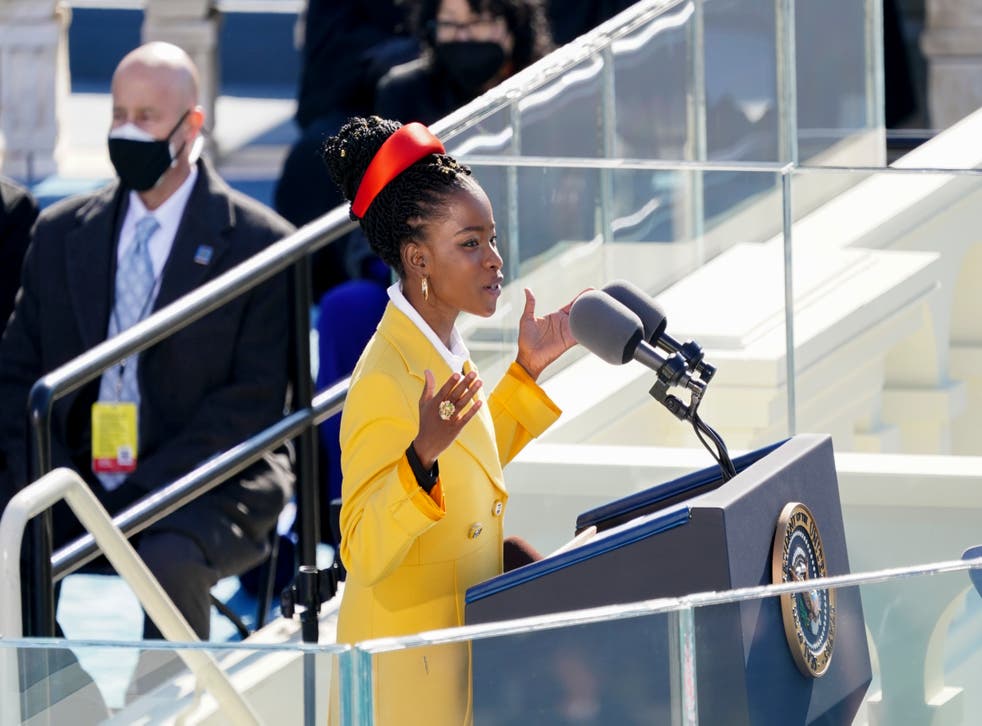 The empowering reason Amanda Gorman wore her headband horizontally at Biden's inauguration
22-year-old made headlines for her stellar performance of 'The Hill We Climb'
Poet Amanda Gorman has revealed why she chose to wear her now-infamous scarlet headband horizontally at Joe Biden's presidential inauguration in January.
The 22-year-old became the unlikely star of the political event after reciting her original work "The Hill We Climb".
While much attention was paid to Gorman's lyrical genius, similar praise was awarded to her colourful Prada outfit, which comprised a yellow coat and, notably, a generously padded satin headband worn in an unconventional style.
Now, Gorman has explained the reason why she chose to wear her headwear this way.
On Wednesday, the poet shared a New York Times article about the empowering history behind headbands, which have been worn by numerous female political figures, to her Instagram Story.
"At the inauguration, I truly wanted to continue the history of strong women in headbands," she wrote in a caption over the top.
"It was my mom who suggested I wear it horizontal with my thick braids," Gorman continued.
"I highly suggest a headband crown for anyone wanting to stand taller, straighter, and prouder."
Gorman paired her vivid headband on the day with jewellery that had been gifted to her by none other than Oprah Winfrey, who has a tradition of supporting poet laureates ahead of inauguration addresses, having sent Maya Angelou a blue Chanel coat and gloves for her address at Bill Clinton's 1993 inauguration.
Gorman wore a pair of Nikos Koulis gold hoop earrings and a hanging diamond and a birdcage ring by the brand Of Rare Origin. The ring was a symbolic reference to Angelou's 1969 autobiography, I Know Why the Caged Bird Sings, which she has previously credited as an inspiration to her own work.
In 2017, she became America's first national youth poet laureate before graduating from Harvard in 2020.
Join our new commenting forum
Join thought-provoking conversations, follow other Independent readers and see their replies