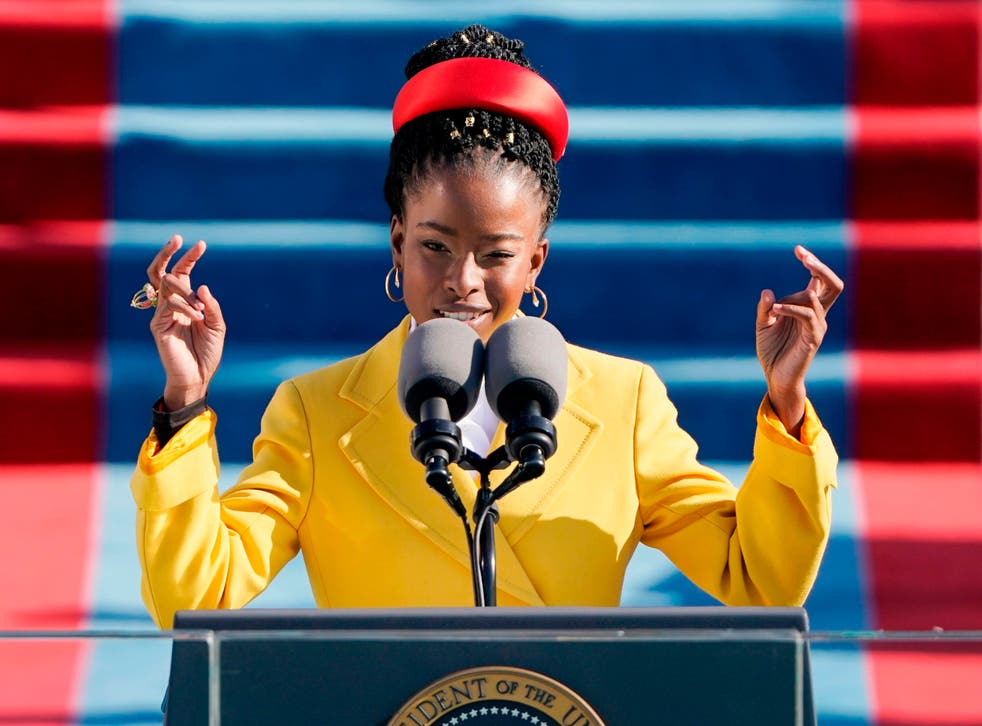 Poet Amanda Gorman signs with IMG models after Biden inauguration
The youth poet laureate made history at Joe Biden's presidential inauguration
Emily Cope
Wednesday 27 January 2021 09:27 Comments
She was the youngest inaugural poet in history, and now Amanda Gorman's career is going from strength to strength after signing with IMG Models.
Gorman, 22, from Los Angeles became the breakaway star of Joe Biden's presidential inauguration after reciting her original work "The Hill We Climb" last week, adding another accolade to the poet's long list of achievements.
In 2017 Gorman became America's first national youth poet laureate before graduating from Harvard in 2020, and admits her work has been inspired by poet Maya Angelou, whose autobiography I Know Why the Caged Bird Sings reminded her of her own life.
Speaking to The New York Times before the inauguration, Gorman said that she did not want to dwell on the racism and division of America's four years under the Trump administration - including the Capitol Riots - but hoped to "use my words to envision a way in which our country can still come together and can still heal".
Wearing a yellow double-breasted coat by Italian designer Miuccia Prada and a red satin Prada headband - which has since sold out - the poet and activist captivated the world with her self-penned poem at Biden's inauguration, declaring: "We lift our gazes not to what stands between us, but what stands before us. We close the divide because we know to put our future first, we must first put our differences aside.
"We lay down our arms so we can reach out our arms to one another, we seek harm to none and harmony for all."
And while Gorman has become the voice of a new American era, it seems her fashion choices have not gone unnoticed after officially signing with IMG Models.
The agency represents fashion heavyweights Kate Moss, Gisele Bündchen and Gigi Hadid, as well as a variety of figures from the entertainment world, including Chrissy Teigen and Selena Gomez.
As announced via a press email, under the guidance of the leading modeling agency Gorman will now work to expand her personal brand through endorsements and editorial opportunities.
The news comes as Gorman's forthcoming books, Change Sings: A Children's Anthem and The Hill We Climb and Other Poems, are currently top of Amazon's bestseller list.
Though Gorman has yet to issue a statement about the deal, she recently spoke to Vogue about her interest in fashion, saying: "It has so much meaning to me, and it's my way to lean into the history that came before me and all the people supporting me.
"[The] yellow coat [was] my own nod to Dr Jill Biden, who was the one who recommended me in the first place, and I'm so honoured by that."
Opening up about her new-found fame, Gorman added: "I think I'm going to be on a rollercoaster for a while. I'm in the front seat of a Ferrari right now. But I'm looking forward to absorbing everything… and definitely journaling about it, writing more poetry about it."
Register for free to continue reading
Registration is a free and easy way to support our truly independent journalism
By registering, you will also enjoy limited access to Premium articles, exclusive newsletters, commenting, and virtual events with our leading journalists
Already have an account? sign in
Join our new commenting forum
Join thought-provoking conversations, follow other Independent readers and see their replies