Amanda Gorman sparked 560% surge in demand for red headbands following inauguration
Prada headband ranked sixth hottest product this quarter by Lyst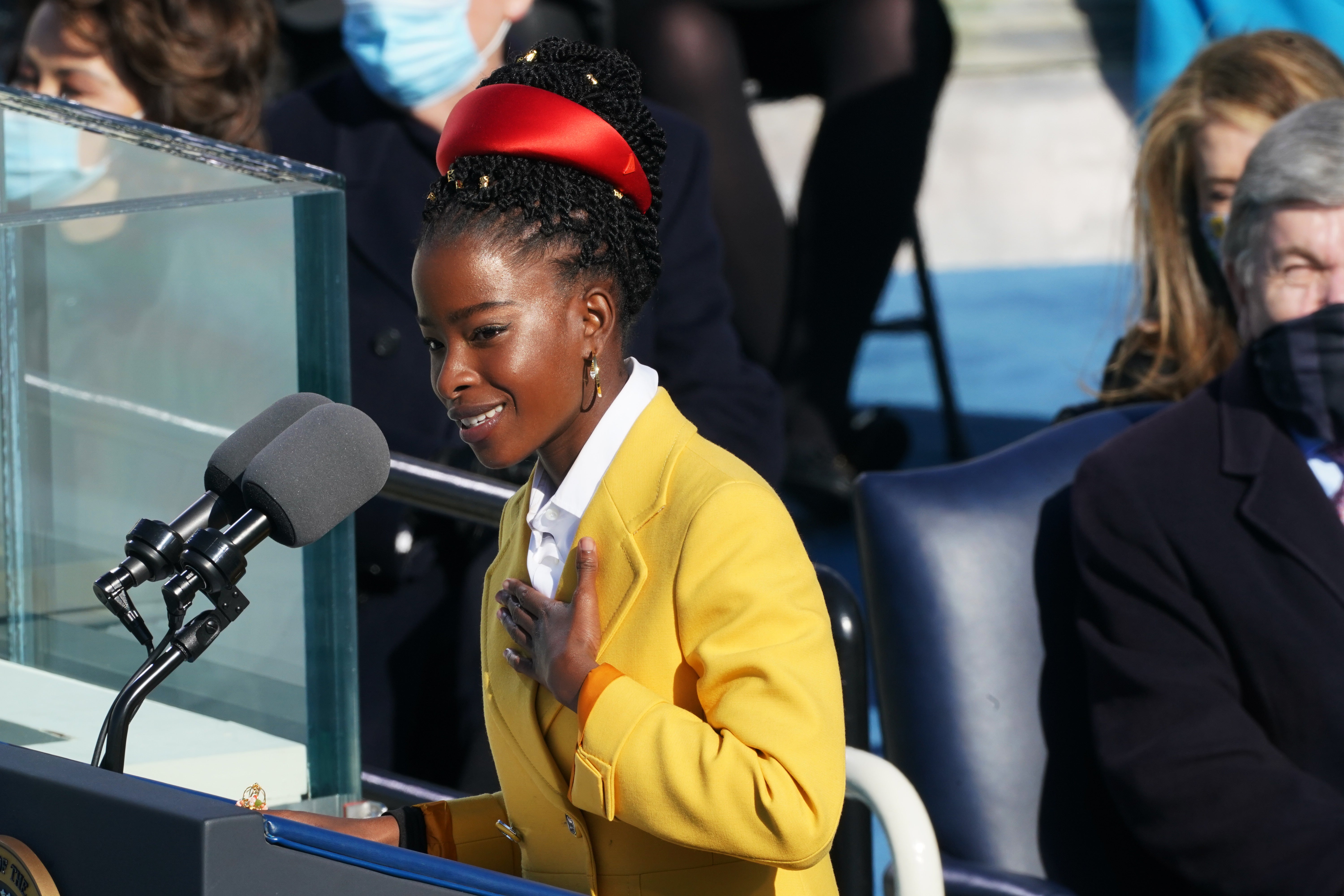 Few could forget the moment that Amanda Gorman stepped out at President Biden's inauguration, when she blew everyone away with her performance of her poem, "The Hill We Climb".
But while the majority of people focused on Gorman's exceptional poetry, the fashion set could not stop obsessing over her picture-perfect ensemble.
The look comprised a classic white collared shirt and black satin skirt, a double-breasted yolk yellow coat by Prada, and, crucially, a scarlet satin headband that had been strategically placed on Gorman's head to resemble a crown.
Now, said headband (also Prada), has sparked a major surge in sales for the design.
According to global shopping platform Lyst's quarterly index, Prada's satin headband is the sixth hottest product of the year so far, and that's largely thanks to Gorman.
Lyst also found that demand for red headbands specifically increased by 560 per cent following the inauguration.
To compile its Index, Lyst analyses the online shopping behaviour of more than 150 million shoppers across 12,000 brands, taking into account Google searches, social media mentions, and engagement statistics over a three month period.
In its roundup of the 10 hottest brands of this quarter, Lyst ranked Prada in sixth place; Gucci came in first.
The Italian label has maintained the top spot in Lyst's roundup for several quarters now, which Lyst states is largely thanks to "its ability to create brand moments which resonate with digital audiences".
The brand recently collaborated with The North Face, and one of the hero products in the collection, a monogrammed bomber jacket, instantly sold out.
The jacket is the no. 1 hottest product of the quarter in Lyst's roundup, following by the Hermes pre-owned Kelly bag, named after Grace Kelly.
The Bottega Veneta Lug boot is in third place, followed by Prada's re-edition 2005 nylon bag.
You can see the full list of the hottest brands and products of this quarter here.
Join our commenting forum
Join thought-provoking conversations, follow other Independent readers and see their replies