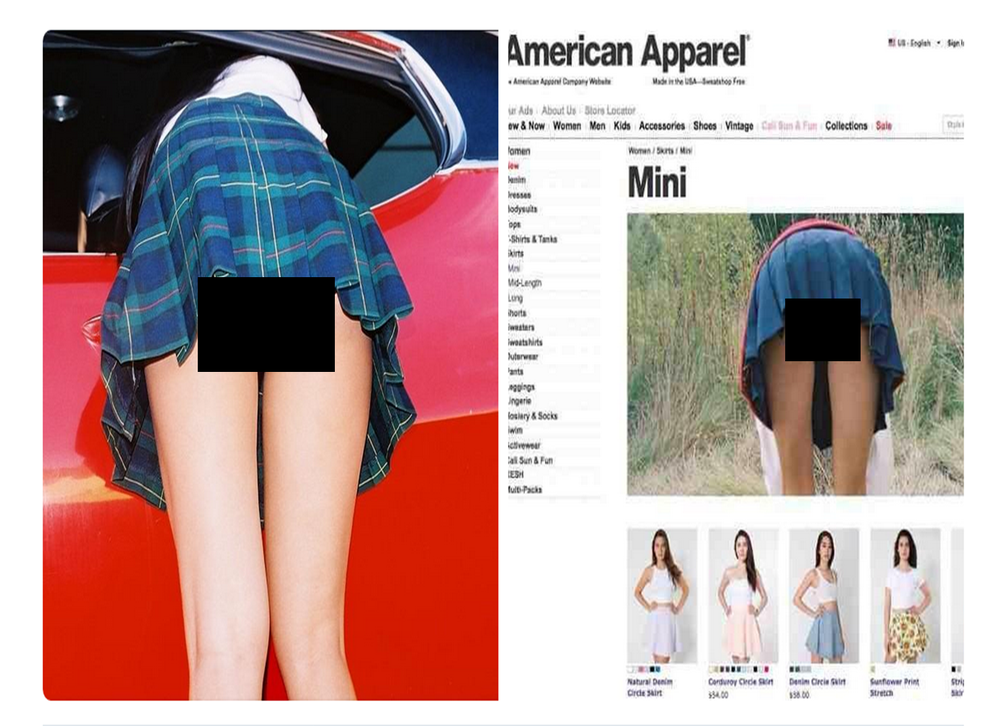 American Apparel slammed for 'rampant sexism' in latest controversial advertising campaign showing model in mini-skirt
The retailer has faced a backlash over its latest provocative campaign
Heather Saul
Friday 08 August 2014 07:21 Comments
A controversial picture apparently used as part of American Apparel's latest clothing range has seen the retailer accused of "fuelling Lolita fantasies" and "rampant sexism" for showing a model bending over in one of its mini-skirts.
The image in question was posted on their Instagram account and a similar one was posted on their website yesterday. The first featured a woman in a plaid green skirt leaning over a car window, with her underwear in view.
It was branded as "horrifying" and "dangerous misogyny" by Twitter users and has since been removed from both its social media account.
Emilie, a blogger at anygirlfriday.com, first spotted the picture on Wednesday on the site's official Instagram account and posted it on Twitter.
The image, which features a model wearing a skirt that appears to be available in their 'Back to School' (BTS) lookbook, quickly sparked outrage.
Users also took issue with other clothes available in the same BTS range, such as leather mini-skirts, with one noting: "I very much doubt anyone would be allowed to wear any of that in any schools."
Emilie criticised the advert for "reducing women down to little more than body parts to be claimed, and accused it of "reinforcing idea that our primary purpose is to be appealing to men".
She said: "The way in which American Apparel objectify and sexualise female bodies is damaging and rooted in patriarchal notions about a woman's worth."
American Apparel is no stranger to controversy and has come under fire in the past for campaigns featuring topless models or women in "overtly sexual" poses.
One particular advert featured a woman wearing a jumper while apparently naked from the waist down, which the Advertising Standards Agency (ASA) deemed to be "gratuitous", adding the woman "appeared vulnerable".
The ASA instructed American Apparel the advert must not appear in its current form again and asked it to ensure "their future advertising contained nothing that was likely to cause serious or widespread offence".
The group also caused a stir with an advert featuring a woman born in Bangladesh but living in California, with the words "Made in Bangladesh" stamped across her chest.
The company has not responded to requests for comment.
Register for free to continue reading
Registration is a free and easy way to support our truly independent journalism
By registering, you will also enjoy limited access to Premium articles, exclusive newsletters, commenting, and virtual events with our leading journalists
Already have an account? sign in
Join our new commenting forum
Join thought-provoking conversations, follow other Independent readers and see their replies