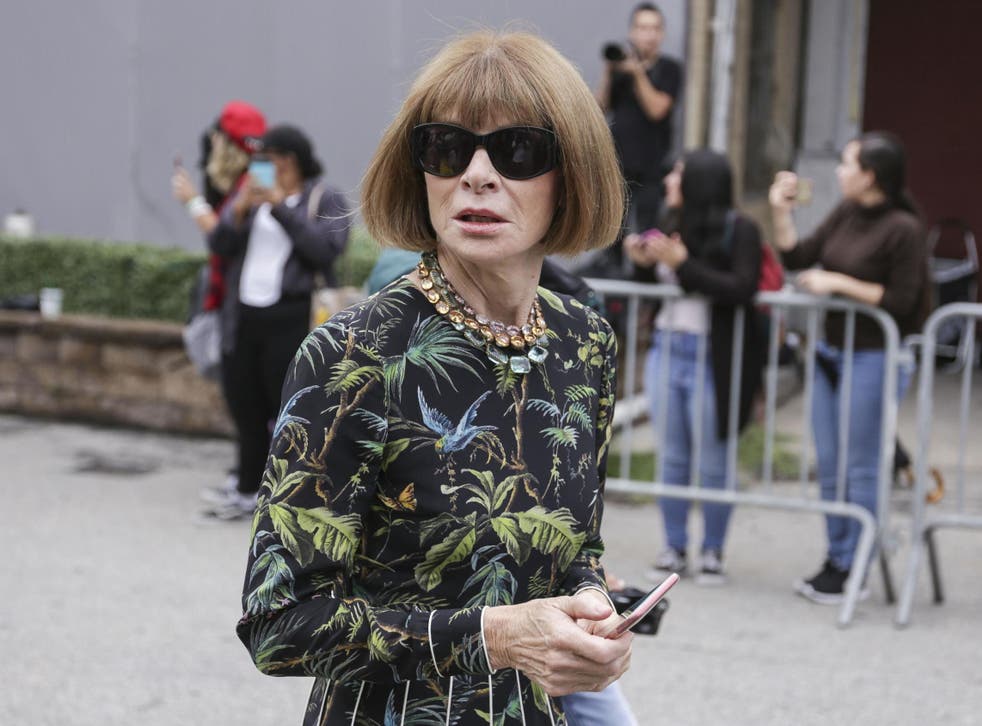 Anna Wintour urges shoppers to not treat clothes as 'instantly disposable'
It's about 'valuing the clothes that you own and wearing them again and again,' Vogue editor-in-chief says
Sabrina Barr
Thursday 28 November 2019 17:03 Comments
Anna Wintour has urged consumers to be more mindful of their shopping habits in order to promote sustainability in fashion.
While speaking to Reuters, the American Vogue editor-in-chief explained that in her view, it is more advantageous for shoppers to take better care of their garments and pass them onto others, rather than rashly getting rid of them after a short period of time.
"I think for all of us it means an attention more on craft, on creativity, and less on the idea of clothes that are instantly disposable, things that you will throw away just after one reading," Wintour said.
"[It's all about] talking to our audiences, our readers, about keeping the clothes that you own, and valuing the clothes that you own and wearing them again and again, and maybe giving them on to your daughter, or son, whatever the case may be."
Last week, Condé Nast, of which Wintour is artistic director, became the first media company to join the UN's Fashion Industry Charter for Climate Action.
Patricia Espinosa, executive secretary of UN Climate Change, welcomed the move, stating that Condé Nast's involvement will be "very valuable to disseminate information about the sustainability efforts and achievements of the fashion industry as well as informing the world about the need for wider and accelerated climate action".
As part of its pledge, Condé Nast will encourage consumers to re-use clothes, support sustainable fashion and the use of pioneering materials, the UN stated.
Earlier this year, the government launched a cross-party group for sustainable clothing and textiles.
The aim of the All Party Parliamentary Group, which was launched with the support of sustainability charity Hubbub, is for MPs from all different parties to review supply chains, materials used and consumer behaviour.
Prada recently signed a five-year sustainability deal worth €50m (£43m) with financial services company Crédit Agricole Group.
The deal, which is reportedly the first of its kind in the luxury industry, allows the Italian fashion house to alter its interest rates on an annual basis depending on if it achieves certain eco-friendly objectives.
Anna Wintour's signature looks

Show all 8
During her interview with Reuters, Wintour also spoke about the way in which fashion has developed with regards to diversity and inclusivity, saying that in her opinion, the industry has been "a little bit late in the game".
The Condé Nast artistic director stated that while she acknowledges progress has been made, she believes the profession has a "long way to go".
"We are seeing a far more diverse and inclusive representation on the runway, on our social media channels and also in the pages of our different magazines," she said.
"I think a lot of that has to do with the fact that we have so many designers of colour in the United States.
"Until there is truly a voice at the table things will not change the way that they should. I feel we have a long way to go."
For all the latest news from the world of fashion, click here.
Register for free to continue reading
Registration is a free and easy way to support our truly independent journalism
By registering, you will also enjoy limited access to Premium articles, exclusive newsletters, commenting, and virtual events with our leading journalists
Already have an account? sign in
Join our new commenting forum
Join thought-provoking conversations, follow other Independent readers and see their replies