Anna Wintour stuns fans by wearing tracksuit bottoms despite vowing never to wear them
'I never imagined I would see Anna Wintour wearing sweatpants,' Instagram user writes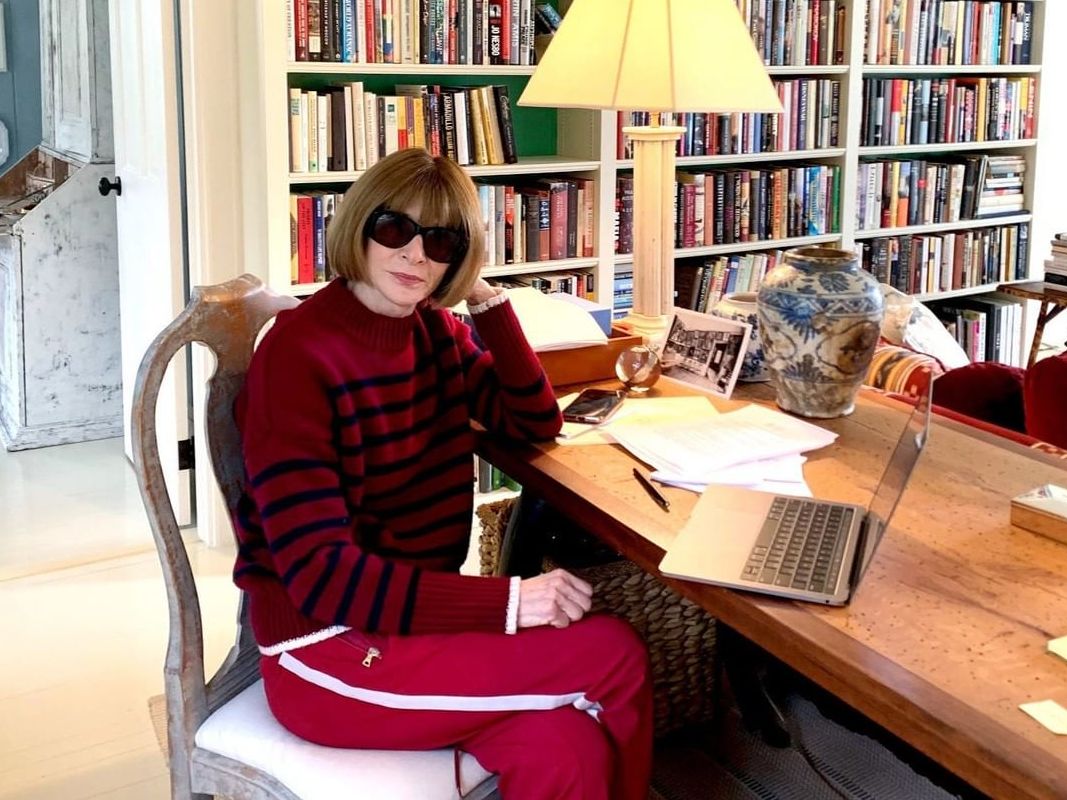 Anna Wintour has stunned her fans by donning an item of clothing that she previously stated she would never wear.
As the longtime editor-in-chief of Vogue magazine, Wintour has one of the most recognisable looks in the world, characterised by her signature bob haircut and intimidating sunglasses.
The 70-year-old is frequently pictured in high fashion attire, having recently attended Milan Fashion Week in February in a checkered coat and floral dress.
However, a photograph recently shared on the Vogue Instagram account showed the editor opting for a more casual ensemble, combining a pair of red tracksuit bottoms with a red and black striped jumper.
Wintour's choice to wear tracksuit bottoms at home has sparked shock among her most dedicated horde of fans, considering her former outspoken distate for the garment.
While taking part in Vogue's video series "Go Ask Anna" in July 2019, Wintour was asked whether she ever wears sweatpants, to which she responded with a curt: "No."
As such, several Instagram users expressed their surprise over her outfit underneath the picture.
"I never imagined I would see Anna Wintour wearing sweatpants," one person wrote.
"ARE THOSE SWEATPANTS?!!!!" someone else remarked.
Another Instagram user said that while they "can't believe she's wearing sweatpants", they are "sporty and hip".
"She's rockin them though. Love her," they added.
In the caption for the photograph, it stated that the Vogue editor-in-chief would be taking part in a four-day event on video conference platform Zoom called "Vogue Global Conversations".
"It's amazing what you can bring together in a matter of days. Sometime in the last week and a half (time seems to be moving both incredibly fast and slowly right now) a group of Vogue editors around the world had the idea of holding a series of conversations — via Zoom — about the future of fashion and creativity," Wintour wrote.
She explained that the coronavirus pandemic has "created profound challenges" for the fashion industry, adding that fashion needs to become "more thoughtful and more sustainable".
Anna Wintour's signature looks
Show all 8
"We need to talk frankly and openly about what fashion is going through, but just as importantly, we need to start imagining what comes next," she stated.
Last week, Wintour stated that her son Charles Shaffer was "quite ill" after testing positive for Covid-19.
"My son is a doctor," she said said. "He is currently quite ill and self-quarantining at home. But, when he is able, he will return to the ICU at his hospital.
"I am so proud of him and so grateful to all the health workers, first responders, nurses and doctors who are fighting to reduce the spread of the virus and to save lives."
Join our commenting forum
Join thought-provoking conversations, follow other Independent readers and see their replies