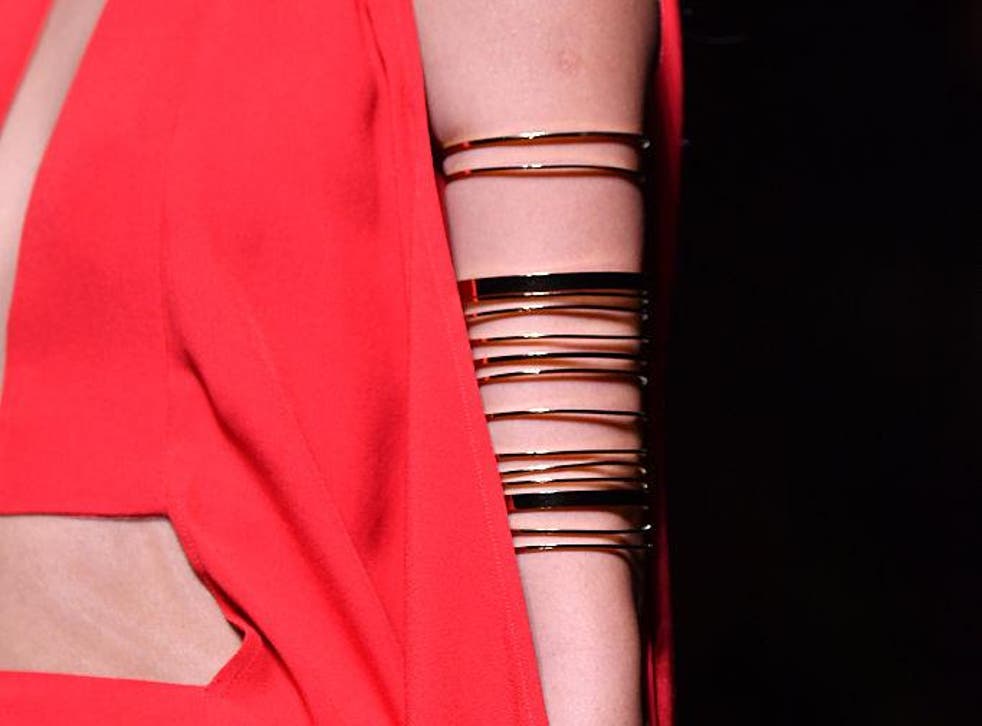 Arm cuff: The new season jewellery trend to wear with sleeveless styles
Stand out with conceptual cuffs this spring
This season it's time to let your arms do the talking with the return of yet another nostalgic jewellery trend.
Somewhat of a non-starter in the realm of accessories, bracelets are rarely considered sartorially fundamental but as the spring sunrays call for bare arms, that's all about to change.
But, this isn't just about the style anymore, where you wear them matters now too.
Arm cuffs, also known as armlets, have been worn since ancient times but, aside from a brief resurgence in the early 00s, have remained relatively out of view.
Of course, like most trends this one returned to the fashion fold via the runway with designers looking to decorate the arms of models.
At Ashish, a collection that celebrated Indian culture as an integral part of Britain saw both males and females sent down the runway adorned with golden upper arm bracelets – often layered and at times worn on both arms.
Elsewhere, Roberto Cavalli's new season obsession with '70s bohemia declared the upper arm a good place to sport a gunmetal serpent bracelet while Balmain's Oliver Rousteing joined in on the trend with wrap around gold styles that varied in width.
The best way to stand out this season, conceptual cuffs are one of the quickest and easiest ways to change the entire tone of an outfit but they can be tricky to pull off.
For those with toned arms the cuffs will accentuate your already muscular limbs but can you wear them if you have a distinct lack of guns?
Absolutely. The trick here is to opt for a style that is adjustable to accommodate any size. Plus, this way you're afforded the opportunity to wear them as low or as high on the arm as you like.
Join our new commenting forum
Join thought-provoking conversations, follow other Independent readers and see their replies