Virtual diamonds and Dior Eyes: Could augmented reality be about to revolutionise fashion retail?
The rise of AR and VR could be about to change the industry forever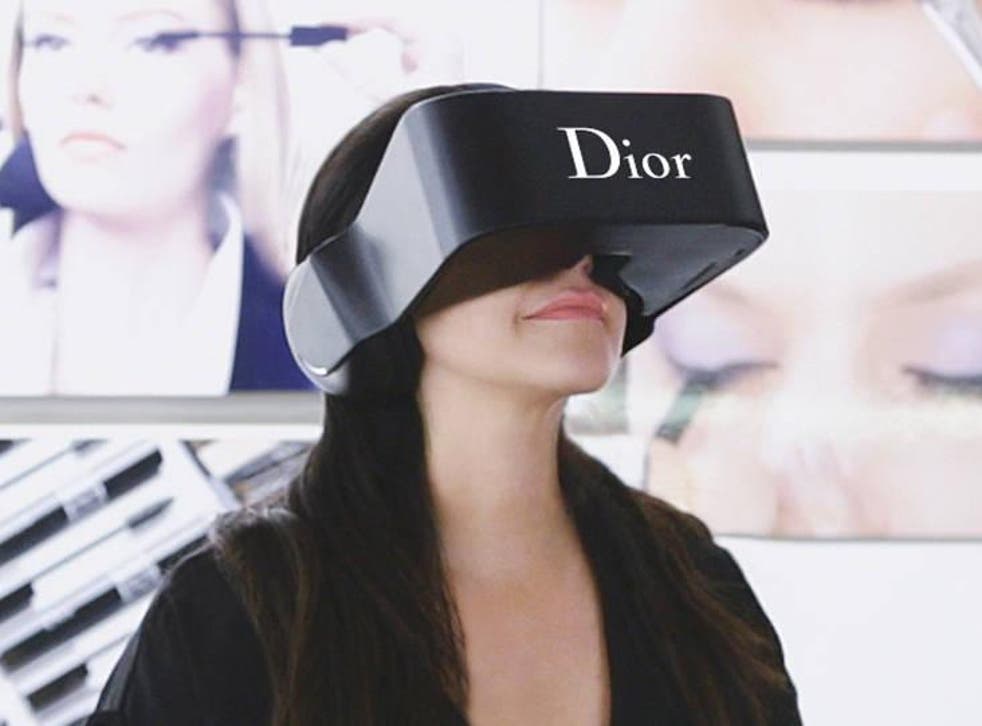 Virtual and augmented reality is about much more than just gaming. It's a trend that's expected to grow rapidly and consume almost every part of our physical lives, including fashion.
From notebooks to calendars, alarm clocks and cameras, objects that were once integral have all but disappeared into the digital landscape. Could our wardrobes be about to follow suit?
It has even been suggested that technology could become so advanced and bizarre that we end up renting virtual clothes and jewellery for our augmented reality worlds.
"All those things we thought essential materially, disappeared into the virtual environment," Jody Medich, director of design at Singularity University told WIRED Retail.
"They have all gone into the screen - but in the future, we are going to be looking through that screen."
Medich believes that augmented reality will be ubiquitous in just five years through our phones, headsets, or AR contact lenses and while that might sound a little hasty to some of you, it's more realistic than you might think.
The 7 things Back to the Future actually got right

Show all 7
As early as 2014, VR was making huge waves in the fashion world when London Fashion Week offered users a front-row view of the catwalk with a 360 degree stream. More recently, Balenciaga's Autumn Winter 2016 show was broadcast in virtual reality, while Hussein Chalayan released a panoramic video of his show; heck even Dior has its own VR headset.
"This technology will be ubiquitous - it won't affect little bits of our lives, it's going to affect every aspect of our lives. All those activities we do on our second screens are going to change in a radical way," says Medich.
"Instead of looking into a screen, we will be looking through the screen. When we do that, magical things will happen."
People love the convenience of online shopping but it's difficult to know exactly what you're getting or how well it's going to fit. Could AR be the solution?
Medich certainly seems to think so, referencing furniture retailer Wayfair, which used Google's Tango technology to build an app that can measure your environment.
"Tango knows the dimensions and can see the decor of my space, then suggest what types of end tables I will want. Then I can just put it there and see what it looks like."
Imagine this but in a virtual retail world where you can be matched with products specific to your shape and personal style or where your bedroom becomes a fitting room and builds outfits based on exactly what's in your wardrobe.
Why stop there? What about personal AI stylists or the ability to rent high-end clothing and jewellery that can only be viewed through AR lenses? If Merdich is right, the accessibility of luxury fashion could soon be available to every consumer.
Of course, how and to what extent the medium will impact the fashion industry is yet to be determined but nonetheless it comes with endless possibilities.
Register for free to continue reading
Registration is a free and easy way to support our truly independent journalism
By registering, you will also enjoy limited access to Premium articles, exclusive newsletters, commenting, and virtual events with our leading journalists
Already have an account? sign in
Register for free to continue reading
Registration is a free and easy way to support our truly independent journalism
By registering, you will also enjoy limited access to Premium articles, exclusive newsletters, commenting, and virtual events with our leading journalists
Already have an account? sign in
Join our new commenting forum
Join thought-provoking conversations, follow other Independent readers and see their replies