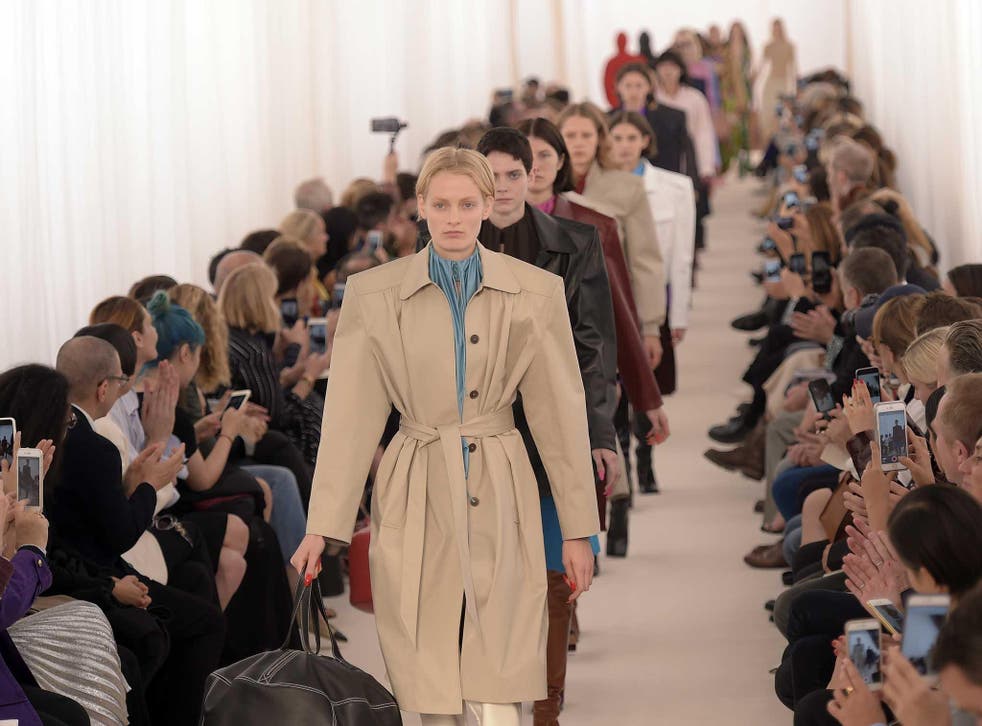 Balenciaga sacks casting directors over alleged 'sadistic' abuse of models at Paris Fashion Week
The French fashion house were quick to condemn the incident 
​Balenciaga has announced that it has cut all ties with casting agents Maida Gregori Boina and Rami Fernandes after a fellow casting director voiced concerns over alleged "sadistic and cruel" working conditions.
A figure that has campaigned for more diversity and better treatment of models, James Scully took to Instagram to publicly address the alleged incident at a recent Balenciaga casting.
Here, he says more than 150 girls were reportedly left waiting for over three hours in a dark staircase without light while Maida and Rami ate their lunch.
"I was very disturbed to hear from a number of girls this morning that yesterday at the Balenciaga casting Madia & Ramy (serial abusers) held a casting in which they made over 150 girls wait in a stairwell told them they would have to stay over 3 hours to be seen and not to leave," Scully wrote.
"In their usual fashion they shut the door went to lunch and turned off the lights, to the stairs leaving every girl with only the lights of their phones to see. Not only was this sadistic and cruel it was dangerous and left more than a few of the girls I spoke with traumatized." Boina has vehemently denied the accusation.
He also claimed that other brands, including Lanvin, were refusing to see models of colour and hiring underage girls for their runways.
The brand's designer Bouchra Jarrar fervently denied Scully's accusation after Lanvin's autumn/winter collection on Wednesday.
"They insult the couture houses with their accusations of racism," she told AFP.
"What are they talking about? Our dressing room is full of girls from every origin. In fact, there is not a single French person in it."
The Instagram post has subsequently been shared by hundreds of fashion industry professionals, received more than seven thousand likes and one thousand comments with models like Julie Hoomans, Dilone, Leomie Anderson, Joan Smalls and Helena Christensen praising Sully's act of speaking out.
Consequently, Balenciaga, who is owned by Kering, were quick to respond to the alleged incident and said in a statement that it had made "radical changes" to the casting process and had stopped using the accused agency.
The world's highest-paid models 2016

Show all 20
"Additionally, Balenciaga sent a written apology to the agencies of the models who were affected by this specific situation, asking them to share it with them.
"Balenciaga condemns this incident and will continue to be deeply committed to ensure the most respectful working conditions for the models."
In a separate email to the Business of Fashion, Balenciaga chief executive Cédric Charbit added that the company had been "taking this issue seriously for the past two days" and that he had "also reminded [everyone] internally that this is not us and cannot happen again.
"From now on we will hold casting in our showroom like we always did in the past seasons."
But, in an interesting turn of events, Maida Gregori Boina has issued a rebuttal to the Business of Fashion.
"It is important to stop the spread of rumours and set the record straight," Boina wrote.
"To directly address these accusations, the models did not wait for three hours in the dark, not even one hour. We personally ate our lunch in the casting facility and — without question — we did not lock the models in the stairwell and turn out the lights. That would be completely inhumane.
"Throughout the entire process, we provided the most comfortable accommodations allowable based on the facilities provided."
Adding her voice to the conversation, supermodel Edie Campbell revealed that she was not surprised by the reports of the alleged conditions.
"It's also probably not the most shocking example I've heard," Campbell told The Guardian.
"The problem with fashion is that it is a very informal industry. Boundaries are crossed and it allows people to behave in ways that would not ever be accepted in any other 'work' environment.
"It is also a closed system. If you speak out, you are faced with the very real threat of never working again. And that is why what James is doing is so unbelievably brave and should be applauded."
The Independent has contacted Maida Gregori and Lanvin for comment.