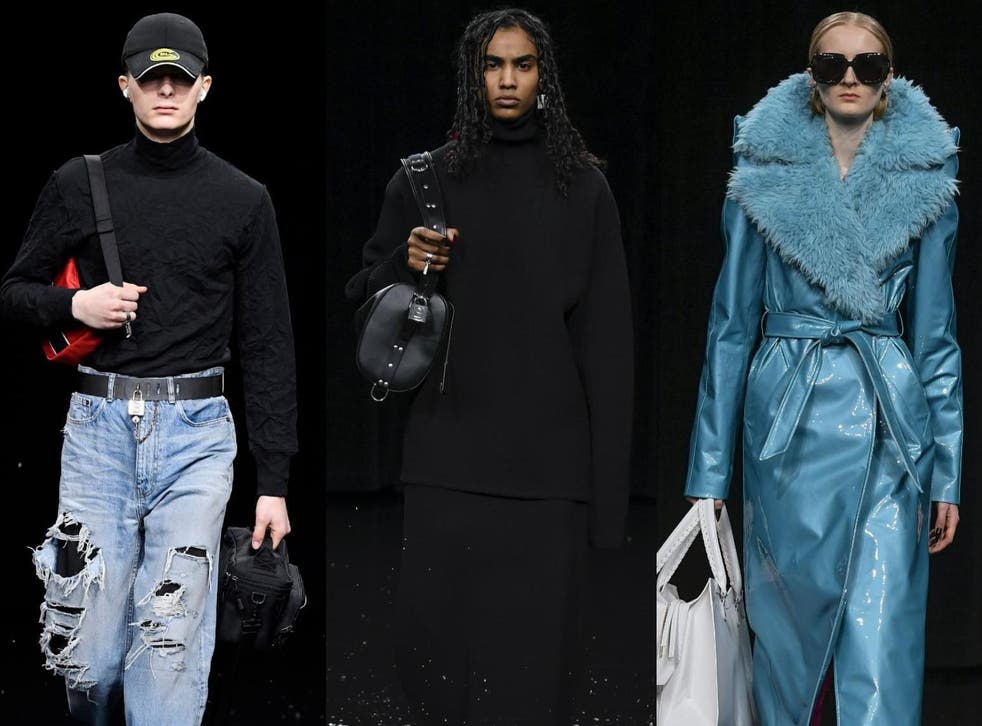 Balenciaga floods the runway at Paris Fashion Week to highlight the climate crisis
Designer flooded the amphitheatre in reference to rising ocean levels
Balenciaga staged its autumn/winter 2020 fashion show on a stage flooded by water in a bid to highlight the threat of climate change.
This season at Paris Fashion Week, fears of the coronavirus continued to escalate after the French president Emmanuel Macron announced "an epidemic is coming".
Health concerns have prompted designers to hand out free medical masks and hand sanitiser to showgoers, while several events, including a cocktail party for the finalists of the prestigious LVMH prize have been cancelled.
But, while the virus has undoubtedly prompted widespread unease, Demna Gvasalia set out to remind guests of another threat that should be at the forefront of their minds: the climate crisis.
On Sunday, the creative director of Balenciaga echoed last season by once again inviting fashion editors, stylists and buyers to the Cité du Cinema film studio in Saint Denis.
However this time, the designer purposely flooded the centre of the amphitheatre in a reference to the fact that ocean levels are rising.
The spectacle meant that the first few rows of seats were submerged under water, leaving guests, including Kanye West and Kim Kardashian, to take their pew in the third row to avoid getting splashed by models as they marched through the shallow waters.
As the models splashed their way around the amphitheatre, a giant LED screen suspended on the ceiling played a succession of ominous videos that reflected eerily onto the water including boiling lava, flames and a swarm of crows.
The menacing setting proved a hit with showgoers who shared photos and videos from the runway on social media.
Alongside a clip of the show featuring a model walk through the water against a backdrop of inferno skies, Tim Blanks, editor-at-large of The Business of Fashion, wrote: "The sky blazed, the sea boiled, the planet had one serene moment to catch its breath...and then TOTAL ECLIPSE.
"Is @demnagvasalia fashion's Cassandra or fashion's Chicken Little? THE SKY IS FALLING. Believe it."
Elsewhere, Hanya Yanagihara, editor-in-chief at the New York Times Style Magazine, referred to the show as a "drowned world" and revealed that Gvasalia planned to donate the empty seats to a children's sports centre, while the water used to flood the runway would be "returned to the city of Paris to be used as graywater".
This is not the first time that Gvasalia has used the Balenciaga runway to comment on social and political issues.
For spring/summer 2020, the designer staged the fashion house's show at the same amphitheatre, only this time the seats were designed to represent the European Parliament chamber and the room was decked out entirely in European Blue, which was a reference to Brexit and Britain's departure from the European Union.
Join our new commenting forum
Join thought-provoking conversations, follow other Independent readers and see their replies