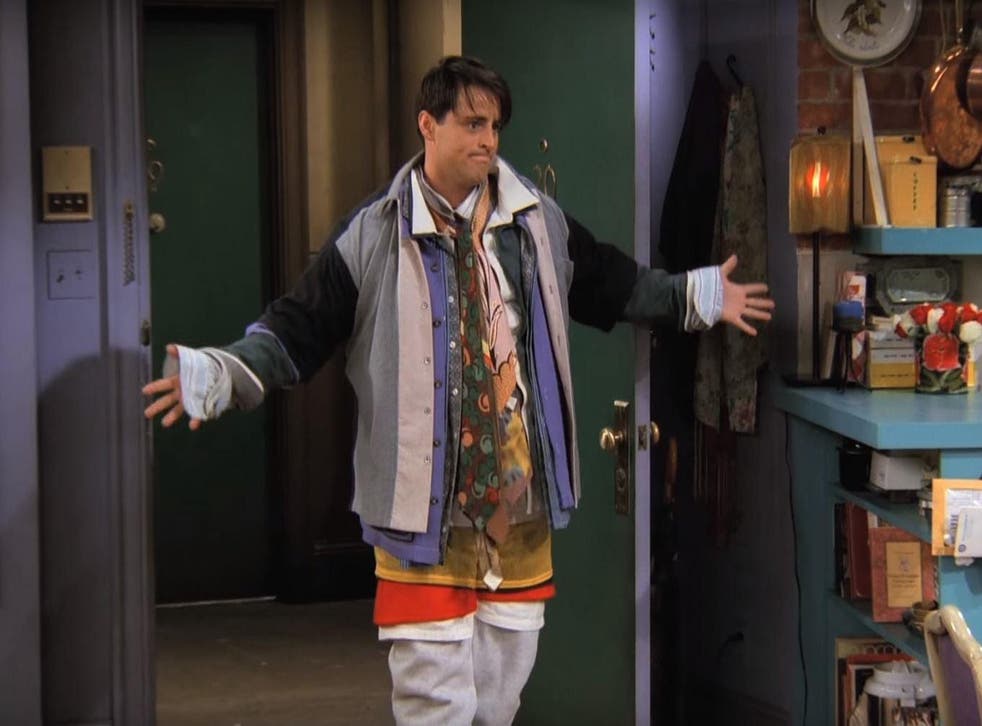 Balenciaga's new 'layered' jacket ridiculed for reminding Friends fans of famous scene
'You hide my clothes, I'm going to do the exact opposite to you'
Balenciaga has released a new coat - and savvy Friends fans have pointed out that it bears a striking resemblance to a look sported by Joey Tribbiani in one of the series' most famous episodes.
When Chandler Bing decides to hide Joey's underwear as retribution for stealing the cushions from his chair, Joey vows to avenge his friend by doing "the exact opposite" of hiding someone's clothes by dressing himself in everything his roommate owns, resulting in a hilarious cacophonous ensemble.
While the scene is a firm favourite among Friends fans, Balenciaga's latest offering is proof that its cultural reverence has permeated the sartorial sphere.
The luxury label's unconventional garment has sparked confusion on social media: Is it a coat? Is it an optical illusion? Did creative director Demna Gvasalia have one too many?
According to a description on Matchesfashion.com, the parka coat, which debuted on Balenciaga's autumn/winter 2018 show in February, is formed of seven layers and is intended to protect its wearer from bearing the brunt of colder climes.
"It's comprised of combination of plaid shirts, jersey hoodies, and technical fleeces, featuring cuffed sleeves, two front patch pockets, a drawstring hood and a coordinating hem," it adds.
In other words, it is a jacket, layered underneath another jacket and another shirt and maybe another one for good measure.
Perhaps the sheer amount of clothing involved warrants the jacket's humble price tag of $9,000 (£6,095), which could buy you very many jackets indeed: it's basic economics.
Clearly, the resemblance between the coat and Joey's ensemble has tickled Friends fans everywhere, as a tweet illustrating the similarities has gone viral, garnering more than 89,000 likes.
"Joey Tribiani was frickin ahead of his time," commented one person.
Joey wears all of Chandler's clothes (Friends - Season 3 Episode 2)
Another added that the beloved character was "ahead of the game".
Others pointed out the ease with which Balenciaga's high-end offering could be recreated: by simply buying seven coats and wearing them all at the same time.
Depending on where you purchase said coats, your version of the designer item could be significantly cheaper.
Balenciaga has been known to push fashion's boundaries with its idiosyncratic garments, which range from jumbo Crocs to the £1,795 rubber skirt that resembled a car carpet protector.
However, the layered parka coat really takes the sartorial biscuit, in fact, it takes every biscuit in the tin and wears the crumbs.
Join our new commenting forum
Join thought-provoking conversations, follow other Independent readers and see their replies