The Independent's journalism is supported by our readers. When you purchase through links on our site, we may earn commission.
Beauty in the post-covid era: How the pandemic could change the salon industry forever
From the rise of at-home beauty treatments to financial woes, weeks of lockdown have had a major impact on beauty salons and barbershops across the world. Here, Sarah Young investigates how the outbreak has changed the way we access beauty
Saturday 06 June 2020 19:33 Comments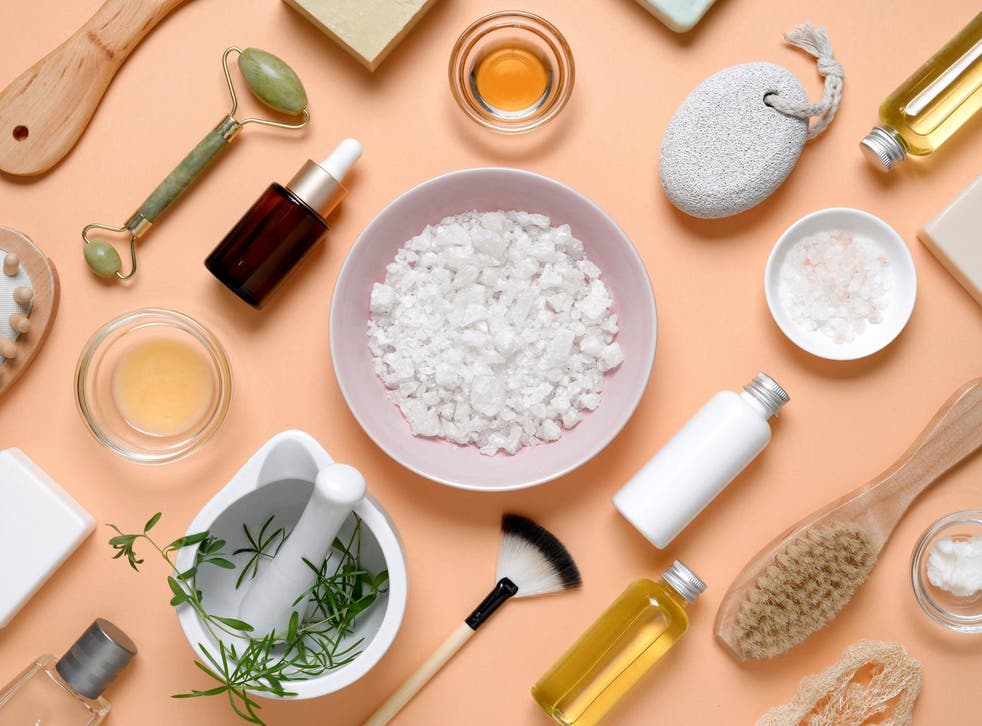 While many people prepared for lockdown by stockpiling toilet roll and tinned goods, others immediately began fretting over how long it would be before their colleagues finally discovered their natural hair colour.
On 23 March, Boris Johnson announced the nationwide lockdown, which meant that people were only allowed out of the house for a few key reasons and all non-essential businesses were forced to shut, including hairdressers and nail bars, which became some of the first businesses to close their doors. With that, the way we accessed beauty changed overnight, leaving many of us kicking ourselves that we hadn't gone for one final set of highlights.
Along with the myriad of changes people were having to adapt to, trying to keep up with appearances without the help of a professional was something many of us found unexpectedly challenging. And while, in the face of a global pandemic, grooming might seem like a superficial issue to get worked up over, in a world that puts so much weight on physical attributes, who can blame us? As Phoebe Waller-Bridge's character says in Fleabag: "Hair is everything."
Within days, people turned to DIY solutions in an attempt to replicate the work of absent experts. Social media was flooded with images of men getting buzzcuts, then, not long afterwards women deciding to do the same, unshackled by work rules and beauty standards, many spoke about how liberating they found it. Fringe trims and dye jobs were also attempted in front of bathroom mirrors while successful and botched attempts to remove acrylic and shellac nails were well-documented on Instagram.
The desperation to maintain our beauty routines during lockdown saw thousands of people turn to the internet for advice with the number of Google searches for DIY beauty treatments quadrupling between March and April with more than a million related queries. This surge translated into sales on the high street too, with data from IMRG – the UK's industry association for online retail – showing that sales of beauty products during the week commencing 15 March increased by 31.6 per cent year-on-year. As millions of people became reluctantly reintroduced to their natural hair colour, box dye supplies at retailers such as Superdrug quickly sold out with sales skyrocketing by 76 per cent. Sales of hair clippers rose by 228 per cent in the first two weeks of April alone and have been sold out on Amazon for weeks.
Us mere mortals aren't the only ones that haven't been able to get to the salon though. Since lockdown began there has been a sense that we're all in this together; Kate Middleton's characteristically coiffed blowdry got traded in with a half up/half down hairstyle that made a recurring appearance for official Zoom engagements, and Scottish first minister Nicola Sturgeon had to share behind-the-scenes photos of her cutting and dying her own hair, after critical headlines suggested she'd been getting help from a professional. Weeks later, while setting out lockdown easing in Scottish Parliament, she joked hairdressers were: "a priority, I know, for almost every woman in the country… and some men". Many joked that if the prime minister were a woman, hairdressers would have been top of the list to open – long before car show rooms were even touted.
Others, however, showed they just couldn't go the distance with supermodel Heidi Klum being accused of breaking lockdown rules to sneak her hairdresser into her back garden for some "social distancing highlights" and MP's expressing concerns that people were stumping up large sums of money for haircuts on their lawns. But for those who haven't had the luxury of a stylist on speed dial, adjusting to life without the help of a professional has meant learning new beauty skills.
Fashion influencer Lydia Rose is just one of those people who has adopted a do-it-yourself approach in recent weeks, and has so far managed to effectively tackle an eyelash lift, brow lamination and gel manicure on herself, while Laura Byrnes, a YouTuber and blogger, recently placed the fate of her hair in the hands of her boyfriend. "I have bobbed style hair and it had just grown out of style so much. I just couldn't stand it any longer, so desperate times called for desperate measures," she says, adding that the finished look "wasn't a total disaster".
And it's not just women who have been brushing up on their beauty skills. Connor Inker from Surrey has replaced regular trips to the beauty salon with at-home treatments too. "I've started waxing my own eyebrows and that's something I will definitely continue to do myself from now on as it's been really easy," he explains, adding that he also enlisted the help of his brother's girlfriend to cut his hair. "She did an amazing skin fade just by watching a YouTube video and it was really impressive. I'd absolutely consider getting her to cut my hair again."
Of course, there's more to at-home beauty than just convenience. Discovering the money that can be saved by eschewing your regular personal MOT has certainly raised some questionably tweezed eyebrows. "I started doing my own individual lashes and realised it's not so difficult and saves a fortune so I will definitely keep that up," Jessie O'Sullivan from Kent tells The Independent. "It's very easy, quick to learn and costs as little as £5 to do myself when normally I pay £40 at a salon. It's also really relaxing to do."
Sales assistant Hayley agrees, explaining that she has managed to forgo spending hundreds each month by reassessing what treatments she can do herself at home for a fraction of the price. "It's been a real eye-opener and I've realised that I can save myself a huge amount of money by doing beauty treatments myself at home. I've been dyeing my own hair using box dyes, which are normally on special offer, and because my hair is so long and thick this costs the earth at a salon and takes a long time in the chair," she says, adding that she has also started waxing her own body hair, doing gel nail polish on herself and even taken up dermaplaning – an exfoliating treatment that involves gently scraping the surface off the skin using a special tool to remove dead skin cells and "peach fuzz".
"As well as saving me a lot of money, it's been so nice to be able to do these treatments from the comfort of my own home and in my own time, so I really don't think I will be going back to the salon for any of these treatments," she explains. But, while these homespun measures might be working well for some people, is it really safe to be using technical methods and potentially dangerous chemicals, such as bleach and acrylic powder, that take years for beauty professionals to learn how to master?
Best celebrity hair transformations

Show all 32
According to the National Health and Beauty Federation (NHBF), it's a hard no. "We would strongly advise people not to undertake any treatments at home which are usually performed by a hair or beauty professional," a spokesperson says, adding that anyone who attempts to tackle their outgrown hair, wild beards or stumpy lashes themselves are likely to do a "very bad job". Not to mention you could also possibly harm yourself and it will take even longer (and cost more money) for your hairdresser, beauty therapist or barber to sort out. "These people are highly trained, skilled and talented so leave it to them", they add.
Krisztina van der Boom, co-founder of nail salon DryBy London, says that while some treatments, such as manicures and pedicures using regular polish are perfectly fine for people to attempt at home, using salon grade products could be potentially harmful. "We definitely advise against DIY shellac or gel treatments," she explains. "The reason for this is that the gel products people can get their hands on as non-professionals can cause damage to the nails when removed if protocols are broken and non-adhered to. DIY gel treatments can actually cause nail trauma and that takes a long time to repair."
Aside from the dangers involved with dodgy DIY jobs, ditching the salon permanently could have a lasting impact on professional services. Trips to the salon might not seem the most important issue at present but the beauty industry is of vast significance both to individual business owners and the wider economy. The latest figures from the National Health and Beauty Federation show that hair salons, beauty salons and barbershops turn over £7.5bn per year in the UK alone. Having been forced to close their doors for a number of months, a spokesperson confirms this means that during lockdown the beauty industry has suffered catastrophic losses of approximately £1.75bn in turnover.
And it doesn't look set to stop there because under the government's plans to continue easing the lockdown, salons will be one of the last outlets to open. Last month, first secretary Dominic Raab explained that personal care establishments will not be permitted to reopen until 4 July "at the very earliest". "Obviously the proximity [within salons]... is something where we just don't think we are ready yet, given where we are with the virus."
The prolonged lockdown means that financial implications of the coronavirus are going to be felt by many, with experts warning that the UK economy will take longer to recover from this pandemic than it did from the 2008 financial crisis. Stock markets have plunged, businesses have collapsed and more than 6.5 million people could lose their jobs due to the economic fallout from lockdown. With money tight on all fronts, it remains to be seen whether costly trips to the salon will remain a priority for people in the weeks and months to come.
Clare Varga, head of beauty at trend forecasting company WGSN, predicts that most beauty fans will be forced to reassess their needs amid the fear of future outbreaks and financial woes, causing the surge in DIY beauty treatments to continue long after the coronavirus crisis abates. "Beauty's role in our lives has changed completely during the Covid-19 outbreak. It's a total beauty reset," she says, adding that people will move to a "buy less but better" mentality in order to save money. Varga predicts that this attitude will also see people adapt to a "pick and mix approach to beauty treatments", combining at-home with the professional. "People have lost a lot of their fear over DIY treatments but are also enjoying the low cost, low maintenance aspect too," she explains.
Health and hygiene will be major drivers when it comes to consumer appetite for DIY beauty post-lockdown too, with fear of prolonged human contact impacting professionals who provide hands-on physical treatments, such as facials and manicures, the most.
But will these changes leave a lasting effect on the beauty industry? Experts across the country who have trained for years to earn their professional status have already seen their businesses suffer substantially due to the enforced closures, and if people start to turn to at-home treatments on a more permanent basis, many fear the industry will struggle to get back on its feet. "I think this is going to impact us in so many ways. We're still expected to pay the rent in full and then you add the reality of us not being able to function at full capacity when we do open, so our turnover will drop," explains Rob Czlapka, owner of RCNQ salon and Barber Below in Manchester. "I can see a lot of places closing down if they are in the same situation."
Joe Mills, founder of Soho-based barbershop Joe and Co shares similar concerns. Having closed his salons ahead of official lockdown following a noticeable fall in appointments due to public health concerns, he says he is now having to look at his businesses as "fresh projects" that will require operating under greater safeguards but with reduced working hours and customer capacity.
"This will change a lot of areas in our society. We cannot socially distance in our job as we are required to come into your personal space and everything we do is about personal contact and engagement," Mills says, adding he is trying to remain optimistic that, with appropriate safety guidelines, business will resume.
"This could have a major impact on how we work and what we do but we will be operating with a high level of precautions, which is for the teams as much as the clients. We have to be around people for extended amounts of time so we will do everything we can when it comes to introducing robust risk assessments and planning. We can't think of what we did before or how we used to operate; everything has to change."
It is clear that when the time comes, appointments will not operate in the same way they used to but while the government has announced a tentative date for salons to finally reopen, they are yet to provide professionals with clear guidelines as to how they will be required to work in order to prevent risk of infection.
Famed hair colourist Josh Wood's eponymous salon in London offers some insight into what we can expect when salons reopen, with clients being given face masks and gloves on arrival, only half the usual number of chairs in service at any one time and, if the government advises, all stylists being required to wear full PPE. This appears to be a nationwide approach, with Steven Ross, owner of Johnny's Chop Shop Barbershops, explaining that he will also be offering a reduced service, card only payments, performing deep cleans and dropping some key luxuries such as a drinks service.
Nail salons and eyebrow bars are expected to operate similarly. According to Jared Bailey, global brow expert for Benefit Cosmetics, the company is going to be asking all employees to check their temperature before entering work, with all staff members and customers masked and gloved and a two-metre distance between chairs. "All brow bar stations and chairs will be thoroughly sanitised upon store opening, every hour, and again after a service," Bailey explains. "All used materials will be disposed of after each service and any used non-disposable tools, such as tweezers and scissors, will be washed with warm soapy water, sanitised and stored in barbicide for disinfection."
A recent survey of 1,600 National Health and Beauty Federation members has shown that over three quarters (77 per cent) of beauty professionals feel "very well-prepared" or "as well-prepared as they could be" for reopening when it is safe to do so. And, while it is comforting to hear that so many companies are prepared to take the necessary precautions, all these measures are making a trip to the salon sound more like a zero-G flight to outer space than the peaceful pamper session we were hoping for. So will people really be willing to enter such an alien environment or will they continue to trade in root touch ups for remedies at home? While there will of course be some who are ready and willing to reject the high-cost, high maintenance aspects of their beauty regimes forever, it seems that one of the most important lessons lockdown has taught us, is that we'll never do as good a job as a pro. After weeks of staying at home and experimenting with her beauty routine, Byrnes says she cannot wait to be back in the hands of her hairdresser.
"I know the salons will be taking all of the safety measures and precautions for their staff and clients, and as much as I can try at home, it's just not the same as the salon experience and having their expertise," she explains. Sarah Webb from London agrees, adding that while her husband nailed his at-home chop with the clippers, her now-brassy blonde balayage is in need of some professional TLC. "As much as I have enjoyed the break from hours sitting in a salon chair, I'm starting to get desperate for my hairdresser to reopen," she says. "I've enjoyed some aspects of doing my own beauty treatments, like switching up my nails whenever I like, but I couldn't run the risk of a botched dye job. You get what you pay for when it comes to highlights."
With 4 July fast approaching, reutilising the much-missed services of beauty professionals appears to be at the forefront of many people's minds with a number of salons already reporting a rush to secure appointments. Stephen Whiteside, a freelance hair colourist from Kent explains that even before he announced he could soon begin seeing clients again, people were already lining up for a cut and colouring session. So much so, that he has had to start a lengthy waiting list. "My business has been affected massively due to the crisis. I haven't been able to work for nearly 11 weeks and counting but I haven't had any clients expressing concerns about returning to the salon," Whiteside explains. "In fact, I have been getting messages every day from clients excited to see me to get their hair done and the vast majority of queries I am receiving are from people trying to get an appointment booked in."
While safety concerns and dodgy DIY attempts have not been enough to drive everyone away from the salon environment completely, the future of the industry remains in the balance and it is likely that it will be some time before things are back to any semblance of normal. That being said, the role salons will play in our lives in the months ahead is arguably going to be more important than ever before. Even prior to the coronavirus pandemic, many men and women relied on regular salon visits for much more than a beard trim and a natter over a cup of tea. According to Katerina Georgiou, a BACP-accredited counsellor and psychotherapist, many people use their beauty routines as a means self-care and a way to connect with people, and while the way we visit might not be entirely what we're used to, this doesn't look set to change post-lockdown
"Returning to a salon is going to be all about connection with people, sounds and laughter. It's being looked after again and it's having professional input after a long stretch of going it alone," Gerogiou explains. "It's also something relatively simple to do for yourself, without any deadlines and having allocated time for yourself, even if just for a few minutes in your day-to-day."
While Youtuber Helen Anderson has used this period of isolation to take a break from her beauty routine, she is just one of those people who are looking forward to seeking solace in the salon chair. "I really appreciate the social aspect of visiting the salon," she explains. "They aren't just technicians or artists, they're friends and therapists that you tell your deepest darkest secrets to."
And, let's face it, after nearly three months of lockdown, we are all going to have plenty to talk about.
Register for free to continue reading
Registration is a free and easy way to support our truly independent journalism
By registering, you will also enjoy limited access to Premium articles, exclusive newsletters, commenting, and virtual events with our leading journalists
Already have an account? sign in
Join our new commenting forum
Join thought-provoking conversations, follow other Independent readers and see their replies