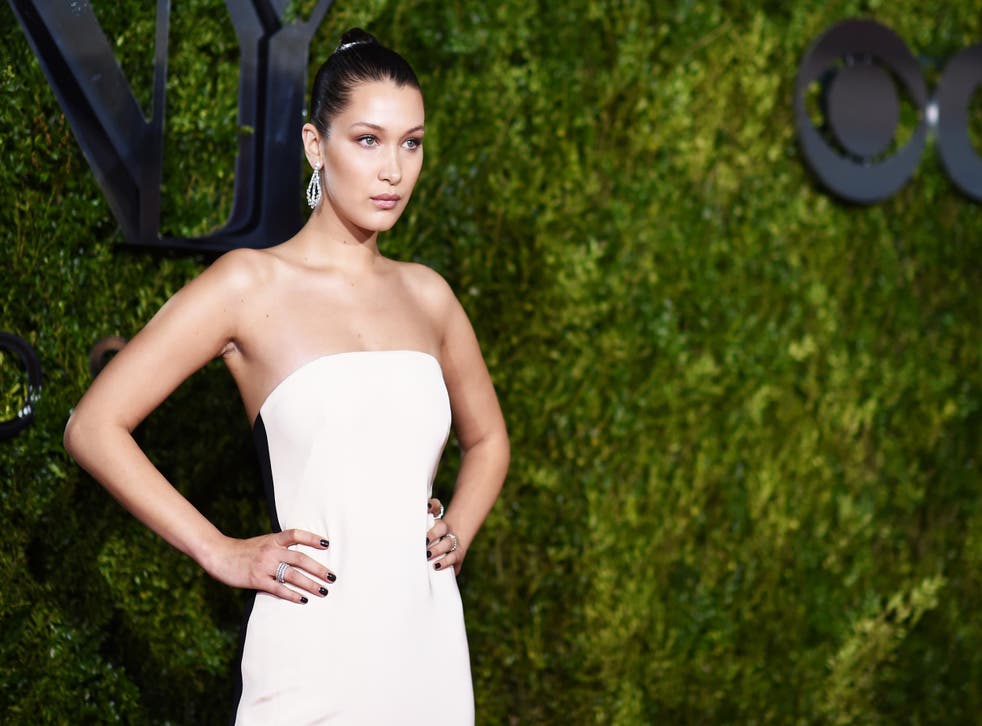 'I am proud to be a Muslim': Bella Hadid opens up about her Islamic faith
Supermodel publicly discusses her religion for the first time
Sarah Young
Wednesday 05 April 2017 09:11 Comments
Supermodel Bella Hadid has opened up about her father's experience as a refugee and her Islamic faith in a candid interview.
And, while she might be one of the biggest fashion stars in the world it seems there's still much for us to understand about the 20-year-old model, who has never publicly confirmed her religion until now.
The model, her older sister Gigi and brother Anwar are half Dutch, half Palestinian born to Yolanda – a reality TV star - and Mohamed Hadid – a real estate mogul estimated to be worth $200m.
Their father was born in Nazareth and lived in both Syria and Lebanon before immigrating to the U.S. at just 14-years-old.
A subject close to Bella's heart, she openly discusses her father's heritage and how this factored into her upbringing in the summer issue of the magazine.
"He was always religious, and he always prayed with us. I am proud to be a Muslim," Bella told Porter magazine.
Marvel turns supermodels into superheroes

Show all 12
When President Trump first announced his immigration ban in January, Bella and sister Gigi were among those to join the No Ban No Wall march in downtown New York, along with their mother and friends, toting signs that read, "We are all humans," for Bella, this was personal.
"My dad was a refugee when he first came to America, so it's actually very close to home for my sister and brother and me," she added.
The supermodel has previously opened up about her decision to participate in the protest, explaining to Elle that her "diverse background" has taught her that all people "deserve respect and kindness."
She says, "We shouldn't treat people as if they don't deserve kindness just because of their ethnicities. It's just not right. And that message — to be compassionate whenever possible — that's so important to me."
Register for free to continue reading
Registration is a free and easy way to support our truly independent journalism
By registering, you will also enjoy limited access to Premium articles, exclusive newsletters, commenting, and virtual events with our leading journalists
Already have an account? sign in
Register for free to continue reading
Registration is a free and easy way to support our truly independent journalism
By registering, you will also enjoy limited access to Premium articles, exclusive newsletters, commenting, and virtual events with our leading journalists
Already have an account? sign in
Join our new commenting forum
Join thought-provoking conversations, follow other Independent readers and see their replies