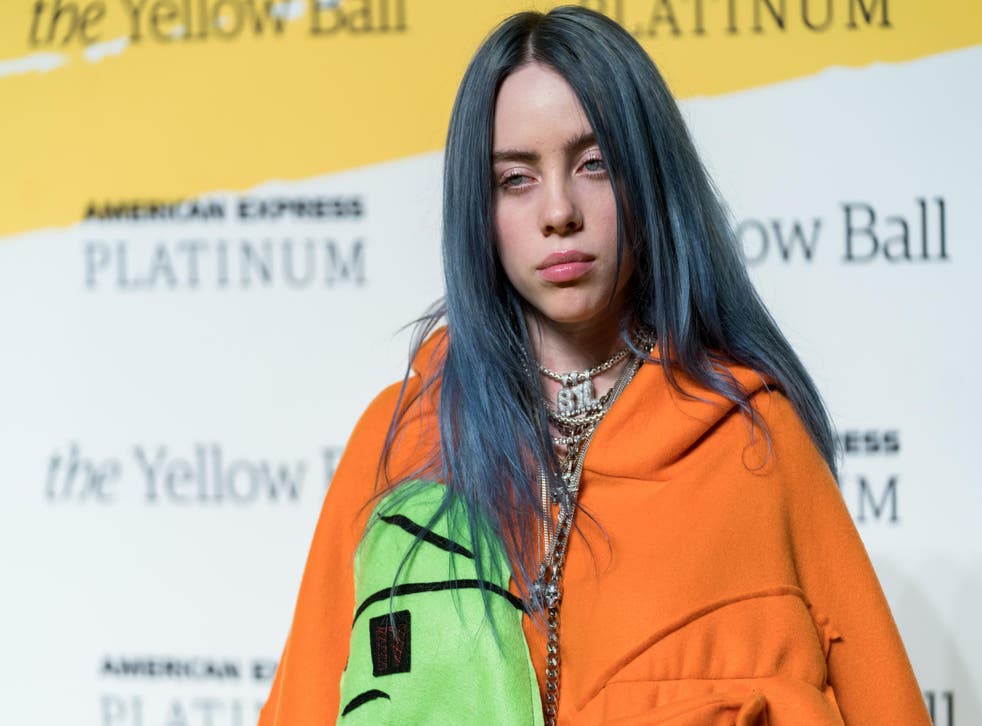 Billie Eilish says positive comments about her baggy clothes 'slut-shame' others
'The way I dress is very not necessarily feminine, or girly'
Katie O'Malley
Tuesday 20 August 2019 13:19 Comments
Billie Eilish has spoken out against the way she is celebrated for wearing "baggy clothes", stating that she thinks there is a "slut-shaming element" to the way people discuss her fashion sense.
The 17-year-old singer spoke about her aesthetic in an interview with singer Pharrell Williams for V magazine.
During their discussion, the star explained that while she understands that some of the conversation around her dress sense is "positive", she doesn't appreciate its sexist undertones.
When questioned by Williams about the common misconceptions people have about her, Eilish said: "The positive comments about how I dress have this slut-shaming element. Like, 'I am so glad that you're dressing like a boy, so other girls can dress like boys, so that they aren't sluts'.
"That's basically what it sounds like to me. And I can't overstate how strongly I do not appreciate that, at all."
Best high street fashion buys in August

Show all 20
The singer, who lives with Tourette's syndrome, continued, adding that she thinks people often wrongly believe that she dresses in baggy clothes to reject being a "stereotypical female".
"The way I dress is very not necessarily feminine, or girly, or whatever," the teenager stated.
"I don't say, 'Oh, I am going to wear baggy clothes because it's baggy clothes', it's never like that. I wear what I want to wear."
Instead of discussing how women choose to dress, Eilish said that she would like people to discuss how comfortable people feel in themselves.
"I have always supported and loved when a woman or a man or anyone in the world feels comfortable in their skin, their body, to show just whatever they want," she added.
"I don't like that there's this weird new world of supporting me by shaming people that don't want to dress like me."
The Los Angeles-born star, who recently announced she was launching a new graffiti-inspired clothing line with French illustrator Freak City, said that she has always enjoyed fashion and dressing "loud".
"I've always wanted people to look up at me, I've always wanted people to notice me," she said of her fashion choices.
"I'm just walking around dressed how I always wanted to [be] dressed, how I always wanted to be looked at, but now there's a name attached to that."
Eilish's comments come weeks after she opened up about her struggles with body dysmorphia.
Support free-thinking journalism and attend Independent events
"I've never felt comfortable in really tiny clothes," she told Rolling Stone magazine last month. "I was always worried about my appearance. That was the peak of my body dysmorphia. I couldn't look in the mirror at all."
Earlier this month, designers Siberia Hills pulled their recently-launched collaboration with Eilish after the brand admitted to copying another designer's work.
The fashion line had used images of anime character Nozomi Tojo from the show Long Live! who had been sketched by Makoto Kurokawa.
Taking to Instagram, the brand stated that the 17-year-old singer was not aware of the design issues, and assured fans that they would be given a full refund if they had already purchased items from the collaboration.
"We were the creative force behind this collaboration. To Billie, and her fans, we apologise for causing this issue," an excerpt of the apology reads.
Register for free to continue reading
Registration is a free and easy way to support our truly independent journalism
By registering, you will also enjoy limited access to Premium articles, exclusive newsletters, commenting, and virtual events with our leading journalists
Already have an account? sign in
Join our new commenting forum
Join thought-provoking conversations, follow other Independent readers and see their replies