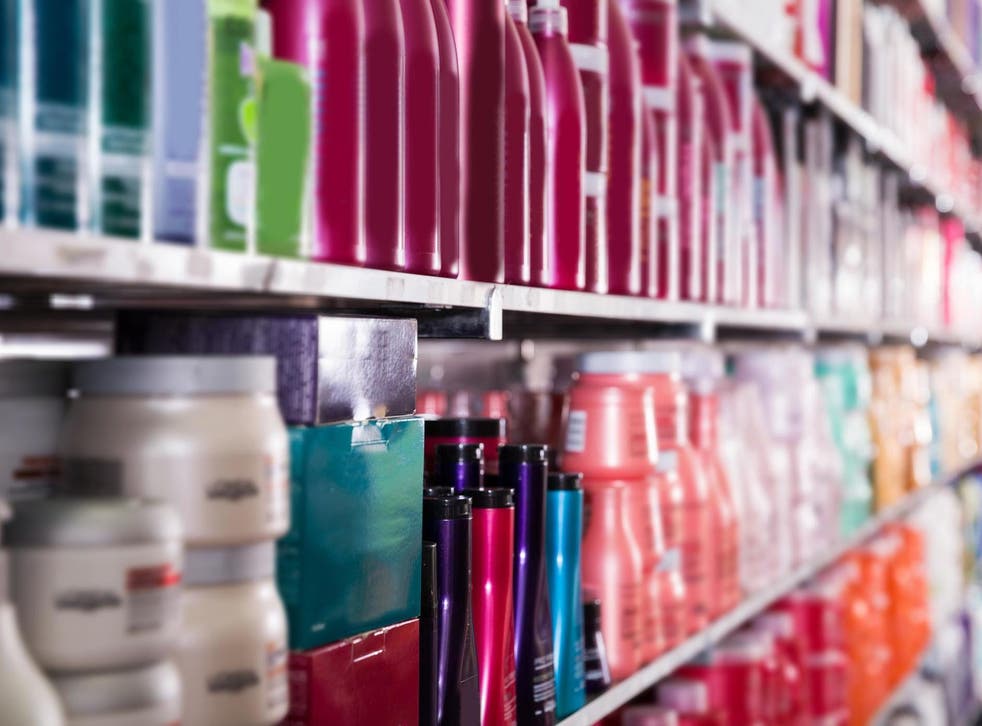 US supermarkets accused of racism for locking up beauty products aimed at black customers
'This is done EXPLICITLY to keep black people from shopping in these stores', says Twitter user 
Two photos of supermarket shelves have gone viral on social media, with many stating they demonstrate the everyday racism that exists in the US.
The images, which were shared on Twitter earlier this week, show hair care products displayed in an American supermarket.
The first photo features rows of shampoo, conditioner and styling products lined up on open shelves, while the second shows hair care products targeted at curly and afro hair locked behind a glass cabinet and metal chains.
"It's more than just the police," the Twitter user captioned the two photos, which were quickly liked more than 500,000 times.
The tweet attracted hundreds of responses, with many people saying it was just one example of unconscious bias against black people and the over-policing of black communities.
"The products that are locked and chained up are the ones that are specifically targeted at natural black hair; implication being that the store owners expect black people to steal hair products," one person wrote.
Another added: "I worked at a retail store that just opened that did this. The reasoning is not (as some people keep saying) 'because these items have been stolen, so they do it to prevent further theft'. This is done EXPLICITLY to keep black people from shopping in these stores."
While some Twitter users claimed that US supermarkets only place "high theft" or "high price" items behind glass, others pointed out that the only products aimed at non-white customers were being locked up, regardless of their price.
"Walmart decides what to lock up by their inventory counts. The things that get stolen the most get locked up. The Walmart here locks up lashes bc they were being stolen too much. Not everything is a race thing [sic]," one person argued, to which another Twitter user replied: "That's not the point. In what world do you think people won't get offended if they lock up products specifically for Non white ppl. [sic]
"If you want to lock up hair products because they are being stolen then lock them all up...not just the hair products for ethnic groups. Duh."
The initial tweet prompted many others to share instances of products for sale in supermarkets that showed prejudice against black people.
One person shared a TikTok video showing sunscreen for darker skin displayed behind a pillar despite there being plenty of room on other shelves, while another shared a photo from the makeup section of a supermarket where only darker shades of Maybelline concealers were attached with electronic tags.
A third exampled showed a shelf of hair dye where the only one in a security case was the one that featured a black model on the front of the box.
This is not the first time US supermarkets have received such criticism. Last year, Walmart was accused of racism after a shopper said she and other black customers were humiliated by being forced to wait for a member of staff to unlock beauty cabinets.
"One poor girl was trying to look up products on her phone because you can't even pick the products up to read directions, ingredients etc," Jasmine Saunders told NBC News at the time.
"I could not believe the emotional response it elicited, I felt as if the second I stepped into that aisle, that it had already been determined I'm a potential thief - as well as anyone else who looks like me."
Similarly, in 2018, Essie Grundy, from California, sued Walmart over race discrimination for locking away "hair and body products meant for Afro-Americans".
Black Lives Matter: London protests

Show all 25
She claimed Walmart previously told her that "the protective packaging was part of a normal practice to minimise theft of at-risk items," but insisted it is a "racial discrimination policy and practice" that singles out one group.
UK retailers have also faced similar criticisms. In 2019, a customer complained that security tags were only present on "black" hair products but not those for "white people" at Boots.
Natasha Wright, a make-up artist, posted a video on Facebook showing rows of hair products labelled "black hair care" sealed by security devices.
However, in the next aisle were rows of similar items for "white" people that remained untagged, despite some costing £10 each.
In response, Boots said at the time: "To prevent theft our colleagues add security tags to the products they believe are being stolen.
"They do this regardless of what the product is, the cost of it, or which aisle they are on."
Join our new commenting forum
Join thought-provoking conversations, follow other Independent readers and see their replies