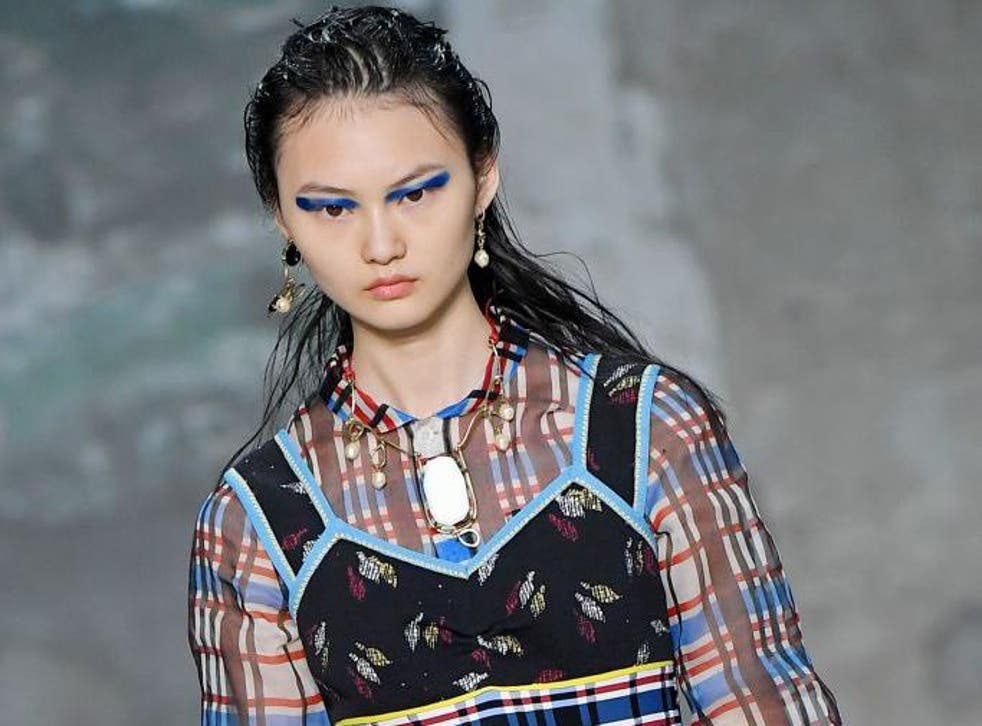 Blue Eyeshadow: How to wear SS18's boldest beauty trend
The blue eyeshadow trend ruled 2017. In 2018 it's bolder and edgier. But how wearable is it in real life?
Sarah Young
Sunday 08 April 2018 12:08 Comments
Last year was fundamental in bringing back blue makeup and it looks like it's here to stay for 2018.
From memories of nightmarish dance recitals to Bowie's "Life on Mars?" music video, blue eyeshadow has gained a bad rap over the years but thanks to a wave of designer's adopting the trend on the runway it has finally seen a coming of age.
So much so that even Kim Kardashian West has given it a go.
Attending a recent event in Beverly Hills to celebrate the launch of KKW Beauty's new palette with Mario Dedivanovic – her long-time makeup artist – the reality star debuted their primary blue eyeshadow, titled Libra, with a blurred cat eye.
And therein lies the new way to wear blue. For 2018, it's time to forget blending and wear yours in bold shapes for a seriously graphic gaze.
A look seen at a host of spring/summer shows, legendary makeup artist Pat McGrath used graphic blocks of colour at Marni, while Tom Pecheux added a swoosh of metallic blue across model's lids at Chanel.
Similarly, in keeping with the pirate theme of its show, House of Holland used liquid liner in shades of cobalt for a deliberate wave-like effect.
But, just how wearable is this trend in real life?
While it does require a little gumption, a standout blue wash is undeniably the only colour to wear on your eyes this season and the good news is, this new way to wear it requires very little skill.
For best results, we suggest opting for a creamy kohl liner or gel and using your finger to smear the product across the lid. Try not to be too perfect with your application either because if the spring runways are anything to go by, it's cool to draw outside the lines.
If you want to err on the safe side though try experimenting with a blue mascara first and slowly up the ante.
Register for free to continue reading
Registration is a free and easy way to support our truly independent journalism
By registering, you will also enjoy limited access to Premium articles, exclusive newsletters, commenting, and virtual events with our leading journalists
Already have an account? sign in
Register for free to continue reading
Registration is a free and easy way to support our truly independent journalism
By registering, you will also enjoy limited access to Premium articles, exclusive newsletters, commenting, and virtual events with our leading journalists
Already have an account? sign in
Join our new commenting forum
Join thought-provoking conversations, follow other Independent readers and see their replies