Meet the Insta-famous socialite with a 700-square-foot closet protected by fingerprint access
'It's still not enough for me'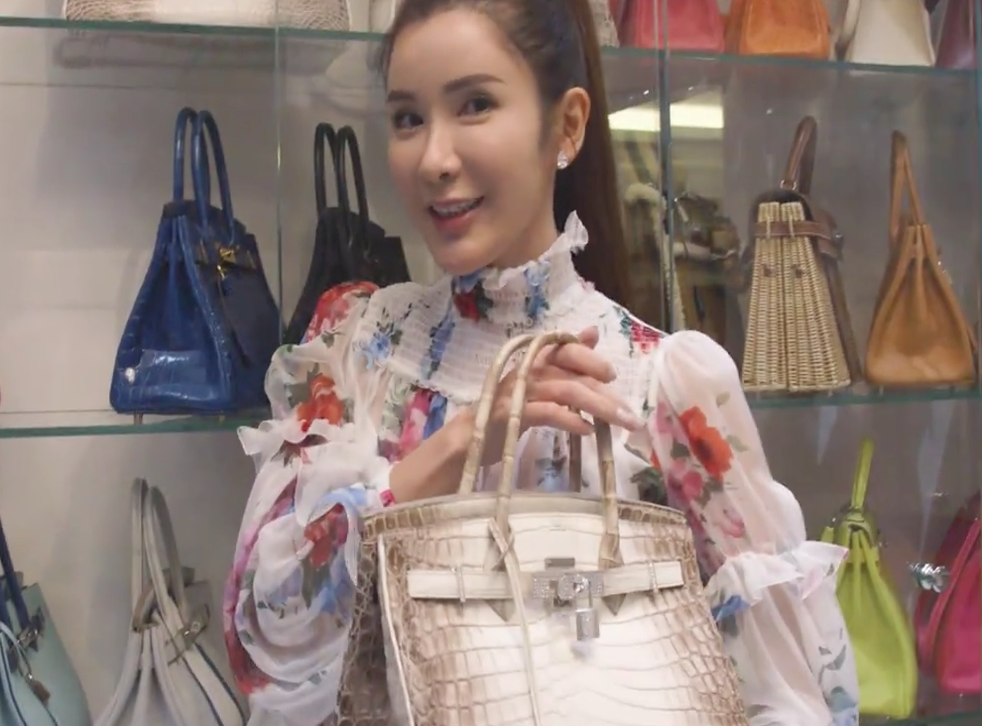 A Singaporean socialite has given a whirlwind tour of her impressive walk-in wardrobe that's so extravagant it's even protected by fingerprint access.
The video is part of a new series by Insider called Bonkers Closets, which showcases the "biggest, blingiest, boldest closets around the world."
In the first episode, Jamie Chua, a 42-year-old "Insta-famous Singaporean socialiate" guides onlookers around her 700-square-foot closet and, despite only airing last week, it has quickly racked up more than 50 million views.
A space that's bigger than most people's apartments, Chua's walk-in wardrobe is home to more than 200 Hermès bags, 300 pairs of designer shoes and a chest of drawers chock-full of diamond-encrusted jewellery.
In the video, Chua explains that she designed the space to frame her belongings like art and maximises the amount of storage she has by utilising a filing cabinet system of 10 doors.
Here, each one slides out to reveal her extensive selection of clothes including an $8,899 (£6,395) Chanel Tweed Jacket, $19,000 (£13,650) Gucci Faux Fox Fur Coat, and $27,000 (£19,400) Rami Kadi Custom Gown which weighs 66 pounds.
But despite the extraordinary size of her wardrobe, Chua jokes that it's still not enough for her, "I need more closet space," she says.
Among her most treasured pieces, Chua shows off her Hermès Himalayan Crocodile Birkin bag with white gold detailing. It has 245 diamonds and is one of the most expensive bags in the world.
The socialite also exhibits an Hermès Mini Pochette bag that, while tiny in size, costs a huge $11,800 (£8,480) while nonchalantly describing it as "useless."
"You can't put anything in them... maybe, like, a credit card and a piece of tissue?" she says.
Unsurprisingly, Chua's impressive closet has received a mixed reaction from viewers.
While some praised her loveable personality and admitted to being jealous, others condemned the Instagram star as materialistic.
"No one needs all of that, it's just excessive greed for greed's sake," one person wrote.
Another added: "That's crazy! No one should have that many clothes, shoes and handbags! I thought I had too much stuff!"
She is the ex-wife of an Indonesian tycoon, Nurdian Cuaca, and asked for $332,000 (£238,595) a month alimony to care for herself and her two children, Yahoo Singapore reported.
Register for free to continue reading
Registration is a free and easy way to support our truly independent journalism
By registering, you will also enjoy limited access to Premium articles, exclusive newsletters, commenting, and virtual events with our leading journalists
Already have an account? sign in
Register for free to continue reading
Registration is a free and easy way to support our truly independent journalism
By registering, you will also enjoy limited access to Premium articles, exclusive newsletters, commenting, and virtual events with our leading journalists
Already have an account? sign in
Join our new commenting forum
Join thought-provoking conversations, follow other Independent readers and see their replies