Bouncing checks: Woollen suits and Knits

Show all 6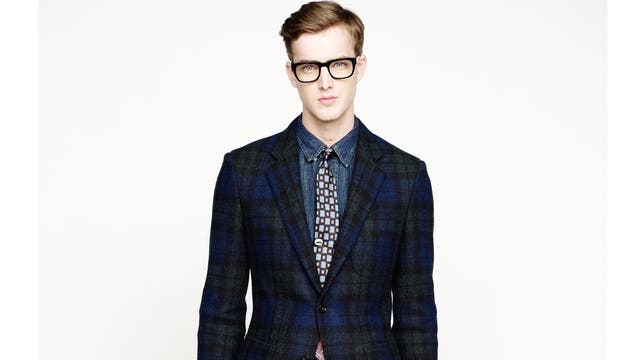 Bouncing checks: Woollen suits and Knits
It's time to cosy up in woollen suits and knits. Just be sure to take tartan and plaid oversize this season, says Lee Holmes
There's a definite autumnal nip in the air which means, whether you like it or not, it's time to start thinking about what you'll need to wear to keep shivering to a minimum in the coming months. Woollen coats and jackets should figure on your mental shopping list, obviously, along with knitwear too. Traditional patterns such as checks and tartans are making their annual appearance for autumn, but when it comes to the clothes you'll be wearing until spring the unorthodox size and scale of such adornment may well take you by surprise.
This season size really does matter, as designers play with the proportions of the humble check: stretching it, giving the pattern a supersized, seasonal upgrade. For visual signposts look to British labels such as E. Tautz and Hackett where hefty eye-catching checks on coats and knits reigned supreme. Designers thumbed their noses at the small scale and micro checks of previous season, instead opting for its bolder, brasher, bigger brother; the classic window-pane shape ought to be as small as you dare go. Which means digging out your well-worn lumberjack shirt and cultivating an unkempt unruly beard just isn't going to cut the mustard this time around.
Of course, the simplest way to tackle this trend is with separates. A pair of socks is a good place to start and a busy knit worn under a plain coat is the next step on the road. However, if you're feeling fearless, there's also any number of adventurously checked blazers and tartan jackets from which to cherry pick.
Do keep in mind that king-sized checks by their nature are a touch too unwieldy to mix and clash and should be kept to one garment only. The aim is to look as sophisticated as you can. In fact, the raison d'etre of this garment is to be a champion of less-is-more by overshadowing the rest of your ensemble.
If you must display an added burst of creative flair, then throw caution to the wind and behave like a member of the Royal family, plumping for a tartan suit; the blue and green model from American brand J Crew is perfect for any wannabe Bonnie Prince Charlie.
Join our new commenting forum
Join thought-provoking conversations, follow other Independent readers and see their replies