Alternative bridal hair accessories

Show all 15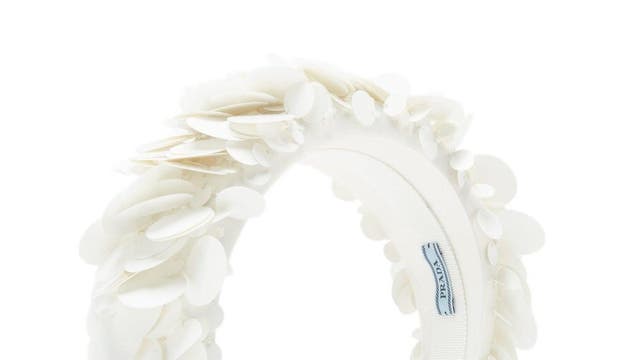 Bridal hair accessories you can wear as an alternative to the traditional veil
From statement-making headbands to subtle pearl pins
The dress has been altered and the shoes have been polished, but as a bride there is still one more major decision ahead of you: Which wedding hair accessory to choose.
For many people, only a traditional veil will do, which is why it has managed to maintain its place as a fixture in the wedding world for countless centuries. But, for more contemporary brides, the accessory has been overshadowed by its patriarchal origins.
According to wedding historian Susan Waggnoer, the veil is the "oldest part of the bridal ensemble" and dates back to ancient times when people "wrapped brides from head to toe to represent the delivery of a modest and untouched maiden".
"The veil also hid her away from evil spirits who might want to thwart her happiness," Waggnoer told Brides magazine, adding that a more practical reason for the accessory, said to stem from the days of arranged marriages, was "the desire to hide the bride's face from the groom."
Aside from outdated customs, there are many other reasons why a bride may want to skip the wedding veil, particularly given the current circumstances.
Following the nationwide lockdown as a result of the coronavirus pandemic, the nuptials of thousands of couples across the country were cancelled before the ban was finally lifted on 4 July, albeit with a maximum of 30 attendees (including suppliers) allowed.
And, while the government initially said that reception parties could go ahead from 1 August, in a government briefing on 31 July, these plans were postponed until two weeks later.
The ongoing changes have prompted many couples to opt for more low-key celebrations this year, with some brides also taking a more relaxed approach to their wedding outfits.
For brides who do not want to worry about fussing with a veil on the day or those who want to walk down the aisle wearing anything but typical, there are plenty of alternative bridal hair accessories to choose from.
While classic brides might opt for a metallic comb or bejewelled tiara, the more fashion conscious should look to pearl-encrusted hairpins, chunky beaded headbands and delicate floral crowns.
Inspired by supermodel Hailey Bieber, the silk hair bow is also a simple way to inject some glamour into your bridal look, while those looking to make a major fashion statement should consider teaming a tailored white suit with an oversized hat inspired by the likes of Bianca Jagger and Yoko Ono.
Click through the gallery above to see our pick of the best bridal hair accessories to wear to your wedding.
Our fashion roundups are unbiased. On some occasions, we may earn revenue if you click the links and buy the products, but we never allow this to affect our coverage.
Join our new commenting forum
Join thought-provoking conversations, follow other Independent readers and see their replies