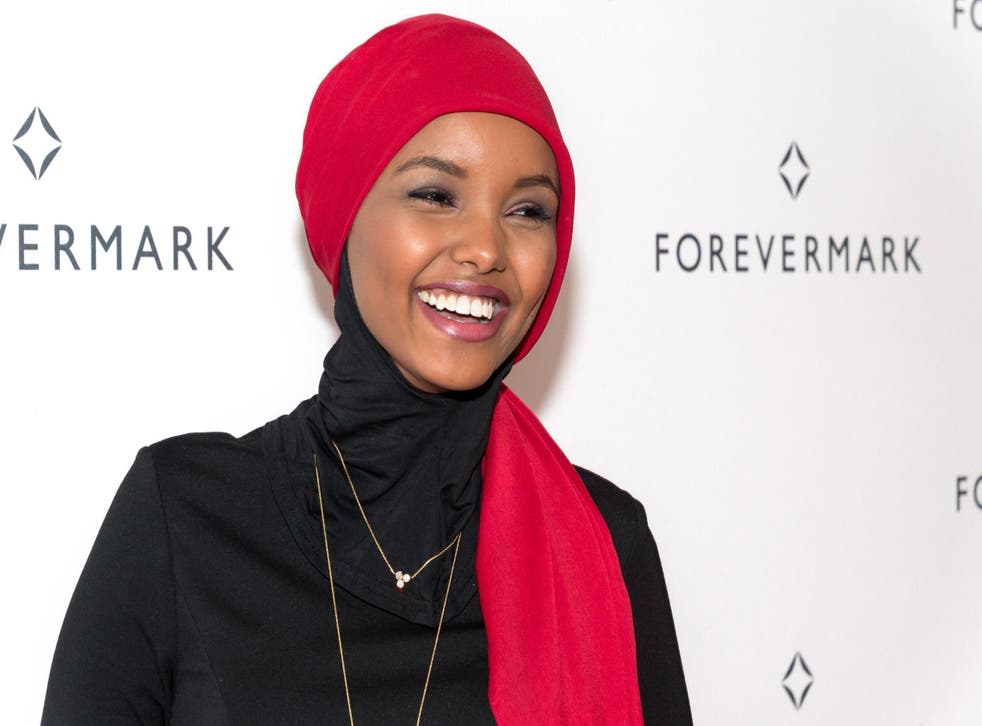 British Vogue makes history featuring hijab-wearing model on cover for first time
The nine models on the cover are described as fashion's 'New Frontiers'
Sabrina Barr
Saturday 31 March 2018 14:07 Comments
British Vogue has made history by featuring a hijab-wearing model on its cover for the first time in its 102-year history.
The powerhouse publication has been at the forefront of discussions concerning diversity for quite some time.
In April last year, it was announced that Ghanaian-born Edward Enninful would be taking on the role of editor-in-chief of the magazine, making him the first man ever to achieve the position.
However, in January this year British Vogue was criticised for featuring actresses Nicole Kidman and Margot Robbie on the cover, alongside the names of numerous other prominent white figures, and dubbing the group of individuals as "Hollywood's New Era".
Enninful has made it clear in the latest editor's letter for the publication that he believes very strongly in the importance of championing diversity.
Nine models have been chosen to grace the cover of the May issue, described as fashion's "New Frontiers".
Among the roster of models is 20-year-old Halima Aden, who has become the first hijab-wearing model to appear on the cover of British Vogue ever since the magazine was first founded in 1916.
For Enninful, giving these nine models the opportunity to introduce themselves to the world of fashion is extremely significant.
"It is a moment for Vogue to do what it has always done best: to offer a bold vision of what the future can - and should - look like," he wrote.
"Even five years ago - and certainly 10 or 20 years ago - if you were shooting a group cover like this, the girls would not have looked like these young women do.
"But one of the great positives of the past few months is the fashion industry finally embracing a concept that has defined my entire working life: diversity.
"When I say diversity, I want to be clear that it is never just about black and white for me.
"It's about diversity across the board - whether that's race, size, socio-economic background, religion, sexuality. That's what I want to celebrate with this cover."
Aden is joined on the cover by fellow models Adut Akech, Radhika Nair, Yoon Young Bae, Faretta, Fran Summers, Vittoria Ceretti, Paloma Elsesser and Selena Forrest.
Aden and Akech have a shared history, as they were both born in the Kakuma refugee camp in Kenya.
"To me they represent a new global idea that anything is possible," wrote Enninful.
Many people on social media are praising the pioneering cover, with an Instagram photo of the issue garnering more than 22,000 likes in less than a day.
Register for free to continue reading
Registration is a free and easy way to support our truly independent journalism
By registering, you will also enjoy limited access to Premium articles, exclusive newsletters, commenting, and virtual events with our leading journalists
Already have an account? sign in
Register for free to continue reading
Registration is a free and easy way to support our truly independent journalism
By registering, you will also enjoy limited access to Premium articles, exclusive newsletters, commenting, and virtual events with our leading journalists
Already have an account? sign in
Join our new commenting forum
Join thought-provoking conversations, follow other Independent readers and see their replies