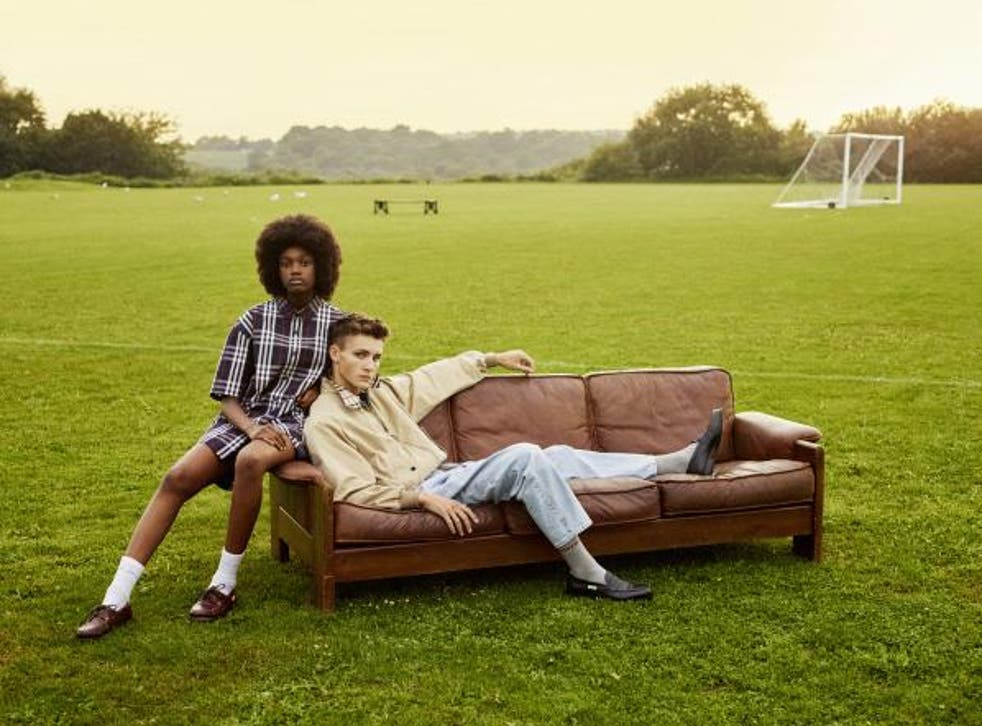 Burberry launches collaboration with Gosha Rubchinskiy
The collection is available online and in selected stores from today
Russian designer Gosha Rubchinskiy has joined forces with Burberry to create a limited edition capsule collection.
The range was originally previewed as part of Rubchinskiy's spring/summer 2018 menswear show in St Petersburg and is inspired by youth culture and the legacy of British football in Russia.
Landing in stores today, each item riffs on classic Burberry icons reinterpreted through a streetwear lens.
Here you'll find everything from short-sleeved shirts and outerwear pieces created in oversized fits, while a series of hats – think bucket, baseball and duckbill – designed in partnership with British milliner Stephen Jones come in cotton gabardine and check cotton twill.
Perfectly Burberry, perfectly Gosha, the collection also revives one of the British brand's most divisive emblems – the vintage check.
A look that those of a certain age will recall being synonymous with the early 2000s chav, Burberry has worked hard under the helm of chief executive, Christopher Bailey, to shake off its chavvy image.
But after all these years and with the help of outsider Rubchinskiy, it seems the brand is embracing the classic motif once again.
Directly inspired by British culture and youth, Rubchinskiy previously revealed that Burberry was always his first choice when considering a collaboration with an English brand, because of its popularity among football casuals.
"It's because of St Petersburg," he told the Financial Times.
"It was the first city in Russia to have football, in the 19th century. It was introduced by English people, so I thought let's do something with an English brand.
"I thought, which brand is most iconic. It's Burberry. It suits many things in the collection, like underground electronic music, like football, England, Russia, club culture."
Gosha x Burberry is available online and in selected stores globally from 6 January 2018.
Register for free to continue reading
Registration is a free and easy way to support our truly independent journalism
By registering, you will also enjoy limited access to Premium articles, exclusive newsletters, commenting, and virtual events with our leading journalists
Already have an account? sign in
Register for free to continue reading
Registration is a free and easy way to support our truly independent journalism
By registering, you will also enjoy limited access to Premium articles, exclusive newsletters, commenting, and virtual events with our leading journalists
Already have an account? sign in
Join our new commenting forum
Join thought-provoking conversations, follow other Independent readers and see their replies