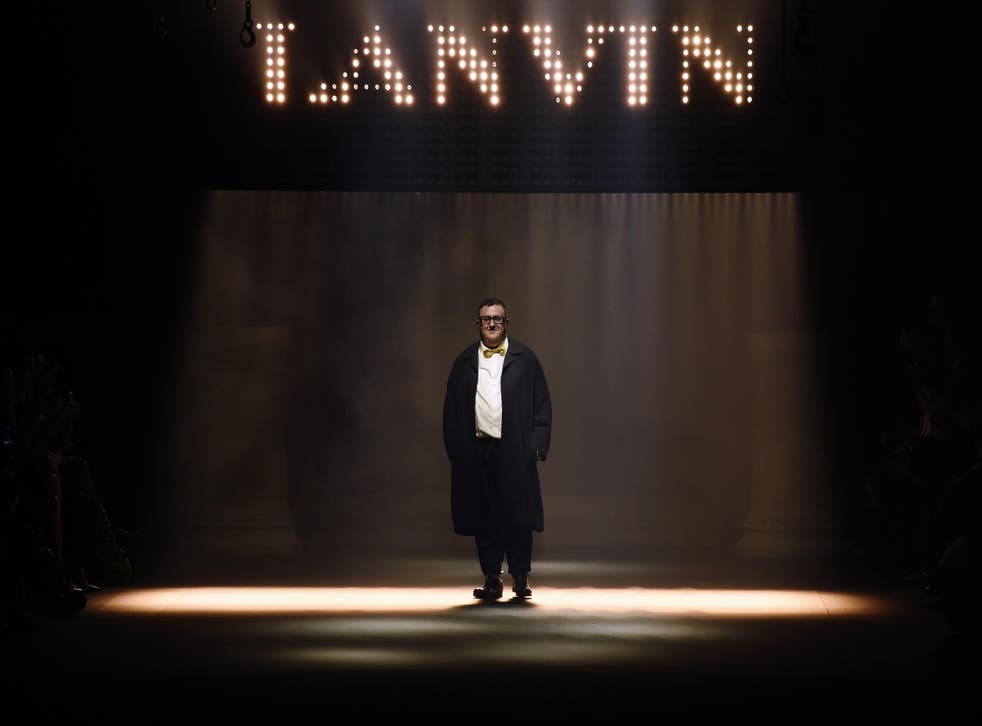 Buttons and bows: Alber Elbaz leaves Lanvin after 14 years
Lanvin's creative director resigns just one month after his spring/summer 2016 show and a week after Raf Simons leaves Christian Dior.
As fashion's current house of cards continues to fold and re-shuffle itself, Alber Elbaz, 54, has bowed out of his position as artistic director of the 125 year old Parisian house of Lanvin, the label confirmed this evening. It comes less than a month after Elbaz's spring/summer 2016 show for the label, and just one week after accepting the 'Superstar' award at Fashion Group International's Night of Stars in New York.
That was just the latest - and, apparently, the last - Elbaz has received during his tenure at Lanvin; others included the International Award, from the Council of Fashion Designers of America (CFDA) a decade ago, an honorary doctorate from the Royal College of Art in London just last year, and the Chevalier of the Légion d'Honneur in 2007. Elbaz leaves Lanvin on a high, but at great speed: his critically-acclaimed spring collection was his last - his departure leaves the Lanvin team to design a pre-collection due to be shown in New York around December.
Elbaz's fashion career, after his studies in America, began with Geoffrey Beene in New York, with whom he worked from 1989 to 1996. Beene's affable way with his clientele Elbaz is frequently seen as inheriting, along with a practical streak that harnesses even his most extreme fantasies to reality. For instance, at Lanvin Elbaz was one of the first designers to show his pre-collections to the press - indeed, when I met with the designer earlier this month, just after his Lanvin show, he bemoaned that he felt partially responsible for the current speed of the fashion cycle given the visibility he placed on those collections, and the effort he expounded.
After Beene, Elbaz moved to Paris to take on the role of head designer at Guy Laroche; then to Yves Saint Laurent in 1998. The significance of that move cannot be underestimated - Elbaz was selected by Saint Laurent himself to take on the mantle of his ready-to-wear line Rive Gauche, the first time the designer had acceded control to another creative. Current Saint Laurent creative director Hedi Slimane was also installed, at the same time, to head the brand's menswear. During the machinations of the Gucci Group's takeover of the label in 2000, Elbaz was jettisoned - after a season working for Krizia, he landed at Lanvin, whose clothing line was revived for Elbaz to head.
Elbaz was, apparently, approached by Dior in 2011 to take over the role of creative director of womenswear, following the dismissal of John Galliano - the role that ultimately went to the designer Raf Simons, who stepped down last week. At the time, at was difficult to imagine Elbaz being extricated from Lanvin. Their aesthetics have become entirely entwined, Elbaz introducing a naive free-form approach to the precise couture heritage of Lanvin - the house's hyper-traditional baby-blue packaging, tied with ribbon bows and printed with an illustration of founder Jeanne Lanvin and daughter Marguerite by interwar artist Paul Iribe, was often scribbled with childlike drawings. Hems were left raw, even on elegant evening dresses, and heavy paste jewellery and flat ballerina-style shoes were introduced to great commercial success.
The Lanvin look became so recognisable that in 2010 the house even launched a line with H&M - the first Parisian couture house to do so. Earlier this year, Lanvin and Elbaz collaborated with the Palais Galliera museum on an exhibition of Jeanne Lanvin's work; at the Maison Européenne de la Photographie, an exhibition runs through until Sunday examining the creative process behind a fashion show. Curated by Elbaz, it is called - inevitably - "Alber Elbaz / Lanvin". They're practically synonymous. At least, they were. According to Womenswear daily, the industry title that broke the news, Elbaz has already cleaned out his all-black office.
Ignoring the creative synergy between Lanvin and its hitherto artistic director, in purely practical terms a rupture was difficult to envisage because Elbaz also owns a stake in the company, majority controlled by Chinese businesswoman Shaw-Lan Wang.
The house of Christian Dior is, of course, yet to announce a successor to the Belgian designer Raf Simons, whose resignation was announced last Thursday
Join our new commenting forum
Join thought-provoking conversations, follow other Independent readers and see their replies